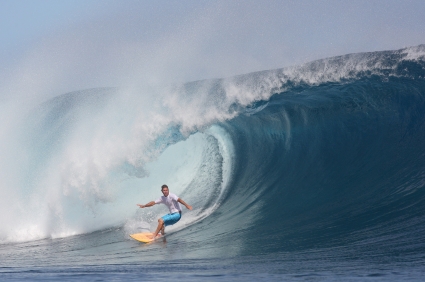 It started as a ripple back in 2001 when Bill Gates demoed the prototype Microsoft (NASDAQ:MSFT) Tablet PC at Comdex. And now, ten years later, this tablet tidal wave has hit, and news flash – it's entirely iPad. Are you surprised? Like the iPhone and the iPod before it, Apple has once again invaded an existing space (tablet PCs/e-readers) and made it its own by introducing enough style and innovation that consumer resistance is futile. In a recent survey of mobile consumers (Compete's Smartphone Intelligence) we asked about the intention to purchase a) Apple's iPad and b) A tablet computer other than the iPad — not surprisingly, nearly twice as many consumers said they were interested in purchasing an iPad. Morgan Stanley has just released a report pinning tablet expectations around 55 million in 2011 alone (100 million in 2012!) So iPad competitors, here's the good news: this is an incredibly enormous market opportunity. Here's the bad news: you're already behind.
So what's an iPad competitor to do?
In-market consumers want the iPad. To change consumer mindset, they need to be both aware of your tablet's existence (HINT: they're not) and they need overwhelming evidence of your tablet's superiority to the iPad. In the mobile handset market, Android has been incredibly successful at chipping away at the iPhone's market share. iPhone exclusivity on AT&T (NYSE:T) may have actually negatively impacted Apple as shoppers seeking smartphones on Verizon (NYSE:VZ) Wireless, Sprint (NYSE:S), and T-Mobile were forced to find iPhone alternatives and the Android devices from LG, Samsung (OTC:SSNLF), Motorola (NYSE:MMI) and HTC have more than fit the bill. Consumers may not have jumped on the Verizon iPhone to the extent that either Apple or Verizon Wireless had hoped because Verizon Android owners may be perfectly happy with their Android devices and see no need to switch.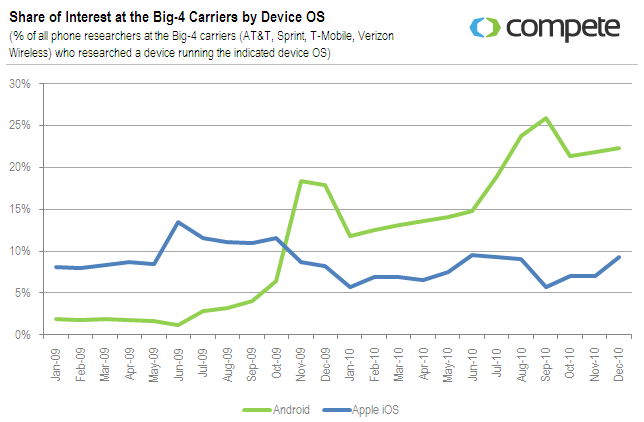 (Click charts to enlarge)
The graph above represents percentage share of unique visitor traffic to phone detail pages at the Big 4 carrier sites broken out by OS (Android vs. iOS). While interest was nearly non-existent in early 2009, Android interest across AT&T, Verizon Wireless, Sprint, and T-Mobile is now significantly larger than iOS.
The spike in iOS/iPhone interest in June 2009 correlates to the launch of the iPhone 3GS on AT&T. The spike in Android in November 2009 lines up with the release of the Motorola DROID on Verizon Wireless and also marked the beginning of Verizon's ongoing DROID marketing.
It is worth noting that this data focuses on the Big-4 carrier sites only (AT&T, Sprint, T-Mobile, and Verizon Wireless) and does not include people who research handsets on the manufacturer sites (Apple.com, Motorola.com, etc.)
So there is some hope here. Consumers do pick Apple competitors. To beat the iPad, another tablet will need to achieve widespread market awareness immediately (if not sooner) and the device will need to be better, faster, cheaper and with more storage. Doesn't sound easy, does it? It's not going to be easy – consider the iPod competitor, the Microsoft Zune. With all of the money and resources behind Microsoft, at its peak, the best the Zune could eek out was 9% of the MP3 player market, while iPod held 63% according to NPD; these numbers have changed substantially with NPD's most recent numbers showing Zune at 1% and iPod at 76%. One thing that Microsoft tried to do with the Zune that others probably don't need to do with a competing tablet: try to make a tablet "cooler" than the iPad, Apple has the lock on cool.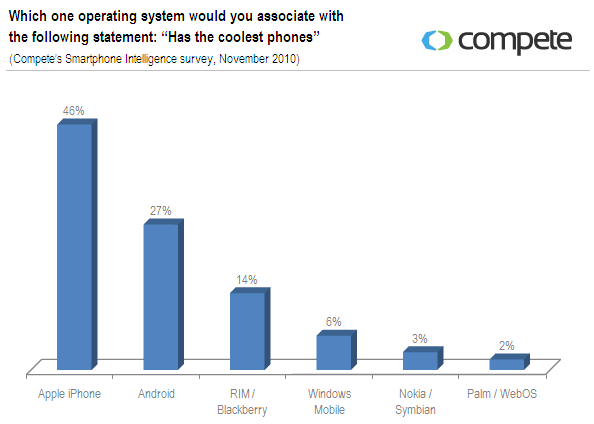 When asked to identify which smartphone brand was the coolest, nearly half of all smartphone shoppers felt that Apple is making the "coolest" phone on the market
While Android has done well at winning consumers' hearts and minds in just over 2 years on the market, 70% more consumers feel that Apple has a lock on "cool"
So, what can a tablet manufacturer do to steal market and mindshare from the iPad?
Advertising: Be clear with consumers and spell out the advantages of your tablet. Apple has already captured consumers' imagination with the iPad and has provided rationalization on why consumers "need" a tablet. Provide consumers with concrete reasons why they should consider yours. 110 million consumers watched the Motorola XOOM Superbowl commercial but how many came away knowing why they should own the XOOM instead of the iPad? What does XOOM have that iPads don't? Does it have longer battery life? Is it easier to hold for long periods of time? Can you get apps on it?
Leapfrog Generations: We can learn something from Apple's several generations of iPods and iPhones – Apple regularly and consistently doles out upgrades to its devices, with varying levels of significance. Generally, the old models people have been buying for a year still are valuable tools, but the new models have just enough new features to entice customers to upgrade. For iPad competitors to truly surpass Apple, they need to be building to beat future, unreleased iPad models – not what is on the market right now. Anticipate how consumers will use tablets and leapfrog the iPad with larger storage options, longer battery life, etc. In our Smartphone Intelligence we asked iPad owners what they are doing with their devices: 58% play games, 53% read books, 48% interact with social networks, 32% watch movies and 28% play music. Who wants to be on a trip and have their battery die in the middle of a book or movie? Music and Movies require a lot of storage space to keep on-hand and a lot of battery life to use when you need them. Make these adjustments to your device plans and have your advertising reflect your advantages.
Subsidized Purchases: There have been some devices launched that are more expensive than the iPad. In a recent Wired article, there are many theories explored as to why iPad has the price advantage over the competition. Imagine that – after iPods and iPhones costing a multiple of their competing products, now iPad options are among the cheapest! Tablet competitors should partner with Wireless Carriers to subsidize device purchases. This is already happening on T-Mobile with the Samsung Galaxy and the Motorola Xoom on Verizon Wireless. This is a great strategy as consumers who feel the need to add a tablet to their device arsenal may gravitate to a discounted tablet. Tablet OEMs should look to keep margins tight here as the tablet tidal wave is still building and its impact will not be fully realized for years to come. Surfs up – this wave is just too lucrative to miss.