The risk-on trade is in a very precarious position right now with many of the key indices and sectors coming under fire. The S&P 500 is still in a good position, so we are not panicking right now and after today's bank earnings we think that there are enough positive signs in key areas of the economy to point to this being a correction and nothing more serious.
Europe continues to have issues and it is quite possible that we see these problems drag out a few more years as leaders on the continent have shown little interest in taking the necessary steps to solve the problems which plague the EU as a whole and the key economies individually.
Chart of the Day:
The US Treasury market continues to attract investors who are fleeing riskier assets and all of the buying is pushing 10-year rates to fresh 52-week lows. We have not seen rates this low since mid-2013 and early this morning the 10-year traded below 2.20%.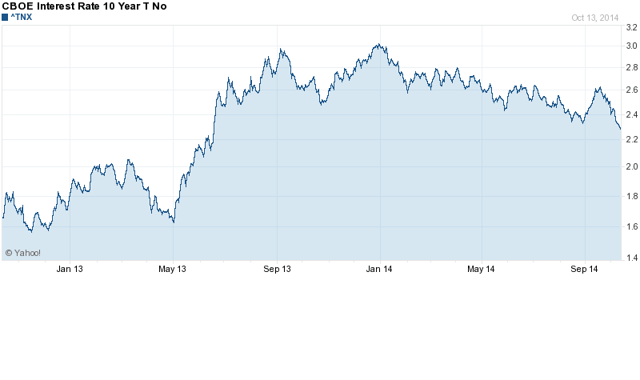 Source: Yahoo Finance
We have economic news today and with the week starting off with a semi-holiday the economic data points will not be released until Wednesday.
The Asian markets are lower today:
All Ordinaries - up 1.01%
Shanghai Composite - down 0.25%
Nikkei 225 - down 2.38%
NZSE 50 - down 0.47%
Seoul Composite - up 0.11%
In Europe, the markets are mixed this morning:
CAC 40 - down 0.07%
DAX - down 0.19%
FTSE 100 - up 0.12%
OSE - up 0.18%
Big Banks Report Earnings
Some of the country's largest banks have reported earnings this morning and the numbers look quite good. Citigroup (NYSE:C) was a bit of a surprise in our opinion, with the company reporting EPS of $1.15 versus the $1.12 EPS consensus figure which analysts had expected. What made this news even better for investors is the fact that Citigroup also beat the revenue expectations of $19.02 billion with revenue of $19.6 billion for the quarter.
JP Morgan (NYSE:JPM) had an interesting day as Shareholder.com released the bank's quarterly results early before taking them down. The official results have been released and we know that Jamie Dimon is in fact taking part in the conference call. JP Morgan reported revenues of $24.2 billion, which beat the analysts' consensus of $24 billion. While the EPS of $1.36 missed the $1.38/share estimate, the company has done an excellent job of resolving its legal issues; something which has hurt the bank's earnings power in the short-term but should boost numbers moving forward.
Wells Fargo (NYSE:WFC) saw their quarterly results come in line with the estimates from analysts. The bank saw revenue come in at $21.21 billion and EPS of $1.02 for the quarter. In what could be good news for Bank of America (NYSE:BAC), Wells Fargo reported that mortgage origination was higher this quarter as more consumers looked to refinance their mortgages with rates falling due to economic fears. We discussed yesterday how we would be watching the loan portfolios at these big banks to gauge just how strong business is, and Wells Fargo's numbers indicate that business lending is increasing at a healthy rate as their portfolio grew by 13% year-over-year. The company's overall loan portfolio grew by 3.7% over the same period.
With today's news Citigroup might finally be positioned to join larger rivals and participate in future moves higher.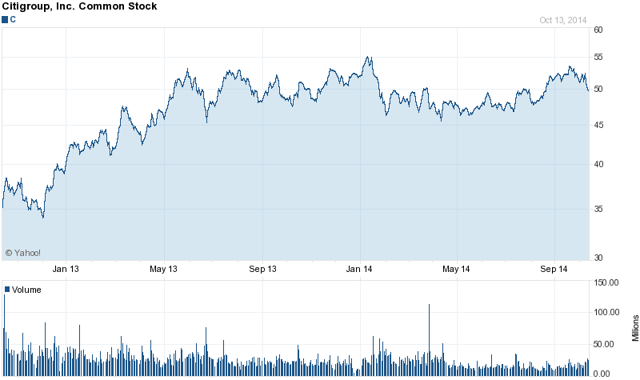 Source: Yahoo Finance
Looking at the early trades in the market right now, JP Morgan and Wells Fargo are lower as investors digest their results. Citigroup on the other hand is up nicely as the market cheers the company's exit from 11 markets and the solid results for the quarter. While there are other components to the SPDR Financial Sector ETF (NYSEARCA:XLF), the weakness in two of the largest banks might be a drag today.
Disclosure: The author has no positions in any stocks mentioned, and no plans to initiate any positions within the next 72 hours.
The author wrote this article themselves, and it expresses their own opinions. The author is not receiving compensation for it (other than from Seeking Alpha). The author has no business relationship with any company whose stock is mentioned in this article.