Click to enlarge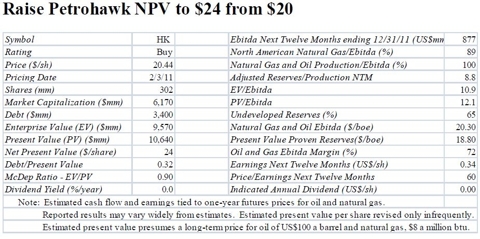 Summary and Recommendation
On the basis of higher proven reserves and little recognition of additional resource potential, we raise estimated Net Present Value (NPV) for buy-recommended Petrohawk (NYSE:HK) to $24 a share. In a conference call on February 1, management disclosed details of an estimate of some 35 trillion cubic feet equivalent ((tcfe)) of natural gas and oil resource in the Haynesville, Eagle Ford and Bossier shale formations next to Petrohawk's interest. Petrohawk drilled the first horizontal multi-frac well in the Texas Eagle Ford and built its Louisiana Haynesville position ahead of most competitors.
Judging by HK's sale late last year of 1.4 tcfe of Arkansas Fayetteville shale resource to ExxonMobil (NYSE:XOM) for $650 million, the less developed 35 tcfe might be worth perhaps $15 billion. Investors can keep that in mind as speculative upside to our revised present value of $10.6 billion, tied to proven reserves and next twelve months cash flow. Since most of the resource volumes are undrilled, there is exposure to rising cost of oil field equipment and services. Yet for long-term investors, the abundant growth prospects in natural gas can make the stock worth holding through ups and downs.
In the near-term the company concentrates on Eagle Ford oil to take advantage of price that has broken through $100 a barrel in the futures market beginning in January 2012. In an improving economic climate, McDep Ratios are close to 1.0 for HK and other small cap stocks. HK's unlevered cash flow multiple, EV/Ebitda, could be higher compared to some peers. Confidence and values are rising with stock prices in an uptrend. Rapidly depleting natural gas in storage as a result of colder than normal winter weather may suggest better pricing ahead.
Originally published on 4 February, 2011.