The Markets
The Stock Market
In the wake of the big decline in Saudi Arabia's stock market, other stock markets also suffered a bad hair day. It would be easy to pin the blame for the stock market's recent decline on the problems in the Middle East, but bulls should perhaps be more concerned about a number of other facts. For one thing, there is the subtle internal technical deterioration as evidenced by many 'momo' stocks coming under pressure of late, i.e., the so-called "Teflon stocks" all of a sudden look somewhat less teflonesque. A similar point is made in a recent article by Michael Kahn at Barron's about the Dow Jones Industrial Average. As Kahn remarks:
"Despite its limited representation in a market of thousands of stocks, the Dow Jones Industrial Average nonetheless is an important barometer. Given the sheer dollar value of its 30 component issues, any cracks in its armor should not be ignored.

So when fully one fifth of Dow stocks sport technical failure we should take notice. Failure, in the lexicon of charting, is often used to describe a stock falling as it hits a key level such as resistance or the top of a pattern.

When a stock breaks out to the upside from resistance or a chart pattern it is usually a bullish sign. Demand overcomes supply and prices move higher – most of the time. However, failure to hold on to that breakout is the unusual case and that makes it a true newsworthy event for investors."
Kahn notes that the bulk of the DJIA stocks remains in solid uptrends, but of course when the market gets into trouble, the first signs of such are always subtle.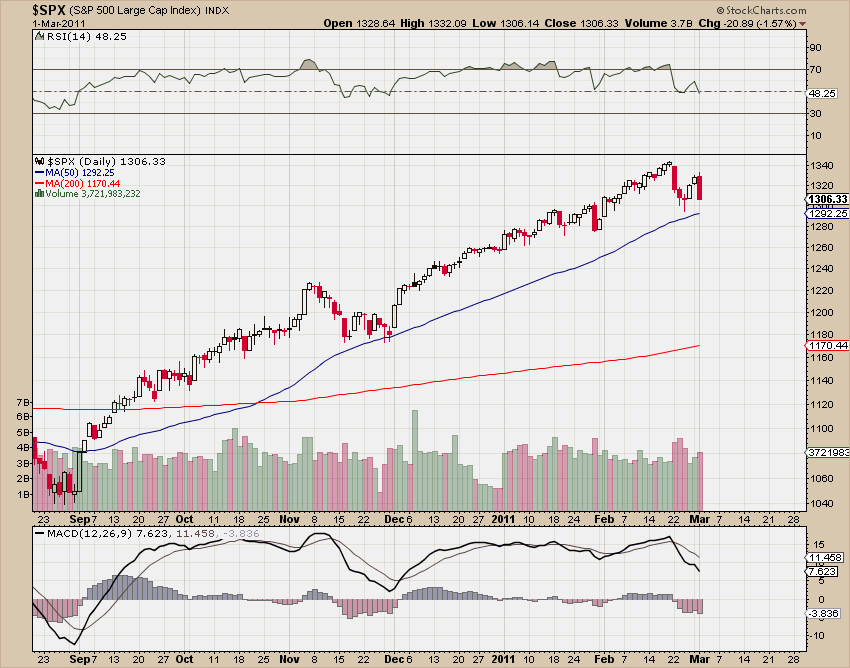 (Click to enlarge)
What is notable to us about the recent decline is that the preceding rally as well as the recent rebound all happened on very weak volume, whereas volume tends to spike when the market moves lower. This is a negative sign too.
What else should stock market bulls worry about aside from the loss of leadership and subtle signs of technical deterioration? How about "Hedge funds borrow the most since 2007 to purchase U.S. stocks?"
"Hedge funds increased their net leverage in January to the highest level since October 2007, as they took advantage of record-low borrowing costs to bet that the U.S. equity rally will continue.

Debt at margin accounts at the New York Stock Exchange minus cash and unused credit from margin accounts climbed to $46 billion, according to data released by NYSE yesterday. Hedge funds had $290 billion of debt from margin accounts in December, the largest sum since Lehman Brothers Holdings Inc. collapsed in September 2008."
(Our emphasis)
Needless to say, October of 2007 was not exactly a propitious time to buy lots of stocks on margin. Perhaps this time will be different, but we kind of doubt it (although in some respects the 2007 high was even more beset by extremes – but then, it was a much higher high).
What else is there to worry about? How about those capitulating bears: "Capitulating Bears Push Short Sales to Lowest in Three Years."
"The biggest Standard & Poor's 500 Index rally in more than five decades is forcing stock market bears to abandon short sales, cutting them to the lowest level since 2007 last month.

Shares borrowed and sold to profit from declines dropped four straight months and represented 3.3 percent of all stock in January, according to data compiled by NYSE Euronext. Pessimists are giving up after missing the 95 percent rally in the S&P 500 spurred by the fastest earnings growth since 1994. The monthly decrease comes as individuals added $17.6 billion to U.S. mutual funds this year after withdrawing money since April."
(Our emphasis)
There it is mentioned again, that fateful year 2007. Capitulating bears weren't a good sign then, and they are unlikely to be a good sign now. The lower the short interest ratio, the less support from short covering there will be once the market heads down, but to us it is more important what this datum says about sentiment.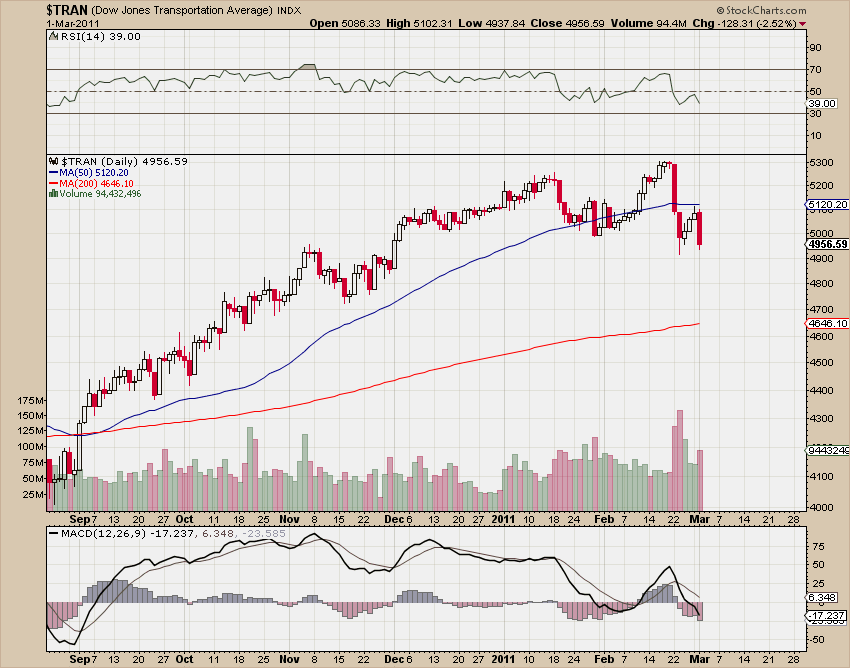 (Click to enlarge)
The chart of the high beta DJ Transportation average is intriguing – its rebound failed at the 50 day moving average. This average generally tends to lag in moves up (i.e. it tends to be one of the last indexes to top out) and lead in declines.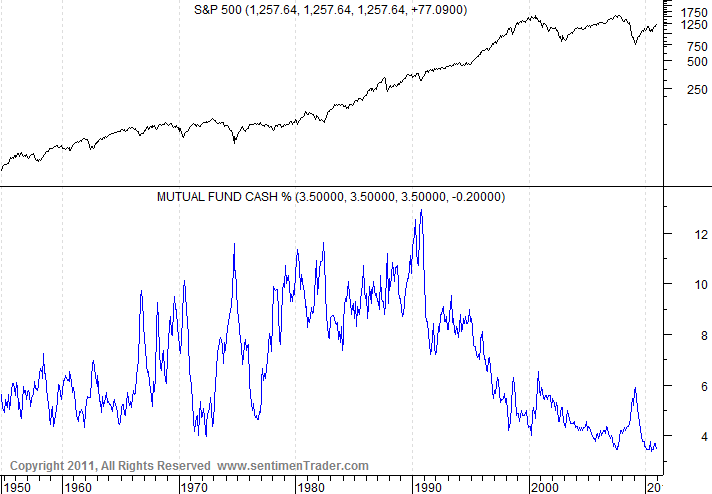 (Click to enlarge)
A recent chart of mutual fund cash levels from Jason Goepfert's sentimentrader.com shows that mutual fund managers are also all in – the current reading is the second lowest in all of history , a mere 10 basis points above the all time low (the absolute low was seen in 2010). This indicator tends to have medium to long term significance. We see it largely as an expression of fund manager sentiment.
Solely from a chart perspective it is too early to say whether the recent pullback will just be a short term hiccup or the beginning of a more substantial correction. Many of the aforementioned momentum stocks have weakened, but they have not yet broken any important supports. However, the fact that the market has for a change not rallied on the first of the month (the bulk of the advance from the 2009 low was accomplished by large first-of-the-month rallies) clearly constitutes a change in character.
Apart from that, the fact remains that risk is extremely high. Should the market rebound and streak to new highs for the move, said risk won't diminish, but will become even greater.
Gold and Oil
Not too surprisingly, both oil and gold have continued their rallies. Gold is on the verge of a decisive breakout, while the oil market appears close to negating a recent reversal candle (as we noted at the time, such reversals require follow-through selling to be confirmed as such).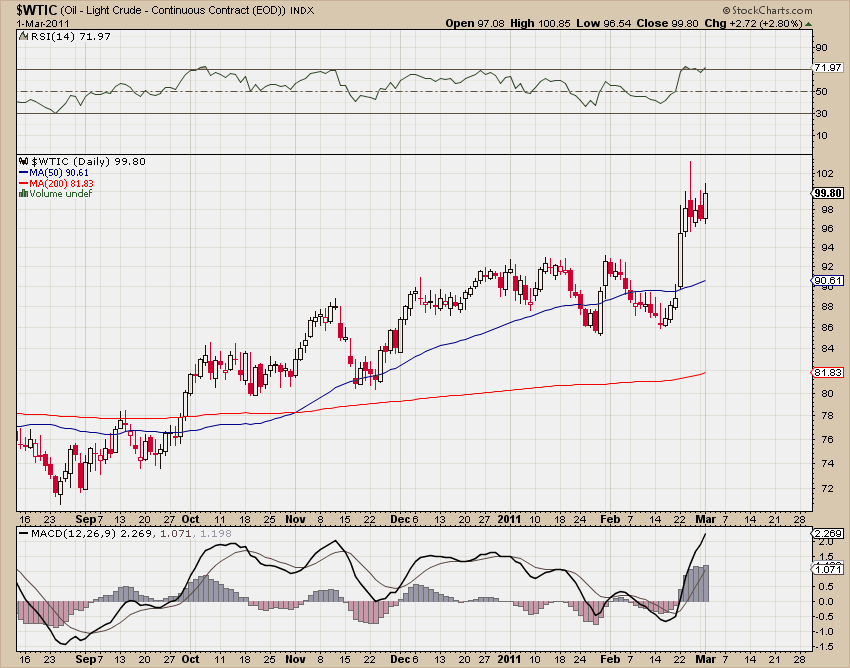 (Click to enlarge)
It appears that oil wants to go even higher. Since the reversal candle that was put in place four trading days ago has not led to follow-through selling and the market is already bouncing higher again, no reversal has been confirmed as of yet. Of course this is now a market harboring a large political risk premium, which makes it extra-risky (for both bulls and bears). Nothing's wrong with this chart though.
We are not certain how much of a political risk premium there is now in gold, but gold seemed to us already set to make new highs before the news about the unrest in Arab countries took center stage (we have frequently remarked on the subdued bullish sentiment after the small correction in January).
One must not forget, when central bankers stubbornly defend ultra-easy monetary policies as Mervyn King and Ben Bernanke both keep doing, then there is little reason not to want to own gold (we will soon have more to say about the recent statements by these two gentlemen – neither of them managed to disappoint our expectations, which are even lower than their interest rates). Also, with the bulk of gold's fundamental price drivers in a bullish configuration, the backdrop remains conducive to higher gold prices regardless of the geopolitical noise (it is to our mind different in the case of crude oil).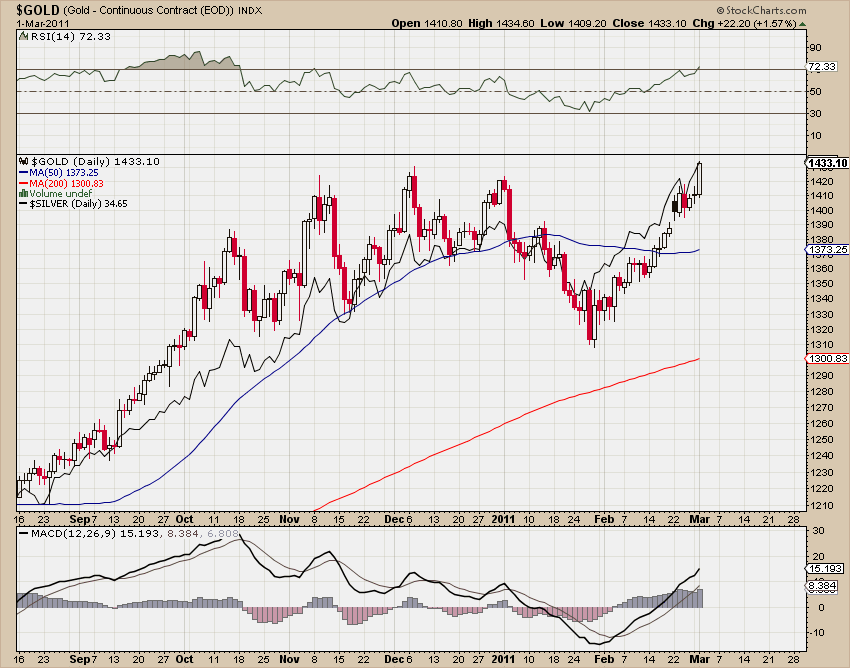 (Click to enlarge)
Both gold and silver (solid line) streak higher. Gold's close actually constitutes a breakout, but it is not a decisive breakout yet. As previously noted, gold doesn't do triple tops, so a decisive breakout seems highly likely.
The U.S. Dollar
The dollar rates a mention for its failure to profit from safe haven buying in view of the news from the Arab world. It may be that talk of the allegedly undiminished likelihood of QE3 isn't helping, especially as ECB officials have lately adopted a fairly hawkish tone. Of course, money supply growth in the euro area has in recent months been far lower than money supply growth in the U.S., so there is a good reason for the euro to show some relative strength based on that, but the problem of the unresolved debt crisis remains – which argues strongly against the euro going forward. Be that as it may, the dollar hasn't been going anywhere lately. We would however not be inclined to get too bearish on the U.S. dollar here, in spite of its failure to attract safe haven buying. The recent decline has been grudging, which is often the precursor to a short term trend change.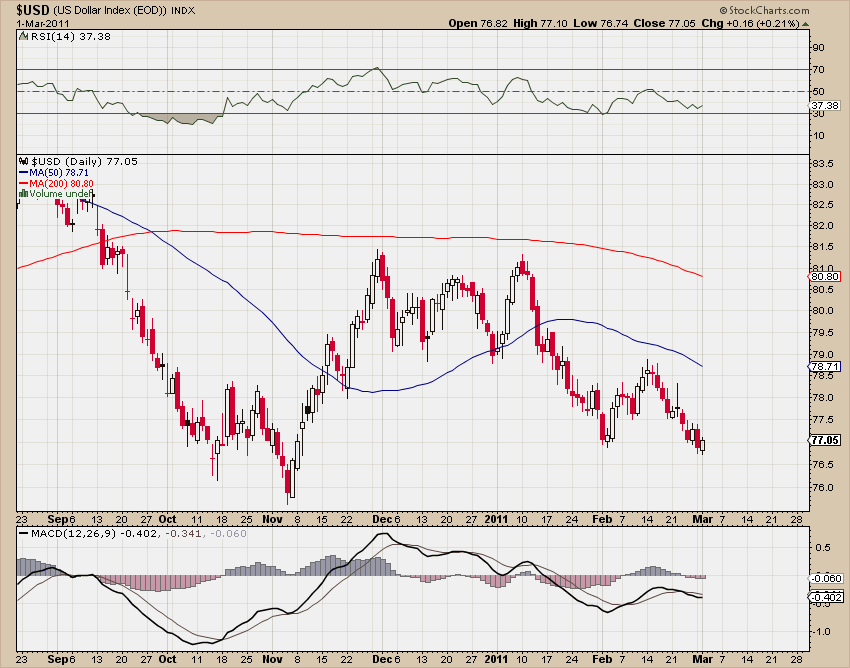 (Click to enlarge)
The U.S. dollar hasn't been helped by turmoil in the Middle East – which is a bit surprising.
Finally, before it is out of date, we want to point readers to a recent interview by the father of securitization, Lew Ranieri, on the state of the U.S. housing market. He echoes the concerns that Ramsey Su has enunciated in these pages. The U.S. housing market remains quite sick, in spite of the wagon-loads of money Ben Bernanke's Fed has printed. An old adage is confirmed by this fact: the central bank can print money, and/or encourage the commercial banks to increase the credit and money supply, but it has no control over where this money ultimately goes.