In Part I of this article, I discussed primarily the oil, natural gas, and oil and gas servicers and drillers industries. If we are to do justice to the entire energy sector in just two articles, that leaves whole lot of ground to cover: solar, wind, biomass, geothermal, nuclear, coal, hydroelectric, run of river, and the various technologies yet to come in commercial form that will allow energy to be generated by some sort of temperature or pressure differential. If I give short shrift to a favorite of yours, forgive me – or write an article to place alongside these!
In order to provide maximum value for those who are interested in investing alongside me, allow me to separate the wheat from the chaff early on. In a nutshell, I believe that, as investors, we will make the most profits in the most steady manner over the longest possible time from a combination of coal, uranium, and my wildcard, lithium.
That's not to suggest that there won't be money to be made investing in specific solar, wind, geothermal, biomass, hydroelectric and other companies. But any honest reviewer who looks at the subsidies granted to, for instance oil and gas companies versus the taxes paid by those firms comes to the inescapable conclusion that they are more than paying their own way. Regrettably, while these other sources may prove to be profitable in localized situations, their intermittency and/or the high cost of maintaining the equipment needed to turn a naturally occurring phenomenon into energy are noncompetitive on the scales necessary to power a power-hungry world.
Most of them depend – not "benefit from" or "could use," but depend – upon two things: proponency and subsidy. The problem with most of these is that their proponents are the same as their opponents. By which I mean the very people who bang the table the loudest for solar are also often the people who don't want to see the desert tortoise's habitat taken away. The very people who decry fossil fuels and take wind power to a new level of hagiography are also the people who don't want to see birds injured and don't want these high-noise contraptions in their backyard. Even hydroelectric, arguably the cleanest alternative energy source, is accepted only in the abstract by proponents who immediately become opponents when they realize that salmon cannot easily circumnavigate the fish ladders placed along the side of these giant dams.
This is not a criticism; it is a good thing that people care about the flora and fauna that inhabit this earth alongside we humans as we strive to find cleaner sources of energy. But it remains an inescapable fact, like it or not, that you can never do merely one thing. There are no ideal solutions; only intelligent discourse and, sometimes, the best of a bad lot of choices.
The second factor that is essential for most alternative energy sources to succeed is subsidy. The cost of a new electric vehicle is prohibitively expensive for most people. And who really wants a 2011 Chevy Volt for $40,280 when you could buy a 2011 Mercedes-Benz C350 for $39,990? Except that no one has to actually pay that much for the Volt – courtesy of their friends, neighbors and taxpayers.
First, the federal government will take $7500 of our hard-earned tax dollars and gift them to any purchaser of a Volt. Then, many states, like the one just to the left of me (California) will gift the buyer yet another $5000 of California taxpayers' money. That brings the actual price to more doable $27,780.
Like the Ginza knife commercials used to say, "but wait! There's more!" Most states toss lots of extra little perks and bennies toward those who willingly succumb to this social engineering. For instance, in most states, if you drive one of the "approved" vehicles, you'll get to drive solo in the Carpool Only lane. Am I the only one who finds it puzzling that the logic of the bureaucrats in giving away your tax dollars and mine to electric vehicle purchasers was to reduce pollution, yet all these solo drivers will now do is clog up the carpool lane, forcing hundreds of thousands of non-electric vehicles to idle and produce far more pollution than they otherwise would have!
(By the way, the illogical extension of this thinking has come to the fore in Oklahoma, where electric vehicle buyers can get a tax credit worth 50 percent of the purchase price of an electric vehicle. Add to that the federal credit on a Neighborhood Electric Vehicle (NEV) of $4,400 and you can buy an NEV made by Wheego, which sells for right around $8000, and the car is free! Except, of course, for the $8400 that your fellow taxpayers shelled out for your free ride.)
Again, I am not denigrating alternative energy sources. I merely believe without clear proponency and continued subsidy they are not economic. The stocks may rise on news, subsidies or touts, but I believe the businesses are doomed to enjoy lesser profitability.
If you disagree, in solar you might look at LDK Solar (NYSE:LDK), First Solar (NASDAQ:FSLR), Suntech Power Holdings (NYSE:STP), Japan's Sharp Corp (OTCPK:SHCAY), Trina Solar (NYSE:TSL), Yingli Green Energy (NYSE:YGE) or JA Solar (NASDAQ:JASO). In turbines and wind power, check out Vestas (OTCPK:VWDRY), GE (NYSE:GE), huge in wind power but a very small part of their bottom line, Gamesa (OTCPK:GCTAF), or Siemens (SIE) like GE, huge in wind power but a very small part of their bottom line. For a more interesting play on a number of alternative energies you might want to look at Brookfield Asset Management (NYSE:BAM) or Brookfield Infrastructure Partners L.P. (NYSE:BIP), which are in various amounts and stages of solar, hydroelectric, run-of-river and wind, among other things. Finally, for a pure play on geothermal, you might want to conduct due diligence on Ormat (NYSE:ORA), headquartered in Tel Aviv but with its geothermal operations based right down the hill from me in Reno, US Geothermal (NYSEMKT:HTM) and the ever-volatile Ram Power (OTCPK:RAMPF).
And now we move on to where I believe you can make money year after year, not based on short-term market fluctuations but on an ever-increasing stream of earnings from quality companies which initiate or raise their dividends as their businesses grow.
Coal is my favorite in this area and the Powder River Basin (PRB) of – mostly – Wyoming is my favorite area in which to invest. My goal is to identify those sources of energy that will allow us to (1) reduce our dependence upon foreign sources of energy and (2) find the most cost-effective "US and neighbors" sources of energy. The former because I'm tired of seeing any American, elected or otherwise, kowtow to despots who recycle our petro-dollars to those who would destroy us. The latter because it makes sense in all times, but especially in hard times, to buy an essential human need like energy at the cheapest price.
This quest leads me to coal. The reason I like coal is that the United States is the Saudi Arabia of coal. We have more proven and probable reserves than any other nation. That includes Russia at nearly twice our size, Canada, roughly comparable in size, and China, Brazil and Australia. As every year shows new ways to make it burn cleaner and more completely, we will finally ask why we didn't invest our research dollars into what we have the most of: coal. The Energy Information Administration (EIA) of the US Department of Energy agrees, as this chart makes abundantly clear ():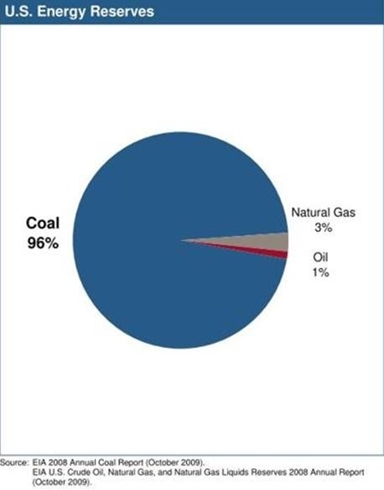 OK, but why am I so keen on Powder River Basin coal? Coal comes in many stratifications but there are just two primary economic values we derive from coal, "thermal" for energy and "metallurgical" for making steel. The most desirable thermal coal is low sulfur, sub-bituminous coal. That's the kind found in the Powder River Basin of Wyoming and Montana. As a side benefit, the PRB is also the lowest cost major coal producing region in the nation. I would argue it is also one of the safest, mostly because it is surface mined, so there is less danger of respiratory disease, no danger of mine collapse, and is far easier to reclaim after mining is completed. As a result, PRB coal is becoming ubiquitous for electricity – it's cheaper to mine and makes less of a high-maintenance mess when burned. Therefore, even adding the extra freight costs, it makes sense for a utility to select it.
My favorite coal firm in the PRB is Cloud Peak Energy (NYSE:CLD). It is the biggest little coal company you've never heard of, the third-largest U.S. coal producer, and the only pure-play Powder River Basin coal company there is. It didn't exist, as an independent company, until 19 November 2009, when it was IPO'd by former parent Rio Tinto (NYSE:RIO). Its properties consist of most of the former Rio Tinto Energy USA -- the Antelope and Cordero Rojo surface mines are located in Wyoming and the Spring Creek surface mine is located just across the northern border near Decker, Montana. CLD is also a beneficiary of a less onerous permitting process out West and plenty of surplus rail capacity right into their surface mining areas.
To this last issue, as I wrote in an article a year ago:
Warren Buffett didn't buy Burlington Northern because he always wanted to wear one of those cool Engineer Warren caps and toot the horn when kids asked him to. He did it for the coal. And by coincidence it is either Burlington or joint Burlington/Union Pacific track and trains that lead smack-dab to CLD's 3 surface-mining properties.
Buffett "gets it." Coal for China, railroads to take it to them. Why make an investment proposition difficult when a simple approach will not only suffice but be more profitable?
If, in your own due diligence, you find something not to like about Cloud Peak Energy, you might consider two of my real favorites for all of our income clients. Natural Resource Partners (NYSE:NRP) and Penn Virginia Resources (NYSE:PVR) are both coal royalty firms – they don't own a single coal mine, operate a single piece of extractive equipment, employ no union workers – or hardly any workers at all, and none who work in surface mining or in coal mines -- and have no operating liability. They simply own the land on which others mine – and receive whopping override royalties for so doing. Both yield remarkably steady returns. If you don't like either of these, my due diligence has also led me to lesser-known International Coal Group (NYSE:ICO) and to Consol Energy (NYSE:CNX), which is not only a coal company, but it's coal acreage is mostly in the Marcellus and Utica shale belts so it is also a stealth play on shale gas and oil.
Trying to keep this article under book-length, I will refer you to a very recently written article about which uranium companies I believe stand a chance becoming it, if not giants, at least much larger. It was written just three months ago, on December 9th, and can be found here.
By directing you to that article for the uranium companies, I can now take the time and space to mention lithium. If a bunch of electric vehicle-buying consumers want to fool themselves into thinking they're being green when in fact they are merely exchanging oil for coal (since nearly 50% of all electricity produced in America is coal-fired) then who am I not to profit by their foolishness?
The way I have decided to do this is by buying the best lithium companies in the world. That's because lithium is one of the lightest metals in the periodic table and will be used ever more frequently to store electricity, fired by coal, in the giant batteries necessary to power our electric vehicles. I'd stick with the biggest and best in this area, simply because the economies of scale will favor the biggest companies. The two I suggest for your further research are Chile's Sociedad Quimica y Minera (NYSE:SQM) and Australia's Talison Lithium (OTC:TLTHF) which just overtook SQM as the world's largest producer of this wonderful element. There is another, far more speculative, lithium company, but I have not finished my research on it yet. If it makes the cut, I promise to talk about it in a future article!

Full Disclosure: We, and/or those clients for whom it is appropriate, are long BAM, BIP, CLD, NRP, PVR, ICO and TLTHF.PK. And we are buying more if/as they decline as well as the other firms named above on any good declines.

The Fine Print: As Registered Investment Advisors, we see it as our responsibility to advise the following: we do not know your personal financial situation, so the information contained in this communiqué represents the opinions of the staff of Stanford Wealth Management, and should not be construed as personalized investment advice.

Past performance is no guarantee of future results, rather an obvious statement but clearly too often unheeded judging by the number of investors who buy the current #1 mutual fund only to watch it plummet next month.

We encourage you to do your own research on individual issues we recommend for your analysis to see if they might be of value in your own investing. We take our responsibility to proffer intelligent commentary seriously, but it should not be assumed that investing in any securities we are investing in will always be profitable. We do our best to get it right, and we "eat our own cooking," but we could be wrong, hence our full disclosure as to whether we own or are buying the investments we write about.