Chinese Internet stocks ended February on a positive note: On average, the 41 Chinese Internet stocks (Table 1) rose 2.3% in the month. At the segment level, Online Video, Online Games, and Online Advertising stocks had positive average performance, while E-Commerce and Online Travel Booking segments posted monthly declines. Below is my detailed analysis of each segment:
Online Video stocks advanced 12.9% on average in February, as investors reacted positively to strong online viewership metrics of several hit movies and TV drama series around Chinese New Year holidays. Youku.com (NYSE:YOKU) and Leshi (SHE:300104) were the top two best-performing Chinese Internet stocks in the month, rising 40.4% and 23.5% respectively. In addition to the impact of recent hit movies and drama series, Youku shares also benefited from newly obtained licenses in live broadcasting, video search, and production and distribution of original content.
I remain cautious on the stock mainly because the online video competitive landscape is far from settled: As Tudou.com continues its push for IPO, and Softbank pours $250 million into PPTV, and cash-rich Internet portals such as Sohu (NASDAQ:SOHU), Tencent (OTCPK:TCEHY), and Sina (NASDAQ:SINA) devote more resources to online video, competition in this industry is heating up after Youku's high-profile IPO. Youku is the front-runner for now, but none of these major companies has established a dominant advantage in content offerings. As a result, users' loyalty is low at the current stage, and Youku could easily lose its traffic leadership if it falls behind competitors in content acquisition.
In addition, I am concerned that in its 4Q10 earnings release, Youku guided year-over-year revenue growth to decelerate to 105%-115% in 2011 from 152% in 2010. Considering the 389% Y/Y growth in content costs in 2010 and the increasingly intense competition for content, I believe an acceleration of revenue growth in 2011 is necessary for Youku to achieve healthy profit margins.
Online Game stocks gained 3.7% on average in February, as investors became more optimistic in the industry outlook following strong 4Q10 earnings from NetEase (NASDAQ:NTES), Giant Interactive (NYSE:GA), and Changyou (NASDAQ:CYOU). On average, these three companies' revenues rose 9.8% sequentially in Q4, suggesting that the fundamentals of Chinese online game industry is improving. On March 1, Shanda Games (NASDAQ:GAME) reported 5.1% squential revenue growth in 4Q10, further confirming the industry's rebounding trend. In my opinion, online games remain a product-driven business. Driven by better game offerings scheduled for 2011 vs. 2010, the Chinese online game industry will stage a nice comeback in 2011, growing total revenue by 10%-20% year-over-year.
Online Advertising stocks rose 2.5% on average in February, driven by investors' belief that the Chinese economy will keep expanding rapidly in 2011, outpacing the rise of inflation, and advertisers will continue to allocate more percentage of total advertising budgets to the Internet media. Baidu.com (NASDAQ:BIDU) is the top performer in this segment, rising 11.5% for the month on the back of better-than-expected 4Q10 results and 1Q11 guidance.
Two major factors contributed to the outperformance in Q4: the higher-than-expected 7.2% sequential growth in average revenue per customer (ARPU), and lower-than-expected traffic acquisition costs. Baidu's Q1 guidance was within the historical Q1 growth range. I maintan my forecast that Baidu will generate $376.1 million revenue in Q1, 2.8% above guidance midpoint. Going forward, I think Baidu should launch the following products: Web browser, mobile operating system, email service, Website hosting, and url-shortening service. These products will enable Baidu to expand its presence in the Web-browsing value chain, and better understand users' interests and demand.

E-Commcerce stocks declined 1.3% on average in February. B2B industry leader Alibaba.com's (OTC:ALBCF) shares fell 5.3% for the month, as its CEO and chief operating officer resigned amid a fraud scandal involving about 100 Alibaba.com salespeople and 2236 suppliers. Alibaba's major competitor Global Sources (NASDAQ:GSOL) became the biggest beneficiary in the segment, with its shares rising 16.3% in the month.
The Chinese economy is experiencing a major transition from being export-driven to being consumption-driven. After export-oriented Alibaba.com went public at its peak, I believe Alibaba Group has followed the macro trend and shifted its focus to Taobao.com and Alipay, two promising businesses that are poised to fuel and benefit from increasing domestic consumption.
B2C company E Commerce China Dangdang (NYSE:DANG) declined 10.1% in in February, as the company continued to be bothered by a price war against major competitors 360buy.com and Amazon China. I believe the competition in the B2C segment will be a prolonged battle, and none of the major companies will enjoy dominant market share (like Amazon.com in the U.S.) in the next several years.
Online Travel Booking stocks
declined 14.1% on average in February, as geopolitical factors pushed up oil prices, dampening the outlook for the travel industry.
eLong (NASDAQ:LONG)
was the worst-performer among Chinese Internet stocks, plunging -22.5% for the month. Industry leader
Ctrip.com (NASDAQ:CTRP)
was more resilient, declining 5.8% for the month. I believe these energy-price-driven concerns are short-term in nature. Ctrip is a proven winner in China's consumer-facing service sector. It should be a key holding for long-term investors looking to benefit from Chinese people's rising disposable income and upgrading life style. I believe it's now a good opportunity to accumulate Ctrip shares for the long term.
Table 1: China Internet Stocks' Performance in February 2011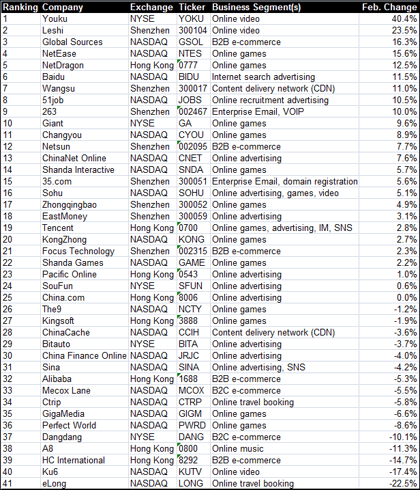 Disclosure: My virtual investment portfolio has a long position in GA, NCTY, and NTES, and a short position in DANG, MCOX, and YOKU.