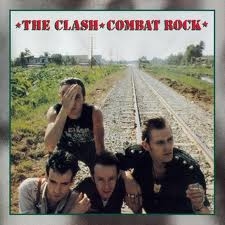 "This indecision's buggin' me…" –The Clash

Even though the song sounds indecisive, the advice is quite definitive. Ultimately, the Clash followed their own lyrics. Investors should heed the same wisdom. (Combat Rock was the last true Clash album. They had a decent idea that the run was done.) If you're struggling with the decision of whether to buy or sell, it probably means that you should sell.

My mother in law and her old lady friends have been collecting high dividend payers (mostly energy MLP's) as if they were Limoges china. I spent the better part of 35 minutes on the phone with her the other day as she agonized over whether to hold or sell one that has moved quite nicely. "Oh, I don't know," she said. "It's up a lot. I should sell it."

"Then sell it."

"But, it's paying a really good dividend."

"How much?"

"I don't know. It's really good though."

"Then keep it."

"Oh, I don't know.

This went on and on. During the course of the conversation, I received a first draft back from an editor with notes/questions, edited the piece, e-mailed it back to him, and looked up a couple of Black Keys videos on YouTube. I figured it was more constructive than poking myself in the sternum repeatedly with my own index finger.

I'm exaggerating, mostly. However, one of our biggest problems as investors is pulling the trigger. No one ever rings a bell at the top or the bottom. A foghorn may be blaring right about now. Yes…I know the market has snapped back since the slight Tunisia/Egypt/Libya induced pull back. But the broader equity markets have run better than 90% since the structural low of March 2009. Many of you have been obscenely rewarded. Did you buy Akamai (NASDAQ:AKAM) at around 16? EMC (EMC) around 10? How about Kinder Morgan's LP units (NYSE:KMP) at 41? You've got better than doubles. Congratulations, the market has given you a lovely gift. Accept it graciously. Are you used to the big fat yield KMP is throwing off? Tough. Take the gain. There're other names out there that can fill that gap cheaply. Log on to your Chuckie Schwab or your Talkin' Baby brokerage account and get to work.

If you pull the trigger you will probably leave some money on the table. But it's a helluva lot better than blowing a braggadocious gain. Heed the Clash: "If I go there will be trouble and if I stay it will be double…"

Well…maybe this week's three little piggies will "Rock The Casbah"…

"How do you say 'Wal-Mart' in Hebrew?"

Alon Holdings Blue Square ADS (NYSE:BSI)
Recent Price: 9.02
P/E: 23.67
Current Yield: 58.7%

The Skinny
Where to you go for caulk in Jerusalem? How about diapers in Tel Aviv? Probably a store in BSI's portfolio. BSI is one of the biggest retailers in Israel peddling everything from groceries, housewares, appliances and more. Their brands include All For A Dollar (Shekel?), Mega In Town, Dr. Baby, and others. The company also develops and leases retail space. Although BSI is a large firm in a business that typically has razor thin margins, the company has averaged a stellar 62% average annual growth rate in net income. This has helped the stock deliver a 5 year average annual growth rate of around 10%. Not bad at all. Throw in the fact BSI is one of the largest retailers in the most vibrant economy in the region and you've got an interesting idea.

The Danger
BSI may have a great, long term earnings growth story. Near term? Not so much. Sales have shrunk around 9% YOY. Not a great trend. There's also a lot of debt on the balance sheet. And unless you've been on a deep space mission for the last, oh, 60 years, there's no need to reiterate that the Middle East is probably the most volatile region on the planet. That's been evident just over the past month.

"Actually Actuarial…"

Life Partners Holdings, Inc. (NASDAQ:LPHI)
Recent Price: 8.24
P/E: 5.0
Current Yield: 12.62%

The Skinny
There's a saying that life insurance is great. The downside is that you have to die to see the benefit. LPHI to the "rescue"! Seriously, though, the company is in a unique financial services niche in that they purchase life insurance policies from holders at a discount to the face value.
Let's say, God forbid, you're terminally ill and would like to use money from your insurance policy's death benefit (DB). LPHI might purchase it at say 60 or 70 cents on the dollar from you. If the DB is $300,000, you'd get $180,000 to $210,000. You might leave some on the table. But that's the trade off. If you really need the money or want it to take the round the world trip you've always wanted to take, that was facilitated. And..when you get closer to the light, LPHI gets the $300,00: A nice little 30 or 40% ROI. An oogie business? Yes indeedy. But the numbers are worth a look. ROE is a massive 54.9%. Low to no debt. 8.2% EPS growth assisted by 9% earnings growth. The pay out ratio is unassuming at 54%. Not bad. The stock price is almost 58% off of it's 52 week high. The business might be creepy, but there might be some value there as well.

The Danger
While LPHI has turned in some consistently good reports, Q3 2010 saw a 15% decrease in net income. Not a good trend. Also, the business has done well partially due to the low rate environment. As rates tick up, who knows? And let's face it, it's kinda like buying a tobacco company, there's a bit of scary dance with the devil to it. Most glaringly though is an SEC investigation that the Wall Street Journal reported in late January which the company has confirmed. Naturally, an SEC probe is always followed by the class action lawsuits and more than a handful are popping up. Maybe those numbers ARE too good to be true. Dance at your own risk.

"All The REIT Stuff…"

Cypress Sharpridge Investments, Inc. (NYSE:CYS)
Recent Price: 12.49
P/E: 7.48
Current Yield: 19.15%

The Skinny
WOW!!! That's a huge yield!! Yes it is. But if you're an MBS REIT and CAN'T deliver that kind of number thanks to huge government guarantees and QE 1 and 2 induced low rates, then, as we used to say in 8th grade, "You're hurtin' for certain!" CYS is a REIT that owns predominantly mortgage backed securities issued by Fannie Mae (OTCQB:FNMA), Freddie Mac (OTCQB:FMCC) and Ginnie Mae. There's also a non-agency component that represents less than 0.5% of the portfolio. The stock is currently trading just a little above it's $11.59 book value. Based on the trailing and forward (5.61x's), the stock is pretty freakin' cheap. How do they do that? There's a 230 bps spread on what they can borrow at where they can buy. And thanks to where we are in interest rate land, analysts are comfortable with CYS's ability to maintain the dividend at it's current level near term.

The Danger
The 3 biggest risks CYS faces (hell…as investors and consumers we all face them) are liquidity risk, interest rate risk, and credit risk. We've all seen what #1 and #3 can do to investments. How about all three at the same time? Rest assured, #2 is on the way sooner than later. I try not to think about the scenario of all three at the same time. It would be beyond ugly. It would be downright fugly. The sum of all fears.
As far as the GSEs (government sponsored entities) go, they're more "government" than "government sponsored" these days. What happens when Uncle Sam kicks the good for nothin' kids out of the house as he yells "Get a job!!" That's bound to have an effect on a portfolio that looks like CYS's. Lastly, on a fundamental note, the company's Q4 2010 report showed a 7.5% quarter over quarter decline in book value which was larger than the 3% analysts expected. That's a pretty big gap. With a 19% dividend, there's great reward. But with great reward comes great risk. Be careful with this one.