My premise in writing about the stock market is straightforward. Be neither a bull nor a bear; it is all about generating profits with equal ease on both the long side and the short side.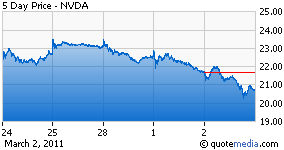 In early February, my article "Nvidia Investors Discounting Qualcomm's Graphics Capabilities," included part of my research on Nvidia (NASDAQ:NVDA) and made a case for short selling the stock. Around that time, Barron's had just published a glowing article on Nvidia. Every major broker following Nvidia was upgrading it with astronomical targets, and the stock price was hitting $26. The article received 28 comments, most of them negative and disparaging from Nvidia bulls who apparently could neither accept the logic nor read the tape for the price action in the stock. Yesterday, the stock closed at $20.75 ─ a drop of 20.71% from the recent high.
The trade has made money for the following reasons:
All brokers who followed the stock had just upgraded the stock. No more brokers were left to upgrade the stock to fuel a further increase in the stock price.
The number of bullish articles in the financial media was not only at an extreme, but the articles were also all extremely exuberant. It would have been near impossible to generate more bullishness than the extreme that was there.
W slice and dice data from every tick to generate proprietary variants of conventional money flow indicators. These proprietary indicators were showing that the smart money was selling into the strength.
With time, the logic became clearer to the investors; my fundamental thesis of the upcoming stiff competition from Texas Instruments (NYSE:TXN) and Qualcomm (NASDAQ:QCOM) in mobile devices and the potential loss of traditional graphics business has been proven correct. As an example, I had forewarned my subscribers on Feb 9, 2011 that Nvidia may lose MacBook business of Apple (NASDAQ:AAPL). On Feb 24, 2011, Apple confirmed that it was replacing Nvidia with Advanced Micro Devices (NASDAQ:AMD) ATI graphics in certain MacBooks.
Yesterday, on announcement of the Apple iPad 2, Nvidia's stock fell as low as $20.25.
There is a lot of hand wringing on part of Nvidia's investors as they contemplate great graphics, great speed, and cost advantage of Apple without using any Nvidia products or technology. As latecomers to Nvidia mourn their losses, I took advantage of the weakness to lock in more profits on my short position as described here.
Now, Nvidia is getting close to a buy zone for the following reasons:
Nvidia had already lost Apple's business. There is no adverse financial impact of the iPad 2 on Nvidia.
The best way for Apple's competitors to compete with the iPad 2 is to out-perform the iPad 2 in both speed and graphics. Nvidia chips offer the best option in the near term for Apple's competitors. The world's first mobile super chip, Nvidia Tegra™, brings extreme multitasking with the first mobile dual-core CPU, the best mobile Web experience with up to two times faster browsing, hardware-accelerated Flash, and console-quality gaming with an Nvidea GeForce GPU. Nvidia is also about to deliver a quad core chip.
Nvidia will hold an Analysts Day on March 8. Nvidia is good at making great presentations, and they have a good product road map. This event will generate some bullishness.
The Quantitative Analysis screen of the ZYX Change Method shows the fair value of Nvidia at present to be around $18. In this overall bullish environment, Nvidia is approaching the fair value, offering a good entry point.
I will be looking at completely covering my shorts on Nvidia and going long for the very short term in accordance with the ZYX Change Method. The ideal scenario for this switch is described here. Of course, it is tentative, and it all depends on the news flow and price action. Stay tuned here for further developments.


Disclosure: I am short NVDA.

Additional disclosure: I have taken profits on most of my shorts as described here. I have a tight trailing stop on the remaining short position. I intend to go long for a very short term trade when all six screens of the ZYX Change Method are met