America's company did it again. Even though I questioned the idea of him running the show, Steve Jobs blew the doors off of Apple's (NASDAQ:AAPL) iPad 2 event on Wednesday in San Francisco. Before getting into relatively meaningless discussions about playing AAPL stock, I have to note how great it was to see -- via live blogging -- Jobs take the stage to a standing ovation. His opening comment said it all:
We've been working on this product for a while and I just didn't want to miss the day.
No matter what his present condition, Jobs has clearly been through quite a bit. He deserved to be where he was on Wednesday. According to all accounts, he was at the top of his game. Here's hoping we see Jobs introduce iPhone 5, iPad 3, and whatever other world-changing device Apple has up its black crew-neck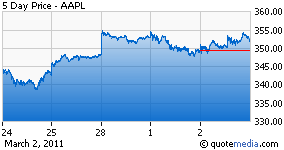 sleeve.

Jobs took shots at Apple's competitors. And really, why shouldn't he? You could debate the following all day long: Is Apple really that good or are its competitors just that bad? It's probably a little bit of both. Jobs teased a bit about 2011 being the year of the copycat. If it is, it would be deja vu. With the iPod, iPhone, and iPad, with the touchscreen, and now with a state-of-the-art polyurethane or leather iPad case, Apple sets the trends for other companies to embarrassingly follow. I am not sure how Samsung, HP, and other tech executives show their faces in public. Have an original idea already.

The numbers Jobs revealed on Wednesday are astounding:

iPad
15 million sold in 2010
$9.5 billion in iPad revenue
iPad 2 is 33% thinner than its predecessor
Almost immediate availability - March 11 in the U.S., March 25 across the globe
Still 10 hours of battery life
America's Company in General
100 million iBooks downloaded
200 million registered iTunes users
100 million iPhones sold
350,000 + apps in Apple's App Store
To say the competition is "flummoxed" is to be kind. Competition hardly exists. Jobs noted that iPad 2 is slimmer than the iPhone 4, boasting that none of the forthcoming copycat tablets are even thinner than the original iPad. It will be interesting to see what analysts such as Brian White of Ticonderoga and Gene Munster of Pipper Jaffray have to say about the dent, if the competition even makes a significant one, Apple's current 90-percent-plus share of the tablet market will take in 2011.

How to Play It

Given that it's the year of the iPad, I suggest that along with a birth certificate, the federal government provide every baby born in the United States with one share of Apple stock. Talk about stimulus. By the time these kids hit their teens, they'll be rich. In all seriousness, if you have just $352.12 to invest, as of Wednesday's close, buy one share of AAPL. I gentleman bet you that in one year, it will return more than 100 shares invested in a vast majority of $3.52 stocks.

If you have a little more cash, LEAPs make a ton of sense. According to Yahoo! Finance, the average analyst price target for AAPL shares is $415.48, as of Wednesday's close. With the blow-out quarters on the way for Apple, this could be conservative. AAPL January 2013 LEAP call options with strikes between $400 and $540 list prices ranging from $48.70 to $14.85. The extent of your bullishness ultimately dictates how to play it. If you are long-term investor, but buying AAPL stock appears to rich for your blood or bank account, you can take part in the upside inherent in America's company's shares going forward for a fraction of the cost. While 100 shares of AAPL would cost you about $35,000 today, a January 2013 $415 call option would run you somewhere in the neighborhood of $4,300 (contract premium of about $43.00 multiplied by 100) depending on the timing of your purchase.

If one year from now, AAPL trades at $415, that Jan 2013 $415 LEAP would be worth approximately $51.23, according to the CBOE Options Calculator. If it blows past that $415 target and sits at $450 one year from now, the call premium increases to about $73.38. Time would still be on your side at that juncture, but you could opt to sell the call back to the market and realize your gains or hold out for further price appreciation. If AAPL does not perform as well as this idea anticipates, you cannot lose more than the premium you paid for the call, a small amount relative to what it would cost to purchase 100 shares of AAPL.





Disclosure: I am long AAPL.