Just about anyone that invests should know of this company. Molson (NYSE:TAP) owns famous brands such as Molson, Coors, Miller (42% stake), Milwaukee's, Blue Moon, Keystone, Dos Equis, and many others. They have a 41% market share of the beer market in Canada. They only have an 11% market share in the US (I was surprised how low that is) compared to Budweiser's (NYSE:BUD) 48% market share. I believe this shows a huge long term potential for Molson considering Budweiser's rise has occurred mostly in the last 30 years as Schlitz used to be the number one beer in America.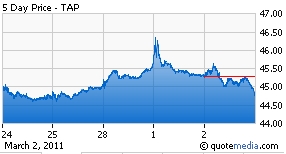 They also have 21% of the European beer market. All of this to me shows a strong recognizable brand name and thus a moat. They have a 52-week low of $40 a share and currently sit at $45 so the risk is considerably lower than many companies mentioned on old school value due to TAP's low volatility.
The dividend is 3% and has a payout ratio of 30% which shows quite a bit of long-term potential. FCF has been $500M (17 P/FCF, which is high) the past 2 years though this includes $1.6 billion in investments into MillerCoors (my favorite beer). This has returned $1.4B by means of ROC in the same time span. This may be indicating a possible $1.25B FCF earnings potential at present state with strong growth expected for the intermediate term future.
They trade at a P/B of 1.1 and tangible book value (minus goodwill; I left intangibles because it seemed reasonable considering their revenues and brands) of 1.25. They have cash on hand of $1.5B and current assets of $2.3B compared to only $1.3B in current liabilities and $4.9B in total liabilities. I see this as adequate liquidity pending a large portion of long-term debt owed in the next 3 years. Total dilutive shares have stayed constant or declined slightly the past few years. The last 12 months have seen an increase of slightly over $500M in retained earnings or true book value gain.
*I have not fully looked into the schedule of long-term debt maturities or their pension, but they have contributed nearly $400M extra to the pension fund to erase part of what was determined as a $850M shortage in the pension fund.*
The income sheet shows what I believe is huge growth to come. The Molson and Coors brands have been consistent with sales, down from a record 2008 and only accounting for $200M in net income in 2010. Yet the Miller brand contributed $500M in net income alone, or 70% of total net income for 2010. This is an increase of 120% in two years from 2008. MolsonCoors has only invested $2.5B into Miller and is already getting a P/E of 5 for their investment or a yield of 20%. This is an incredible investment that is accelerating in size. EPS was $3.78 for 2010 on revenues well below 2008 (nearly 20%) even though their investment in Miller started on June 30, 2008. This gives a P/E of 11.9, or an earnings yield of 8.5%, compared to a 10-year treasury yield of 3.39% (ratio of 2.507) and a 10 year AA corp bond yielding 4.57 (ratio of 1.860) currently.
In summary, this is truly a buy regardless of my belief in the S&P 500 being considerably overvalued because the nominal yields and potential growth, coupled with a strong moat, make this a strong investment at any time. This is a great value stock because I didn't like the fundamentals when I started and only decided to write this to get more practice in writing an analysis of a stock.
Yet, this stock has everything I love when I invest. The business model is simple and I understand it. They have strong liquidity, a memorable enduring brand, growth in book value, low P/FCF, low P/E, low P/B, growth, a moat, and very low P/FCF potential. I had originally just picked them as "outperform" on Motley Fool, but I plan to initiate a position in TAP while ordering/printing the annual report and determining a price to increase the position if the time comes.
What does everyone else think about TAP? Do you like the $45 share price? What price would you consider it at?
I'm getting an 8-year average DCF value of $60.22; a DCF value of $70.86 using 2010 FCF; and a value of $67.35 using an 8-year average of Warren Buffett's owner's earnings DCF. Each of these provide a 20% MOS and give me a range of ($60.22, $70.86) *(33.8%, 57.5%) upside* and an average price target value of $66.14.
Sources:
http://www.molsoncoors.com (.pdf)
http://yahoo.brand.edgar-online
Disclosure: I have no positions in any stocks mentioned, but may initiate a long position in TAP over the next 72 hours.