Recently, Brent crude oil futures prices touched a low of $87.74 per barrel, the lowest since December 2010. Saudi Arabia doesn't plan to alter its supplies till year end and is willing to accept oil prices between $80 and $90 per barrel. Kuwait too has no plans to lower supply in the near term. Crude oil comprises one third of India's import bill. India imports around 190 million tonnes of crude oil every year costing $145 billion.
Crude oil averaged $106 in the first half of fiscal year (or FY) 2014/15 (April 2014 to March 2015). India's current account deficit (or CAD) in FY 2013/14 (April 2013 to March 2014) was $32 billion or 1.7% of GDP. India's foreign exchange reserves stand at $311.42 billion. According to analyst estimates, India's CAD will reduce to 1.3% of GDP if crude oil averages at $100 per barrel for FY 2014/15. Overall, lower crude oil prices will strengthen the Indian Rupee against the U.S dollar.
Dollar rally halts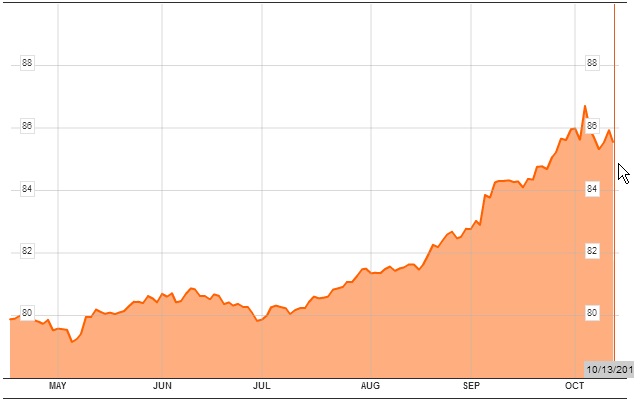 Source: Bloomberg
The U.S dollar index has been rallying since July this year on account of positive economic data. Last month, the U.S economy added 248,000 jobs, while the unemployment rate in the country declined to 5.9%. This led the U.S dollar index to cross the 86 levels. Last week, the U.S Federal Reserve showed no indication to increase the federal funds rate. The Fed plans to keep the federal funds rate near zero for a considerable time after its bond buying program ends in the current month. The central bank officials feel that a stronger dollar will hurt American exports amidst weak global growth. A stronger dollar will suppress the inflation due to influx of cheap foreign goods and services. This move halted the U.S dollar rally which is good for Asian currencies like the Indian Rupee.
Final Thoughts
Lower crude oil prices will help India to reduce CAD in FY 2014/15. The Federal Reserve's policy to keep interest rate hike on hold will prevent the US dollar from strengthening against the Indian Rupee.
Disclosure: The author has no positions in any stocks mentioned, and no plans to initiate any positions within the next 72 hours.
The author wrote this article themselves, and it expresses their own opinions. The author is not receiving compensation for it (other than from Seeking Alpha). The author has no business relationship with any company whose stock is mentioned in this article.