Revlon (NYSE:REV) posted a 2% growth in sales to $1.32 billion in 2010, ending a 4% year-on-year drop in sales over 2007-09. What is particularly promising is that Revlon managed to sustain its margins in another competitive year as the global economy recovered from the economic downturn in 2007-09. During the downturn, consumer goods companies like Procter & Gamble (NYSE:PG), Unilever (NYSE:UL) and Colgate Palmolive (NYSE:CL) increased their marketing and advertising spend in an attempt to maintain or even restore market share.
We value Revlon at a $14.88 price estimate for the company's stock, roughly at parity with the current market price.
Revlon increased its advertising expense by $33.8 million to support the company's brands but partly offset this by realizing $19.4 million in savings on cost of goods sold, thereby improving gross margins.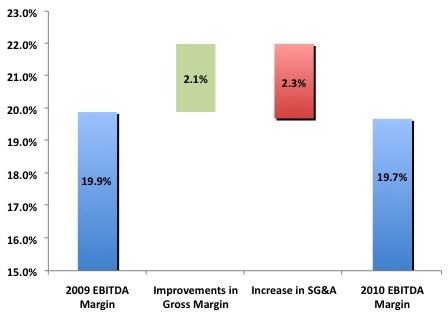 However, the 2010 annual reports highlight three major issues with regards to Revlon.
U.S. Continues to Dominate Sales
Revlon draws almost 55% of its total sales from the U.S., an economy that trended at a relatively low, under 3% growth rate in 2010. [1] Emerging markets in Asia, where Revlon still has limited presence, have seen much higher growth rates by comparison.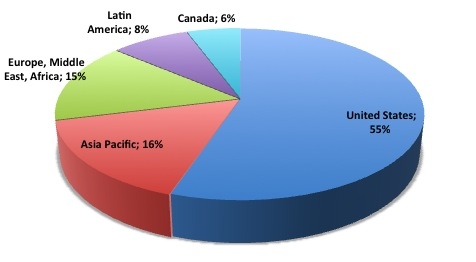 U.S. Continues to Deliver Negative Growth in Sales
Revlon's home turf, the U.S. market, showed a 3% decline in sales during 2010, following a 4% decline in 2009. Comparatively, Revlon's sales in the Asia-Pacific region grew at over 11% in 2010. Latin America's revenue contribution declined during this period, primarily due to foreign exchange impact.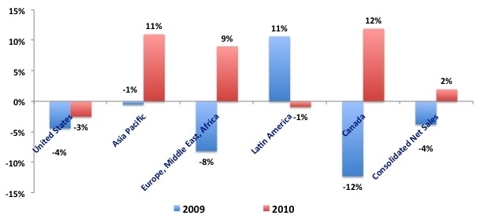 Stable Debt Levels Over 2009-2010
Revlon has struggled with heavy indebtedness, but has progressively reduced its debt burden over 2007-09. The effort led to limited investments in advertising, R&D and capacity expansion. We've previously expressed our concern over Revlon's gradual reduction in leverage that has spurred a limited availability of funds for investment. We've suggested the potential for a moderate decline in market share from this development (see Despite Debt, Revlon Should Spend on Branding Color Cosmetics).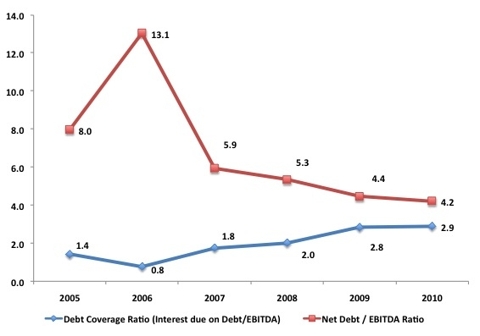 In 2010, Revlon maintained its leverage near 2009 levels. Since the company does not currently pay dividends, maintaining leverage enables Revlon to put money back into the business. With stable debt levels, we now expect increased spending for R&D and advertising going forward, which could spark a gradual rise in market share.
Notes:
Bureau of Economic Analysis, Jan 28, 2011 [↩]