Investors looking for dividend income can consider adding foreign dividend stocks. I have written many articles before on why US investors must go overseas hunting for higher dividends. This article is another installment on the same topic.
In addition to getting the benefits of portfolio diversification, adding global dividend payers also makes sense for a variety of reasons. Two of the reasons are discussed below.
1. Nearly two-thirds of the world's total dividends are paid by companies outside the U.S. The chart below from a long-term Henderson Global Investors shows the split of total dividends paid in 2013:
Click to enlarge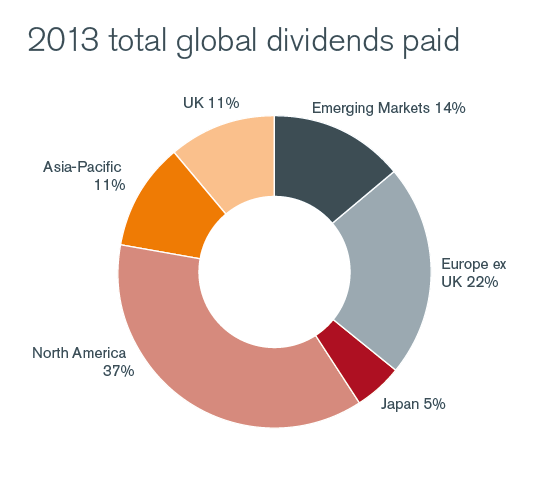 Source: Henderson Global Dividend Index, Edition Two, May 2014, Henderson Global Investors
2. Dividends paid outside the U.S. are much higher. The following chart shows that the dividend payout ratio in the U.S. is lower than in Australia, Continental Europe and the UK.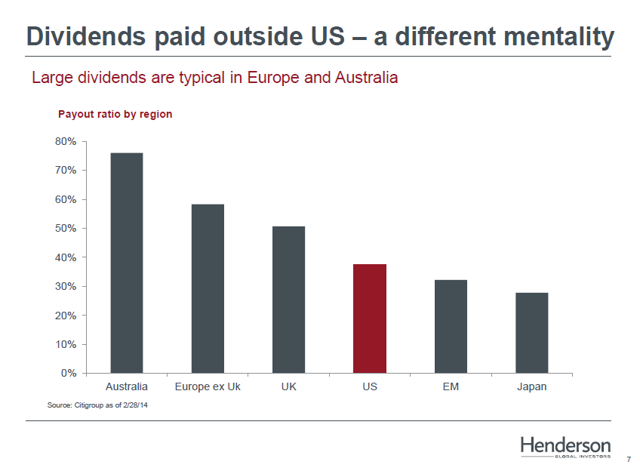 Source: Going global pays dividends, September 2014, Henderson Global Investors
Five top global dividend payers are listed below with their current dividend yields for further research:
1. Company: British American Tobacco PLC (NYSEMKT:BTI)
Current Dividend Yield: 4.38%
Sector:Tobacco
Country: UK
2. Company: Vodafone Group PLC (NASDAQ:VOD)
Current Dividend Yield: 4.06%
Sector: Wireless Telecom
Country: UK
3. Company: AstraZeneca PLC (NYSE:AZN)
Current Dividend Yield: 4.09%
Sector: Pharmaceuticals
Country: UK
4. Company: Sanofi (NYSE:SNY)
Current Dividend Yield: 3.06%
Sector: Pharmaceuticals
Country: France
5. Company:Commonwealth Bank of Australia (OTCPK:CMWAY)
Current Dividend Yield: 5.56%
Sector: Banking
Country: Australia
Note: Dividend yields noted above are as of Oct 13, 2014. Data is known to be accurate from sources used.Please use your own due diligence before making any investment decisions.
Disclosure: No Positions
Editor's Note: This article discusses one or more securities that do not trade on a major U.S. exchange. Please be aware of the risks associated with these stocks.