I have been highly critical of IEC Electronics (NYSEMKT:IEC) in the past. Look here, here or here for some of my past, critical articles. But now things are looking up, thanks to Vintage Capital and it's 7.1% stake in the stock. With the 13D filing, Vintage took the opportunity to write a letter to management and the Board of Directors, criticizing them for generating "unacceptable shareholders returns." The entire letter can be found here. The letter is highly critical of the Board's decision to adopt a tax benefit preservation plan (i.e., a poison pill). Specifically, Vintage states that the plan is "a blatant effort to entrench the Board and management in direct violation of your [their] duties to stockholders." Vintage also points to what it calls IEC's "lack of transparency, gamesmanship and bizarre evasiveness on quarterly calls." I read that to mean that Vintage tried engaging with management and was rebuffed at every turn.
I now firmly believe that Vintage is planning to shake things up. What does Jack Nicholson say in "A Few Good Men?" "You messed with the wrong Marine!" Vintage can nominate its own slate of directors for the Board. The Board is not staggered, so every member is up for re-election at the annual meeting, which is typically held in late January, early February. For the 2015 annual meeting, nominations for candidates for the Board are due by October 30.
Can Vintage muster up enough support for a new slate of directors and clean house? The stock does not have a lot of institutional ownership, so Vintage will need to gain the support of many retail investors if it is to garner enough support for a new slate of directors.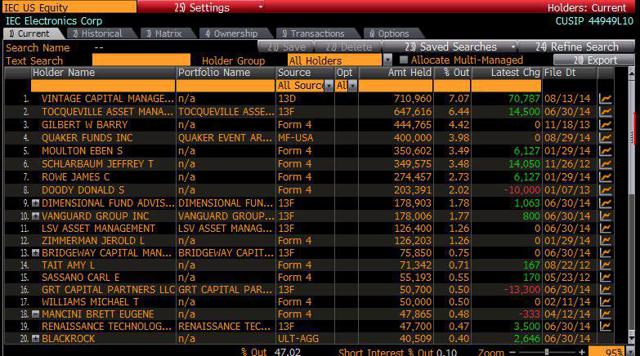 I believe they have a good shot. The performance of the stock has been terrible of the last two years.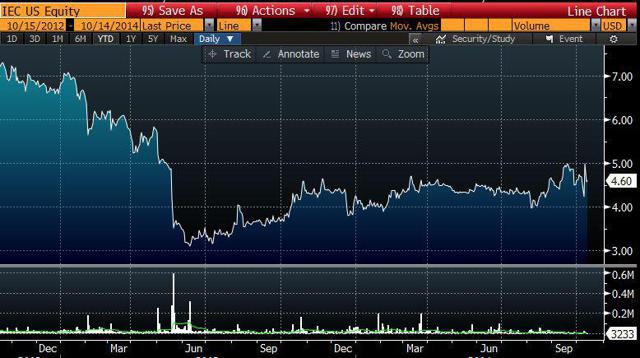 I believe Vintage is squarely focused on increasing shareholder value and will do what it takes to make that happen, even if it means divesting some assets. As Vintage states in its letter to the Board, IEC has "an enviable and growing customers base." The operational performance for the past two fiscal years can only be described as poor. The company went from generating $13M in cash from operations and repaying $7.5M in debt in FY2012 to generating negative $4.3M in cash from operations in FY2013 and adding over $9M in debt. Through the first three quarters in FY2014, operations have improved only slightly, generating a whopping $239K in free-cash-flow thanks to favorable working capital adjustments. Revenues are down slightly over this period.
The time for excuses is over. Management and the Board have no right to ignore the concerns of shareholders. I applaud Vintage for coming out publicly and criticizing both of them. It is clearly time for a fresh perspective. IEC was once on a path to greatness, and I believe it can be again with the right leadership.
One caveat - if Barry Gilbert (Chairman and CEO) sees the writing on the wall (i.e., it looks like Vintage will nominate and replace the Board and him), he may look to sell the company. I'm fine with that outcome as well. A real operator should be able to fold this into a larger company and return it to profitability. I think there are plenty of larger contract manufacturers that would love to get a hold of IEC. I could see a sale at 6-8x normalized EBITDA (EBITDA maxed out at $14.8M in FY2012, per the 10-K).
So really shareholders have two ways to win here. I'm a buyer of the stock below $5 a share.
Disclosure: The author is long IEC.
The author wrote this article themselves, and it expresses their own opinions. The author is not receiving compensation for it (other than from Seeking Alpha). The author has no business relationship with any company whose stock is mentioned in this article.
Editor's Note: This article covers one or more stocks trading at less than $1 per share and/or with less than a $100 million market cap. Please be aware of the risks associated with these stocks.