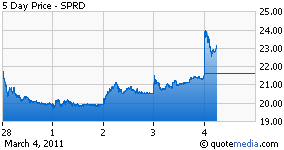 Spreadtrum Communications (NASDAQ:SPRD) posted a solid 10% gain to 23.82 in Thursday's after-hours, and it has legs as a long bet in today's trade. Here comes the "but" ... its long prospects are murky, even bordering on sludgy, when we look at the historical data.

SPRD has posted an earnings-driven after-hours gain in nine of the last 10 quarters tracked in our MT Pro database. Also, 66.7% of the time (six out of nine times) the stock reversed in the opposite direction by the close of the next day's regular session compared to the Extended Hours "effective close."

When it reversed, the price closed in the opposite direction on average by 10.2% (in six events) from the "effective close."

The reversal trend in place in SPRD gives us some pause on the long side of the shares for Friday. But with upside momentum steady Thursday night there looks to be an opportunity to play a gain at the start Friday, a time when buyers may be more willing to over-reach. Longs may want to watch for entry points near 23.21 to 23.60, an area that saw bullish buy liquidity before the stock spiked to its late highs Thursday night. More risk tolerant longs may want to start the day closer to the 24 mark as it's likely the issue opens near or above this area in pre-bell trade and perhaps holds this as a base through the early-going.

On the short side, sellers became a bit more aggressive at 24 and above, a level worth watching as a potential ceiling if it struggles to hold gains up here.

SPRD advanced in night trade after posting better-than-expected revenue results and guidance.

SPRD was an aggressive upside mover through the after-hours, rising from 21.28 to 23.48 near the mid-session. Buyers funneled in more buy momentum through the second-half, goosing the shares north from 23.35 to a late high of 24.45.

Evening indications would suggest SPRD records a potential pre-market open Friday in the 23.50 to 24.30 range.

Disclosure: I have no positions in any stocks mentioned, and no plans to initiate any positions within the next 72 hours.