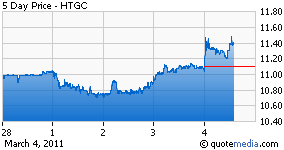 Recently, Hercules Technology (NASDAQ:HTGC) announced its results for fourth quarter 2010. Our initial reaction is that the specialty BDC ended the year on a very strong note, and seems poised to perform well in 2011. The market seems to agree as the stock has jumped more than $11.10 a share from $10 (an 11% increase) just three months ago. We also listened to the conference call.
We've had our expectations raised in prior quarters only to be disappointed once the actual results were published, so this is a refreshing change. Here are some of the positive features:
1. Distributable Net Operating Income (called DNOI) was up an impressive 15% in just three months. More impressive was that DNOI per share was up 1 cent a share, despite a large stock offering a few weeks ago. DNOI is a metric which Hercules has recently started to use and is close to but not the same as Taxable Income, but we're comfortable with this new lens with which to evaluate profitability. We note that DNOI per share is significantly above the just-increased dividend level (see next point).
2. Frankly we've been expecting a dividend increase from Hercules for a year, but it's finally official. The distribution has been increased from $0.20 to $0.22 a quarter, starting in the first quarter of 2011. That's hardly a huge yield on the amped up stock price, but still an accomplishment. Management promised a variable dividend tied to actual earnings, and investors are now getting a 10% increase in the pay-out, after the semi-shocking dividend reduction from $0.30 in the 4Q of 2009 to $0.20 just a year ago. That's only a fifth of the way back to the prior dividend level, but HTGC a year later is a much improved version of itself. On the conference call, the CEO strongly suggested the dividend will increase further in 2011. Still, management admitted that there's no material spill over from a tax standpoint from 2010 to boost 2011′s dividend payments.
3. Which brings us to the capital structure. Thanks to the previously mentioned capital raise, the company's net debt is very modest and its net debt to equity is only 0.15:1.0. All the debt on the balance sheet is owed to the SBIC, and is fixed for 10 years at low interest rates. The company continues to avoid drawing on its two revolving lines of credit with Wells Fargo and Union Bank, with $70mn committed. These are about to be renewed (terms unknown) and that could change in 2011.
In January 2011, $25mn of the SBIC debt was temporarily repaid. According to Hercules, they were the first entity to ever repay the 10-year debentures. This was done to reduce cost. Given that this has not been done before, HTGC had to work with the SBIC to mechanically arrange for the repayment and the ultimate re-drawing of the funds. When HTGC redraws this money, the borrowing yield should be materially lower (3% per annum, says the CEO) and will offset some of the lower gross yield expected for 2011 (see point 6 below). In the short term, though, there will be higher up front fees.
4. Usually we wait for our review of the 10-K SEC filing to discuss credit quality because the devil is in the details. However, from the press release it appears Hercules Technology has continued (by dint of sales and write offs) to "clean up" the loan portfolio. In the fourth quarter Hercules wrote off three loans. Going the other way, Unrealized Appreciation was even greater than these Realized Losses, adding to Net Asset Value. Certainly the company's Portfolio Quality Rating has $13.5mn or just 3.1% of the total portfolio at fair market value in the lowest two levels, which is a good sign. There are only two companies left on non-accrual, with no material fair market value remaining.
5. On the conference call, management underscored that 2011 would be an expansion year rather than a "defensive" one as in 2010. Or, in other words, net investment assets are expected to increase substantially. That follows a huge increase in new business in 2010 versus 2009, but maybe that's not a fair comparison year.
6. Management spent some time reminding listeners that the effective yield on the portfolio is 14.8%, not the 17.7% nominal yield which is boosted by one time fees receive and will "drift lower" in 2011.
7. Hercules is proud of its Infologix disposition, which will result in $8mn in Realized Gains in the first quarter of 2010. We'll quote from the press release in detail:
"In January 2011, Hercules' portfolio company Infologix, a leading provider of enterprise mobile solutions for the healthcare and commercial industries, completed the sale of all of its shares to Stanley Black & Decker, Inc. The transaction was valued at approximately $61.2 million prior to transaction fees, closing costs and working capital adjustments. In connection with the sale, Hercules expects to realize a net gain of approximately $8.0-$8.5 million in the first quarter of 2011, representing an internal rate of return above 30% on Hercules' investment in Infologix."
Note that the gain on Infologix and a smaller 2011 Realized Gain will reduce the company's accumulated Realized Losses to under $45mn, or about 9% of initial capital. That's not bad for a company which lends into higher risk companies at yields well above 12%.
8. The cumulative Realized Losses balance could go lower as a number of warrant and equity investments are expected to be realized in 2011. In fact, HTGC has warrants in nine out of 10 portfolio companies, which provides the prospect of substantial upside. In theory.
9. Hercules detailed its intention to "reinvigorate" its efforts in early stage investments, despite the lower yields and longer period to fruition. The hope is that these investments may result in higher capital gains down the road. Hercules has just hired back one of its former founders to spearhead this marketing effort, as we discussed on an earlier post.
10. In terms of the competitive environment, banks are hungry and bringing down yields by 100-150 basis points in 2011. This despite that other unnamed "private debt" competitors to Hercules are capital constrained, and not very active in the marketplace. Interestingly, some of the competition is coming from sponsors just injecting more equity into technology companies that might otherwise have used a lender such as Hercules Technology.
Conclusion
That's a down and dirty summary. But Hercules appears to be pointed in the right direction for earnings growth in 2011, while retaining a strong balance sheet to absorb any unexpected shocks, either from its own portfolio or the economy in general. That may be already baked into the stock price. The earnings estimate is for $1.09 in 2011 in earnings per share, which suggests the company is trading at a 10.2x forward multiple, which is lower than some other BDCs but higher than some others. Moreover, the earnings projection for 2011 might get a boost in the days ahead as analysts digest these results. Still, in after hours trading Hercules was unchanged.
Disclosure: I am long HTGC.