By David Russell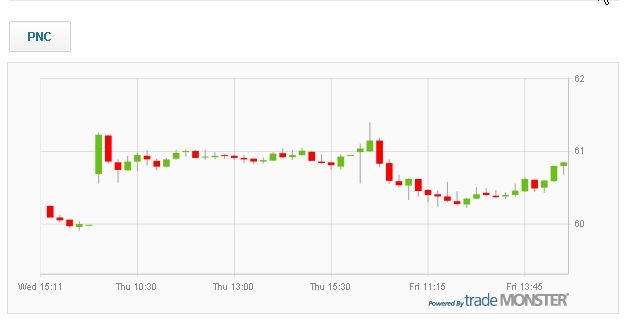 PNC Financial Services has pulled back after a steady climb, and one bull is stepping in.
optionMONSTER's Heat Seeker tracking system detected the purchase of about 5,000 May 62.50 calls for $2.15. Equal numbers of May 55 puts and May 67.50 calls were sold at the same time for $1.39 and $0.68, respectively. Volume was above open interest in all three strikes. Selling both upside calls and downside puts reduced the cost of the transaction to just $0.08. That will generate major leverage, resulting in a maximum profit of 6,150 percent if PNC closes at or above $67.50 on expiration. It will lose money if the shares fall below $55. PNC are down 0.59 percent to $60.59 in afternoon trading. It climbed from about $50 in late August to $65 in mid-February but has been falling since then.
The financial service company's last earnings report on Jan. 20 beat forecasts as loan losses fell. The next scheduled even that could serve as a potential catalyst for the shares is an appearance at next week's Citi Financial Services Conference on Wednesday at 9:30 a.m. ET. Overall option volume in the name is four times greater than average so far today.