The stock markets around the world are throwing a little hissy fit. Hey, they're emotional and not always rational; they can get moody and throw little tantrums. As I like to write, the stock markets are like little kids, the bonds are the adults in the room.
If this minor blip to-date has you nervous even in the slightest, that may be a sign that you've taken on too much risk. And I will certainly define risk as the emotional response an investor has to price declines. As we know, too many investors have the habit of buying towards the tops of the markets and bailing out when things get rough - they'll often sell towards or at the bottom of the market. Not to be uncaring, but we know that the path to success is not "buy high, sell low". But that is the longer-term trend that leads to losses and/or very, very small returns for too many investors.
So far, this is a very minor adjustment in prices. And we should remind ourselves that this is a natural and expected part of investing that usually provides opportunity for the intelligent investor. Market corrections are healthy, and they can return markets to more sensible valuations. Corrections can shake off those who are not really investors - those who were just hopping on for the ride, hoping to make a quick buck or two. Not everyone is investing for the longer term, with a long-term plan. These markets shake them out real quick. They are the first to go. And lucky for them, they may have some short-term gains, or very small losses.
Many investors have not strongly considered their risk tolerance level, and as many of us believe, investing success is based more on emotion than it is about the actual investment choices.
If the markets are making you nervous with a little 6% or 7% correction, it may be time for a risk evaluation time to ask yourself how it will feel if the markets correct another 15%, 25% or 40%. If you think there is the possibility that you would be looking to sell all or some of your assets - it may be time to lower the volatility level of your portfolio.
Historically, bonds are the additive that reduces portfolio volatility. And it does not matter that bond yields are very low. Bonds can do their thing irrespective of the yield.
I have been writing about bonds and balanced portfolios and risk evaluation from my first articles written for Seeking Alpha. I have shown the historical relationship between equity markets and bonds in market corrections. In modest-to-major corrections, bonds often offer that inverse relationship to the stock markets. And the longer-dated Treasury Bonds that offer the most price risk have delivered the greatest inverse relationship to the stock markets.
Here's how Long-Term Treasuries reacted or delivered in the Great Recession. Here's a chart from the article, "The Best Market Correction Insurance". Chart courtesy of Yahoo Finance. The time period is from early 2007 to December 2013. The chart plots the SPDR S&P 500 Trust ETF (NYSEARCA:SPY) vs. iShares 20+ Year Treasury Bond ETF (NASDAQ:TLT).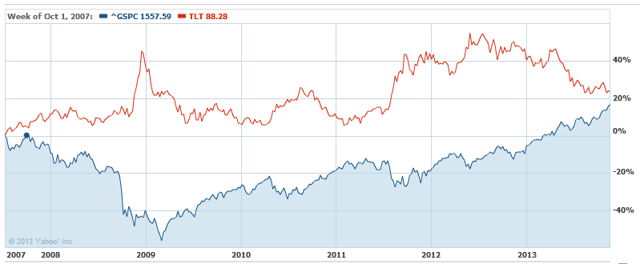 As we can see, TLT spiked when the markets tanked in 2008-2009. TLT was there again in 2010 and 2011, when the markets threw a little head fake. Ditto for 2012. The inverse relationship provided portfolio stability, and it also created a buying opportunity for investors who were rebalancing their portfolios. We see a divergence of over 80% between SPY and TLT. An investor might have sold some high-flying TLT and moved those dollars to the equity markets when they offered some attractive value.
And bonds have stayed true to form in this little correction. These are skittish markets, to say the least, and money has been flowing to the bond markets.
Here's TLT vs. SPY in the recent correction. Chart courtesy of Yahoo Finance, from July 16 to October 15, 2014.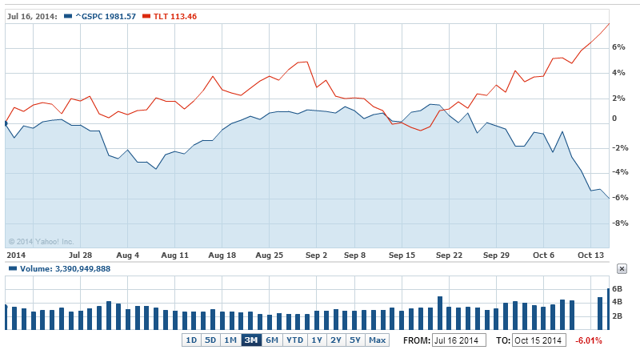 Here's the broad-based bond ETF, iShares Core Total U.S. Bond Market ETF (NYSEARCA:AGG), in the same period vs. SPY.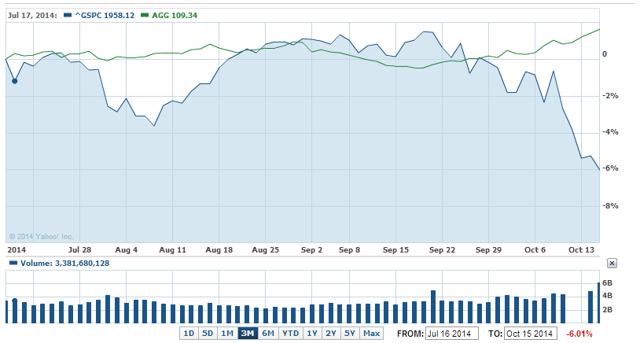 And here's the corporate bond ETF, iShares iBoxx $ Investment Grade Corporate Bond ETF (NYSEARCA:LQD), for the same three-month period vs. SPY.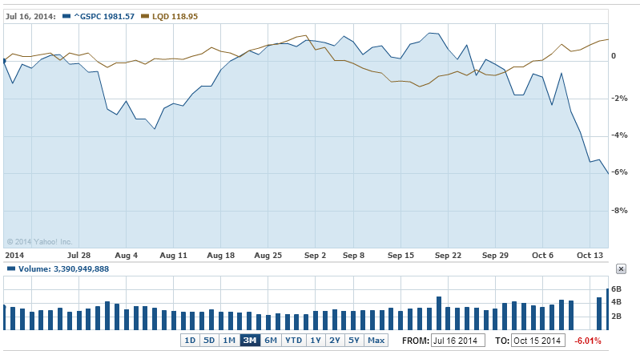 As we can see, it was TLT once again that provided the greater market insurance, while the broad-based bond index and the corporate bond ETF delivered on stability and a very small price increase.
Here's how some TLT would offer a little TLC for the risk-averse investor. According to the portfolio creation tool at low-risk-investing.com a 60% SPY and 40% TLT portfolio would have fallen by some 2.7% from September 1 to October 15, 2014. The S&P 500 was down 6.7% in this period. low-risk-investing rates the balanced portfolio as having a volatility level of 1.7% vs. 9.8% for SPY. The correlation of TLT to SPY is -83%.
None of us has any idea what the markets will do today, next week or over the next several months. But investors should be prepared for just about any event that could occur. It's certainly not too late to consider one's risk tolerance level and make the necessary adjustments if need be. Heck, SPY is still up 35% from January of 2013 to present (according to low-risk-investing.com). Those are some wonderful gains. And in my opinion, if we do have another market correction, there's the probability that a balanced portfolio could match or beat a more aggressive and volatile all-equity portfolio over the next several years. It may turn out once again that there is no cost when it comes to total return, but you may be able to catch a few more zzzzzzzzzz's. Here's my article, "There's Very Little Chance of Beating a Balanced Portfolio From Here".
Remember, bonds to carry their own price risks, and I strongly suggest readers do their research on how to address and manage that risk. A great starting point would be Seeking Alpha and Crestmont Research.
That said, I will consider those price risks and then factor in that interesting dynamic between stock and bond markets. The stocks are never alone, the bonds are never alone, and that relationship can be an investor's best friend.
Happy investing, always know your risk tolerance level, be careful out there...
Disclosure: The author is long SPY, VIG, BRK.B, AAPL, ENB, TRP, EWC, EFA. Dale Roberts is an investment funds associate at Tangerine Investment Funds Limited. The Tangerine Investment Portfolios offer complete, low-fee index-based portfolios to Canadians. Dale's commentary does not constitute investment advice. The opinions and information should only be factored into an investor's overall opinion forming process. The views expressed are personal and do not necessarily represent those of Scotiabank. The author wrote this article themselves, and it expresses their own opinions. The author is not receiving compensation for it (other than from Seeking Alpha). The author has no business relationship with any company whose stock is mentioned in this article.