The overall market has retraced almost 10% in the last month. The price of oil has fallen 20%+. Many oil stocks have fallen 35%+. Is there a bottom for the market near term? Is there a bottom for oil near term? Logically there should be a bottom for oil for the near term at least. The recent economic news has not been horrendous. In some cases one could even call it good, especially in the US. Plus it is generally accepted that there is a long term secular bull market in oil and in energy. Secular energy bull thoughts ought to arrest the fall of some of the stronger oil and gas stocks. In fact the market seemed to show that today. The SPY (as a proxy for the S&P500) was down $1.27 today, October 15, 2014. In contrast three of the stronger oil and natural gas E & P stocks bounced today (found support): Continental Resources (NYSE:CLR), EOG Resources (NYSE:EOG), and Chesapeake Energy (NYSE:CHK).
The above are all large oil and gas producers with large lease holdings in some of the most prolific oil and natural gas fields in the US. They are all large, well respected producers. They ought to find some support for a rebound on that basis alone. However, it is probably instructive to look at how well each is hedged. The market moves on market psychology more often than not. However, in the long term it often moves on fundamentals; and good fundamentals can help a stock find a base sooner than another stock without such good fundamentals. Since all of the above have good production and all own prolific development fields, a differentiating fundamental could be the hedging. Good hedges can protect a company from a sharp temporary down move in oil and/or natural gas prices.
How well hedged are each of the above companies? EOG Resources says it has 194,000 bopd hedged for August 1, - December 31, 2014 at $96.19/barrel. It has 330,000 mmbtu/d of natural gas hedged for September 1, - December 31, 2014 at $4.55/mmbtu. EOG says it expects to reach about 285,000 bopd of crude production by 2014E. However, its estimated range for Q3 2014 is 283.1-298.3 Mbopd. This range has a midpoint of 290.7 Mbopd, which is already higher than the 285 Mbopd figure. Likely the Q4 2014 production will be even higher, so I will just use 291,000 bopd as my 2H 2014 average production figure to be conservative. Using this figure, about 66.7% of EOG's crude oil is hedged at $96.19/barrel for the rest of 2014.
EOG expects 89% of its revenues to come from crude oil and NGLs in FY2014. Almost all of that 89% is expected to be from crude oil (81%+). This means that about 27% of EOG's crude oil revenues are not hedged. EOG could experience significant loss of income from its non-hedged oil production for the rest of 2014. Oil closed at $81.78 on October 15, 2014. This is about $14 below EOG's average hedge price. This could translate into a loss to currently expected revenue levels of about 91 days * 97,000 bopd * $14 = $123,578,000 for EOG in Q4 2014, although this is only a ballpark figure. The losses could be larger or smaller depending on whether the price of oil moves upward or downward from here.
Continental Resources says it has 16,790,000 barrels of oil hedged (Q2 2014 10-Q). Almost all of this is hedged at $96 to $103 per barrel for 2H 2014. The 16,790,000 barrels amount to about 1,050,000 bopd. CLR expects total 2014 crude production to be 45,621,000 - 47,265,000 barrels of oil. The midpoint of this range is 46,443,000 barrels of oil. If you weight this slightly toward 2H 2014, you get an approximate figure of 25,000,000 barrels of oil expected to be produced in 2H 2014. The actual figure will likely be higher; but even this one yields only about 67% of oil production hedged for 2H 2014. This figure is very comparable to EOG's figure. However, 93.42% is hedged at an average price of $100.28 per barrel, so CLR should be able to glean more from its hedges. It has a lot hedged as Brent. CLR appear to be slightly better off than EOG. Plus CLR has a next five years EPS growth estimate per annum of 21.93% compared to EOG's 11.40%. Of course, market psychology could still favor EOG. It is difficult to say; but if you are a long term investor CLR is probably the better bet at this time.
Chesapeake Energy had 113,400 bopd of crude oil production in Q2 2014. One might expect this to average at least 3% higher in 2H 2014 (or 116,802 bopd). CHK says it has 65% of oil production hedged for the rest of 2014 at $94.25/barrel; and it cites a realized price of much less (about $90/barrel). This makes it worse off than CLR and EOG in terms of straight hedging of oil. However, CHK has much higher natural gas production and NGLs production. Its natural gas production of approximately 1045 bcf for FY2014; and natural gas has not been falling nearly as much or as quickly as crude oil. Plus it is expected to get a lift from winter weather soon. There is a two thirds chance of an El Nino year, which might make the winter slightly colder than normal. This would lead to even higher natural gas prices.
Natural gas prices should provide revenue support for CHK, and they probably make CHK a slightly better play than EOG. CHK is not drilling a huge number of new natural gas wells, so the natural gas drilling an completion expenses are not a critical factor in its CapEx budget. However, CHK's analysts' average five year EPS growth forecast per annum is only 5.05%. This is much less than either CLR's or EOG's five year EPS growth figure. This probably makes CLR the best long term standout in the group. However, all of the above stocks are likely stocks astute investors should consider buying on this dip. They are all big, strong companies with great production and at least decent growth. Each could bounce from its current level.
The two year charts of these three stocks provide some technical direction for a trade.
The two year chart of CLR is below.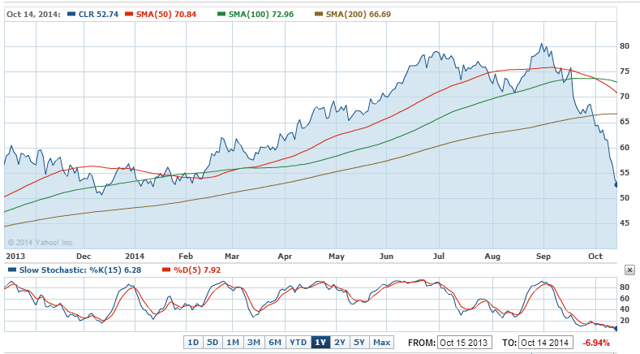 The two year chart of EOG is below.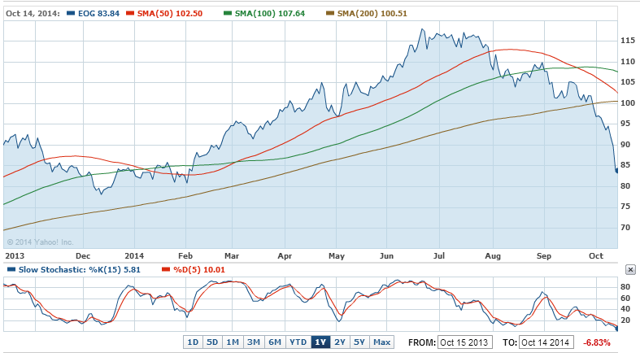 The two year chart of CHK is below.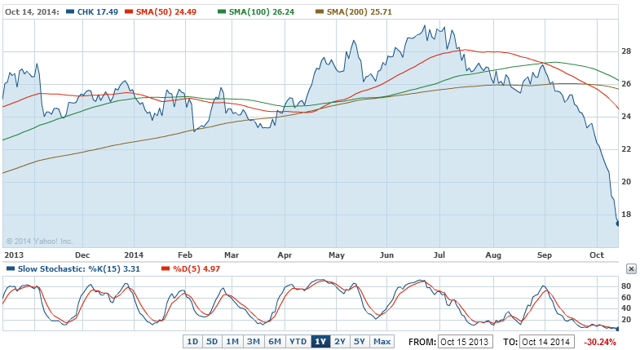 The slow stochastic sub chart shows that all three of the above stocks are oversold. The main charts of each show that each price line is far below the stock's 200-day SMA (the green line). Usually this will mean there will be at least a temporary snap back to somewhere close to the 200-day SMA. If the trend remains downward, the stock may move down again from there. Still traders can play a snap back; and long term investors can consider getting in for the long term in these suddenly much better value plays.
All three companies still have great assets. The long term secular uptrend in oil and natural gas demand is still in place. All three have great long term futures. If you are worried about a further crash in the market from here, you may wish to average in. Then you will get to buy at least some of the stock for a cheap price; but you will not risk a big chunk of money in a time which is highly worrisome. The analysts' mean recommendations are EOG = 1.9 (a buy), CLR = 2.1 (a buy), and CHK = 2.7 (a high hold). All can technically be bought, although a safer way of doing this may be to average in.
Oddly CHK has the highest amount of recent insider buying with insiders adding +5.7% to their holdings in the last six months. CLR insider buying was flat; and EOG insider buying was negative at -6.7%. Apparently the insiders have opinions contrary to the analysts. This should call into question the validity of the analysts' opinions. Perhaps CHK is a better buy than some analysts are thinking. Virtually everyone likes CLR.
NOTE: Some of the fundamental fiscal information above is from Yahoo Finance.
Good Luck Trading.
Disclosure: The author has no positions in any stocks mentioned, and no plans to initiate any positions within the next 72 hours.
The author wrote this article themselves, and it expresses their own opinions. The author is not receiving compensation for it (other than from Seeking Alpha). The author has no business relationship with any company whose stock is mentioned in this article.