Libya is a major oil exporter, the largest exporter in North Africa. Libya
produces about 1.6 million barrels per day
, less than 2 percent of world consumption. Iran is even a bigger oil exporter. And Saudi Arabia is by far the biggest oil exporter. Unrest in Libya has seemed to spread to Iran, where protests have been staged. And
worry about possible spreading
has pushed up oil prices even further. Protests could even spread to the whole Middle East and North Africa, causing a major oil shortage.
How high will oil go?
Oil reached an all time high of $140 a barrel on the Iran's nuclear program, rapid demand from China, and growth in the global economy. Demand from China has slowed a little, but demand still remains strong. The fear of Iran's nuclear program has eased, though the threat is still there. But if supply is shut down by protests in Iran, expect seeing $140 again. And if anything happens in Saudi Arabia, $140 will definitely happen.
How can you take advantage of the rise in oil?
Most stocks listed below are followed by a screen and graphs of technicals. In each technical graph, the top black line is overbought, and the bottom line is oversold. Also, bullish signals are circled in green, and bearish signals are circled in red. Below is a key for the screens. All screens are from
Finviz.com
. All technicals are from Yahoo Finance.
P/S = Price/Sales
P/B = Price/Book
P/C = Price/Cash
P/FCF = Price/Free Cash Flow
EPS next Y = EPS growth next year
EPS past 5Y = EPS growth last 5 years
Insider Trans = Insider Transactions
Sales Q/Q = Sales growth quarter over quarter
ROA = Return on assets
ROE = Return on equity
Curr R = Current Ratio, which measures whether or not a firm has enough resources to pay its debts over the next 12 months. A ratio of 1.25 means that for every dollar the company owes it has $1.25 available in current assets.
Quick R = Quick Ratio
Gross M = Gross Margin
Oper M = Operating Margin
Profit M = Profit Margin
Toyota (NYSE:TM)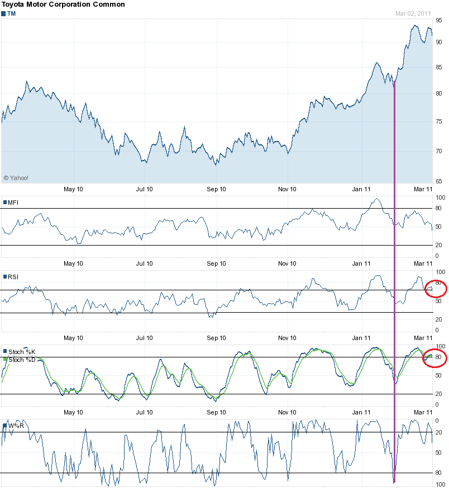 Yes, there are still recalls, but Ford (NYSE:
F
) and General Motors (NYSE:
GM
) issued recalls, too. And the simple fact is that as oil rises, people buy more fuel efficient cars. The Prius still has the best fuel efficiency for a mid-priced car on the market. And Toyota did report a surge in sales last month.
From the screen, earnings per share are expected to increase 66% next year, a very high number in its industry. PEG is less than 1, meaning the stock in theory is undervalued. But based on the technicals, I would wait for a pullback before buying, ideally when the technicals reach similar levels to that indicated by the purple line.
Chemical & Mining Company of Chile (NYSE:SQM)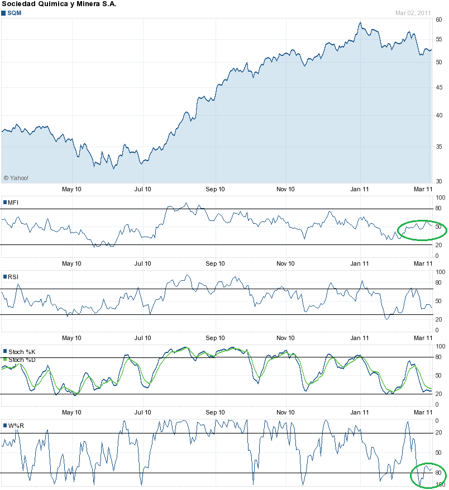 Hybrid or all electric vehicles need lithium batteries. And SQM has a third of the world's reserves.
Caution is the huge PEG. But if earnings, growth, or both increase more than expected, the PEG will decrease. EPS is expected to grow 37% next year. Profit margin and operating margin are both high for its respective industry. And technicals give two bullish signals, indicated by the green circles.
The owner of the largest number of natural gas wells in the Appalachians looks not only cheap at 0.49 times sales and a PE of 10 but will also benefit from the increasing demand for natural gas as oil goes up. Plus the purchase of Atlas Energy last year means Big Oil is still in the hunt for cheap natural gas assets. However, based on technicals, I would wait for a pullback before buying.
Like Atlas, its assets are extremely undervalued. The stock sells for half its book value. Plus, don't forget Big Oil's hunt for natural gas assets. And insiders are buying up like crazy. However, technicals again say to wait for a pullback.
First Majestic Silver (NYSE:AG)
No doubt silver and gold will remain hot as long as tensions remain. PE, forward PE, PEG, and price/sales all look cheap. The technicals signal to wait for a pullback, but that might not happen as gold and silver continue to climb. If it does pull back, it will be a small move.
Great Panther Silver (NYSEMKT:GPL)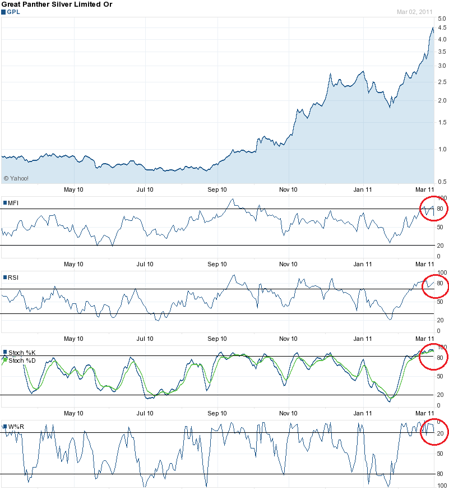 The recent listing of this stock on the AMEX from the pink sheets is a huge catalyst. This is because institutions and funds start buying the shares. Company is growing rapidly, but technicals point to a possible pullback or correction.
Royale Energy (NASDAQ:ROYL)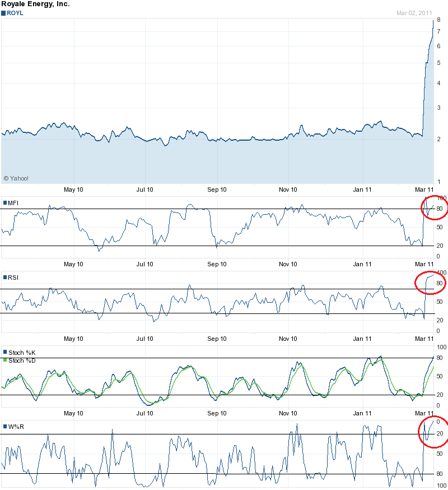 This is the riskiest of all these picks, but as they
make improvements in their oil and gas wells
, they should be able to ride the trend. Gross margin and quarter-over-quarter sales growth are very high. But technicals say to wait for a pullback.


Disclosure: I have no positions in any stocks mentioned, and no plans to initiate any positions within the next 72 hours.