Escalating global growth and QE exit concerns have taken a toll on stocks for several days in a row. Year-to-date, the U.S. market (S&P 500) remains in positive territory, while other major country indexes are in negative territory. Economically, the U.S. appears to be firing on all cylinders. According to recent reports, real GDP growth, job growth, and corporate balance sheets are all improving and gaining steam. However, market sentiment can turn on a dime, and the order of the day is a four letter word, F-E-A-R.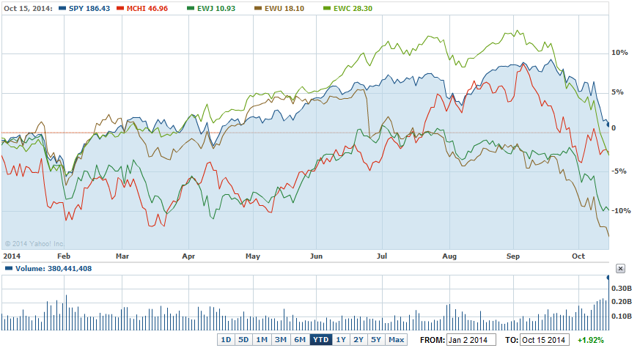 SPY - SPDR S&P 500 ETF
EWJ - iShares MSCI Japan
MCHI - iShares MSCI China
EWU - iShares MSCI United Kingdom
EWC - iShares MSCI Canada
It is worthy to note that exiting QE1 and QE2 precipitated declines of -9.00% and -11.65%, respectively. Comparatively, the S&P 500 has now declined -7.76% from its all-time high of 2,019.26 as the Fed tapers and exits QE3.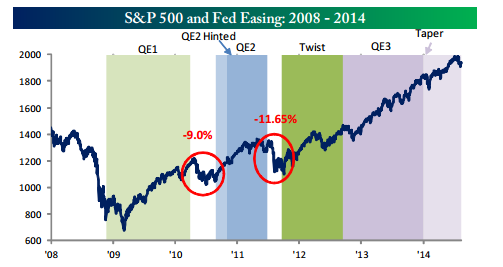 Source: Bespoke Investment Group
FOMC September Statement:
Beginning in October, the Committee will add to its holdings of agency mortgage-backed securities at a pace of $5 billion per month rather than $10 billion per month, and will add to its holdings of longer-term Treasury securities at a pace of $10 billion per month rather than $15 billion per month. The Committee is maintaining its existing policy of reinvesting principal payments from its holdings of agency debt and agency mortgage-backed securities in agency mortgage-backed securities and of rolling over maturing Treasury securities at auction. The Committee's sizable and still-increasing holdings of longer-term securities should maintain downward pressure on longer-term interest rates, support mortgage markets, and help to make broader financial conditions more accommodative, which in turn should promote a stronger economic recovery and help to ensure that inflation, over time, is at the rate most consistent with the Committee's dual mandate.
The bond purchasing programs (quantitative easing or QE) were instituted to expand the money supply and lower long-term interest rates to jump start the economy. Since the financial crisis, bond purchases by central banks have increased dramatically. Accordingly, central bank assets as a percentage of GDP have jumped to historic heights.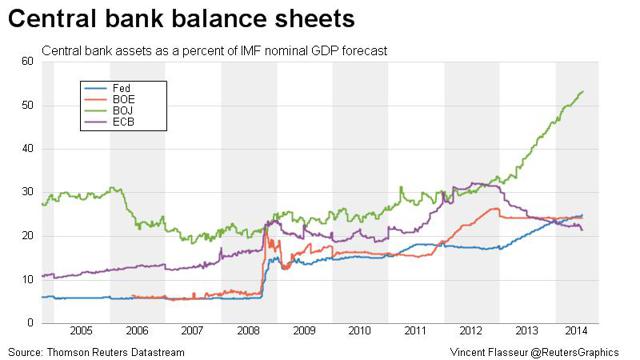 Conclusion
At these elevated levels (albeit less so over the last few days), stocks and bonds appear to be priced for perfection. The next leg down might trigger a Yellen put, but with so much monetary pumping already in the system, the new highs from administering more monetary drug might be less satisfying as more printing and higher debt is needed each time than previous to produce the same level of GDP growth. The Japanese for over 20 years can attest to that. Caveat emptor.
Disclaimer: Please note the fact that a general recommendation made of a particular security, commodity, or investment area does not mean it is suitable for you or should be purchased by you. For example, we may already have purchased such securities at a lower cost and/or the position for you may represent too much concentration in one security or industry. Before deciding to invest you should carefully consider your investment objectives, level of experience, and risk appetite. The possibility exists that you could sustain a loss of some or all of your initial investment and therefore you should seek advice from an independent financial advisor if you have any doubts.
Disclosure: The author is long SPY. The author may reduce a long position in SPY over the next 72 hours.
The author wrote this article themselves, and it expresses their own opinions. The author is not receiving compensation for it (other than from Seeking Alpha). The author has no business relationship with any company whose stock is mentioned in this article.