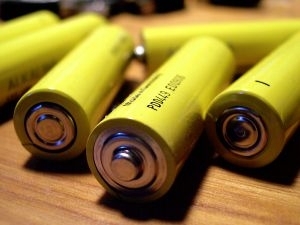 This year investors' interest in stocks is charged up. The question being debated is "Why?"

Here are four drivers of investors' stock buying.
1. A desire to resume normal stock buying
Individuals, as a whole, build assets over their working lives, and make withdrawals during retirement.
Because accumulation inflows are larger than distribution outflows, investors buy more than they sell. Historically, stocks represent a large portion of that buying. However, bond buying and even stock selling was the norm from 2008 through 2010.

The best way to view the change in investors' actions is to examine mutual fund flows. Here is the latest picture:
Over the past seven weeks, $49 billion went into long-term funds, of which $23 billion (47%) went into U.S. stock funds and $10 billion (20%) went into international stock funds, for a total of $33 billion (67%).
This 67% is within a "normal" buying range.
2. A need to rebuild stock allocations in portfolios

The difficult times following the stock market's 2007 high caused investors to become reluctant stock investors.
With investors now returning to normal stock buying, they soon will be looking at the need to rebuild their underweighted positions in stocks. How large is the gap?
We can see the hole that needs to be filled by examining the year-end allocations of mutual funds, starting with the more normal periods of 2005 and 2006.
Click to enlarge: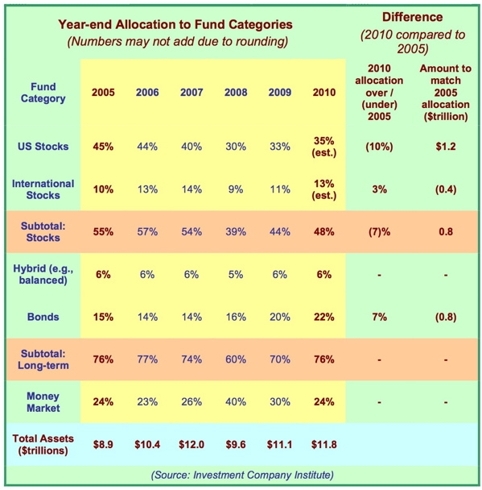 There are three key observations:
Long-term assets appear to be back to a normal allocation of about 75%. However, many investors have fled money market funds to higher yielding bond funds. Likely, this means that overall, investors view some of their bond holdings (e.g., short-term) as cash reserves.

The 7% shortfall in stocks is enormous. Investors would need to transfer $800 billion to stock funds to restore their previous, long-term allocation. (For perspective, remember that the Federal Reserve's "QE2" bond buying program is $600 billion.)

The international stock allocation is back to its higher, 2006 level of 13%. International stocks have been less worrisome as U.S. investors centered their concerns on U.S. stocks. Therefore, the stock rebuilding should be focused primarily on U.S. stocks.
3. Bonds' poor relative performance = incentive to sell

Investors' bond fund allocations are well above normal. Investors liked bonds because they provided comfort, decent interest income and price gains as interest rates declined.
Now, with returns turning negative, bonds are losing their appeal.
4. Stocks' improving fundamentals and prices = incentive to buy

Investors have seen the pervious slow growth projections and tepid stock market forecasts come up short. Instead, U.S. companies have produced steadily better earnings and faster growth than expected. At the same time, the stock market has kept pace with those rising fundamentals. (See "Stock Market's Rise Is Supported by Values, Not Speculation")
The combination of price increase in line with fundamental improvement means stocks look attractive from both a performance and a valuation standpoint.
Ignore these erroneous warnings
Investors' increased stock buying has spurred some incorrect pronouncements. At the top of the list are these:
So… There are four healthy forces driving investors' stock buying. The focus will likely be on U.S. stocks. Because of the size of the underweighted U.S. stock allocation, this buying could provide a floor beneath the stock market for some time to come. We soon may see a return of the wisdom to buy on dips, thereby keeping such dips small.
Disclosure: Client positions: Long U.S. stocks and U.S. stock funds.