The German chemical industry is the fourth largest in the world and number one in Europe. Traditionally, Germany has maintained a leadership position in this industry, beating other countries due to innovative policies encouraging investment, highly specialized educational programs fostering the advancement of chemical science, world-class infrastructure, sustainable development with public and private sector partnership, substantial development, high investment in R&D, etc. As chemicals are an ingredient in most of the products we consume, this sector offers attractive opportunities for long-term investment. German companies are especially well-positioned to profit from growth in the developed world and in the emerging countries.
The following are some of the reasons to invest in German chemical stocks:
Germany is Europe's preferred location for chemical investment.
Germany is the world's largest exporter of chemicals.
Click to enlarge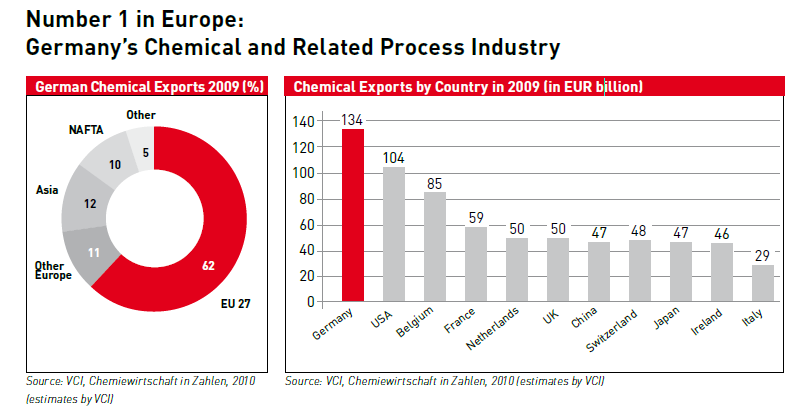 German chemical firms set the benchmarks for advancement of various state-of-the-art technologies in other sectors.
Located in heart of Europe, German chemical firms supply their products to other industries in Europe with easy access to a market of more than 450 million customers.
The country is home to 40 large-scale chemical parks that offer excellent infrastructure including their own power plant.
Global chemical firms such as Dow Chemical (NYSE:DOW), Ineos and Sabic have a significant presence in Germany.
Source: Germany Trade and Invest
The four German chemical companies available for US-investors as sponsored ADRs on the the OTC market are listed below:
1. BASF AG (OTCQX:BASFY)
Current Share Price: $84.48
Current Dividend Yield: 2.63%
Total Revenue: $89.3B
2. Bayer (OTCPK:BAYRY)
Current Share Price: $79.10
Current Dividend Yield: 2.33%
3. K+S AG (OTCQX:KPLUY)
Current Share Price: $39.26
Current Dividend Yield: 0.32%.
4. Linde AG (OTCPK:LNEGY)
Current Share Price: $15.76
Current Dividend Yield: 1.46%
Note: Stock prices and dividend yields listed are as of market close Mar 4, 2011.
Disclosure: No Positions