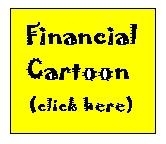 Outlook: The clash of fear (higher oil prices and inflation) with greed (improving labor markets and economy) sent the equity markets roiling this week. The tug-of-war ended in a draw.
Near & Far Sighted: While investors have one eye fixed near-term on the turmoil in the Middle East and its impact on oil prices, the other eye is fixed a little further "up the road" on the economic impact of a post QE2 economic landscape
Post QE2? While most investment professionals seem to agree that a QE2 is unlikely, it begs the question of what market participant(s) will step into the void to fill the Fed's "shoes". Will the Fed's withdrawal of liquidity make it more likely that interest rates will rise? When will investors begin to start discounting the Fed's absence in the treasury markets?
The One-Two Punch: While the economy seems to be gaining traction with visible private sector job growth, it is still vulnerable to economic and political shocks. The combination of rising oil prices and interest rates represents a toxic combination that could result in the economy stalling mid-year, causing investors to lose confidence and resulting in the potential for the equity markets to retrace some of its most recent gains.
Large Caps: Investors wanting to participate in equities at this juncture should consider utilizing recent market dips to add to their holdings large-cap, liquid, dividend paying stocks. Alternatively, investors could consider ETFs of a similar nature including SPDR S&P Dividend ETF (NYSEARCA:SDY) or iShares Dow Jones Select Dividend ETF (NYSEARCA:DVY).
This recommendation would encompass a CEF like Adams Express (NYSE:ADX). ADX has exposure to the large-cap segment of the equity market. Additionally, investors may further benefit from a current institutional shareholders' proposal aimed at narrowing ADX's persistently wide discount through either a self-tender offering or through a liquidation of assets at a higher valuation.
Whether the shareholders' proposal is accepted or not, it sends a clear message to ADX's board that inaction is no longer an acceptable response to its persistent discount.
CEF Weekly Review: On average, the 13 closed-end fund (CEF) types registered an increase of 0.6% for the week ending 3/4/11. The high-low spread was +2.3% versus +3.1% the previous week on an average of +0.6% versus -0.5%, respectively. On an aggregate, unweighted basis, the weekly average price change for the 500 plus CEFs in the Eqcome database was down 0.7%.
The PowerShares CEF Income Composite (NYSEARCA:PCEF), an ETF that invests in taxable income CEFs, was up 0.6% for the week. The S&P 500 advanced 0.1% and is now up 5.0% YTD.
Since mid-February the volume of the S&P 500 (GSPC) has been anemic. Even the March 1st decline of 1.6% was on 1.2 billion shares. Thursday's breakout on the upside drew 4.3 billion shares. This is still not material above the 3.8 billion average daily share volumes YTD.
The Eqcome CEF Fear Index for the week eased. The average unweighted price increased 0.7% while related NAV increased 0.2%. After the 20.5% plunge in the VIX three weeks ago, the VIX dropped another 1.5% the following week and then surged 17.0% last week to remain relatively unchanged this week, up 0.8%
Money Flows: For the seventh strait week money flowed into the coffers of long-term mutual funds increasing $7.9 billion. Every category again participated with the exception of muni funds. This is the 15th straight week of muni funds' outflow. However, we may be beginning to see a tapering off of muni fund leakage with the most recent weekly muni decline at $0.5 billion.
Money market mutual funds experienced an inflow of $560 for the week of March 2nd million which represents a trickle in the $2.75 trillion asset base.
Weekly money flows into the Dow Jones U.S. Total Stock Market Sectors was up .13% for the week ending March 4th with an Up/Down Ratio of 1.00. Health Care was up 2.3%; Financials saw a money outflow 1.3%.
CEF Weekly Fund Type Performance: Given the wide swings in both the equity and debt markets there was a mixture of equity and oriented fund types interspersed with regards to fund type average share price performance—although there was more of a downward bias on fixed-income fund types.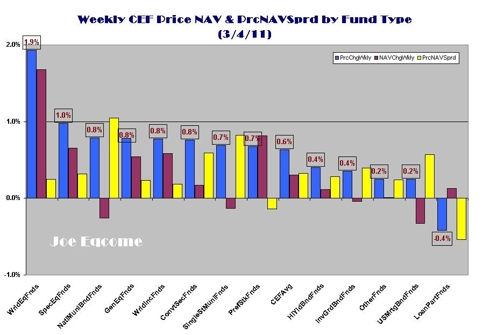 WrldEqFnds swung from last place the previous week (declining 2.2%) to leading the fund types this week with a 1.9% advance. LoanPartFnds was the only fund type that experienced a meaningful negative PrcNAVSprd (0.5%) with its average price declining 0.4% and it NAV advancing 0.1%
Excluding WrldEqFnds which boomeranged from week to week, the price changes were clumped fairly close together with only a narrow 1.4% spread reflecting the yoyo nature of price movements for the week.
Weekly CEF Winners and Losers: The CEFs with the greatest positive spreads for the week was one of the Cornerstone advised trio: Cornerstone Progressive Return Fund (NYSEMKT:CFP). On average, CFP's price increased 7.4% versus an increase in NAV of 0.7%; this generated a positive PrcNAVSprd* of 6.7%. February 17th, CFP filed for a non-transferable 3 for 1 rights offering (click here for prospectus).
While not having studied this document or iterating the various arbitrage strategies available to investors in this type of situation, there appears to be two groups of related parties that would benefit from the stock going up in the face of a rights offering. The first is the advisor who gets paid on assets under management as the higher the stock price the more AUM available for fee generation. The second group would be current owners of the stock who are driving the stock up in order to short it so they can replace the stock with cheaper stock obtained from the exercise of the rights to cover the short positions.
The stock distribution yield of 13.6% is over 90% return of your capital and you're currently paying 1.56 per share for a $1.00 worth of assets.
The CEF with the greatest negative PrcNAVSprds was Eaton Vance Senior Floating-Rate Trust (NYSE:EFR). EFR's price declined 5.4% while its NAV remained flat generating a negative PrcNAVSprd of 5.4%. EFR experienced on average twice its normal volume the last three days of this week.
EFR trades at an 11.1% premium and an annualized monthly distribution yield of 6%. February's monthly distribution bounces around in a non-material fashion during 2010. First Trust Portfolios LP owned about 18.3% of the stock.
Economic & Earnings Outlook: (Click here for next week's economic calendar; click here for earnings' announcements and estimates.)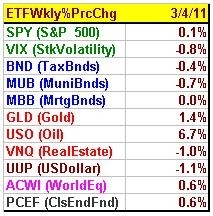 Insider Trading: There was only one transaction in the very early days of March. Daniel Neidich, Director of Great American Investors (NYSE:GAM), family trust, Prince Street Investors, LLC, acquired 3,000 shares of GAM at an average price of $28.27 per share. Mr. Neidich owns 96,656 shares of GAM.
(Click here for a hyperlink to the Joe Eqcome's CEF Weekly Insider Report.)
CEF Distribution Announcements This Week: Of the 344 CEFs declaring a distribution this week, 22 CEFs recorded a change in its periodic payment from its previous period. Of those changes, 17 were positive while 5 were negative. The cumulative change for the 22 CEFs was $.0452 per share.
The following is a link to a table of CEF distribution announcements this week as well as the previous week's with yet expired ex-dividend dates. The list is not intended to be inclusive. (Click here for Joe Eqcome's Weekly CEF Distribution Announcements.)
Significant CEF Corporate Events: BlackRock Apex Municipal Fund's (APX) tax-free reorganization with and into BlackRock MuniAssets Fund (NYSE:MUA) became effective at the opening for business of the New York Stock Exchange on February 28, 2011, through the issuance of newly created common shares of MUA. The conversion ratio of MUA to APX was 0.72861057.
Neuberger Berman Real Estate Securities Income Fund (NYSEMKT:NRO) announced it commenced a tender offer for up to 100% of its outstanding auction market preferred shares ("AMPS"). The tender offer will expire on March 28, 2011, at 5:00 p.m. EST, or on such later date to which the offer is extended. The Fund is offering to purchase its AMPS at a price equal to 98% of the per share liquidation preference of $25,000 plus any unpaid dividends accrued through the expiration of the offer.
CEF Focus Stock(s) for the Week: The focus stock of the week is Western Asset Managed Municipal Fund (NYSE:MMU). This section is hyperlinked to Muni CEFs: Time to Get Back in the Water?
Caveats: The "CEF Focus Stock(s) for the Week" section includes CEF stocks of interest to me—and possibly other retail investors—and are subject to further analyses. Their inclusion in this section should not be viewed as recommendations based on the analysis provided here alone. Such stocks are basically a "heads-up" of something that might be of interest—or, not.
---
[*] All things being equal, price and NAV should move in tandem. A price movement greater than the NAV generates a positive PrcNAVSprd and may be interpreted as negative on a near-term basis and indicate that the stock is overvalued relative to its NAV which in theory is the stock's intrinsic value. The opposite would be true for a negative PrcNAVSprd.
Disclosure: I am long ADX, MMU, SDY, DVY, GAM. In the Eqcome CEF Portfolio™, Joe maintains three separate CEF portfolios that have different investment objectives: CEFBig10™, CEFMuni10™ and CEFDisc10™ (see website).