I covered Sina (NASDAQ:SINA) last week prior to their earnings release because I think they are an intriguing play on the Chinese social media sector. When earnings were released, I expected Sina to beat big. I was wrong, and the stock took a hit on softer guidance. However, the stock recovered and has now gotten back to where it was prior to earnings. This has become a pattern for Sina following earnings releases over the last year and a half. So, the important question to ask is, where do they go from here?
In this article I will briefly cover the earnings release for Sina Corp and then go into my valuation for the stock. I believe they have been beaten down by analyst ratings cuts and are now at around fair value; this discounted value is rare in the Chinese internet sector and may represent enough of a reason to invest for the right person. Let's get started.
Q4 Earnings: Mild Beat but Red from CRIC Impairment
Sina had a good quarter, despite the loss from the CRIC transaction. Here are some of the highlights from their earnings release.
Q4 net revenues grew 12% year over year to $110.0 million. Fiscal 2010 net revenues grew 12% year over year to $402.6 million.
Q4 advertising revenues and non-GAAP advertising revenues were $82.5 million, compared to $63.2 million for the same period last year (growth of 30% and at the high end of company guidance). Fiscal 2010 advertising revenues grew 28% year over year to $290.8 million.
Gross margin for the fourth quarter of 2010 was 58%, up from 56% for the same period last year.
Advertising gross margin for the fourth quarter of 2010 was 60%, up from 54% for the same period last year.
Operating income for the fourth quarter of 2010 was $27.0 million, compared to an operating loss of $3.4 million for the same period last year.
Cash and short term investments stood at $882.8 million as of December 31 2010, compared to $821.5 million as of December 31, 2009.
Cash flow from operating activities for the fourth quarter of 2010 was $34.2 million, compared to $34.3 million for the same period last year.
Cash flow from operating activities for fiscal 2010 was $116.6 million, compared to $98.1 million for the year prior.
These are mostly positive indicators, and should be taken as a good indication of Sina's fourth quarter. I wish cash flows had increased in Q4, but the overall trend is upward so I'm not too concerned. They are expanding margins and improving the areas they have committed to (advertising revenues) at a clip of around 30%. I believe the ascent of Weibo will arm them with another formidable weapon in terms of turning traffic into money. Remember, their monetization efforts like Sina Pay are still in their infancy; it was expected that there would be some bumps in the road. The net loss for the quarter, however was due to an impairment in an equity investment in China Real Estate Information Company (NASDAQ:CRIC).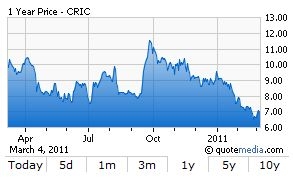 As you can see in October 2009, the company listed on NASDAQ Global Select at around $16, and since then has fallen steadily. At the end of 2009, it stood at around $11, but has since dropped from there. The impairment is due to a 33% stake in CRIC.
Net loss attributable to SINA for fiscal 2010 was $19.1 million, which included a write-down of $128.6 million related to an impairment of equity investment in CRIC.
Net income attributable to SINA for fiscal 2009 was $411.9 million, which included a gain of $376.6 million resulting from the CRIC Transaction.
This doesn't paint a very accurate picture of what is actually going on inside SINA. I think the growth of cash flows from operating activities is more indicative of their growth, despite a change in focus to more online advertising revenues. So, despite the red hit from the CRIC transaction, the quarter looks good.
Soft Guidance
Sina Corp expects revenue between $93 million and $96 million for the first quarter of 2011. This estimate excludes $4.7 million in deferred license revenue related to the CRIC transaction. Analysts had predicted first-quarter revenue around $99 million, according to FactSet. So, this represents a potential six percent dip in revenues for Q1 2011. I expect this guidance is conservative and should be at the lower end of what Sina actually expects to accomplish. With the growth of Weibo and their growth in online advertising, I think $96-97 million is certainly attainable. However, soft guidance doesn't make the market happy, and we saw their gut reaction to it Tuesday was a dip of 6%. Cooler heads seemed to prevail, however, as the stock recovered to its pre-earnings levels by the end of last week. So where do they go from here?
Transformation of the Business
Sina has obviously gone through some changes in the past year. Weibo has become an incredible growth opportunity and their online advertising business has taken off. In addition, they're beginning to introduce ways to monetize the internet that resemble PayPal. Charles Chao, CEO of SINA, explained this transformation when he said:
2010 has been a year of transformation for SINA. In addition to achieving significant growth in online advertising business and profitability, we have successfully built SINA microblog Weibo into the largest and most influential social media platform in China with user base increasing by more than 25 times in 2010. Total registered users for Weibo have now surpassed 100 million, doubling from four months ago.
So, this evolution to be one of the largest and most influential social media companies in China is well under way. However, simply making a microblog service does not guarantee future results; more investments will have to be made to fully take advantage of their huge new audience. Chao has big plans in terms of investments for 2011, saying:
As we move into 2011, we plan to leverage Weibo as the centerpiece of SINA's new media growth strategy and make significant investments to further enhance our leadership position in social media space and to best position SINA for an Internet world moving deeper into social networking and mobile Internet.
The Twitter of China seems to be thinking clearly; their Weibo service is their main advantage, and the monetization of that service will be the key to their future. The story is there, now we will just have to see if the valuation looks appropriate.
Valuation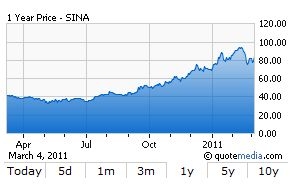 The risks of competition will require SINA to invest heavily in the technologies and services surrounding their Weibo platform. Additionally, sovereign risk in the form of censorship is always hovering around any source of social media in China. Luckily, Sina Corp seems to be handling this duty as censorship watchdog fairly well, and the government seems appreciative of their efforts. The nature of Weibo, like Twitter, is more celebrity oriented (take, for instance, the fact that Charlie Sheen had 150k+ followers before he ever made a tweet) and less skewed to a radical social agenda.
It is difficult to use Sina's recent history without some form of alteration for the CRIC transaction. I believe without the effect of this, Sina is trading at around their fair value. There is, however, plenty of upside should Weibo continue to be the industry leader it has been for the last year. After accommodating the risks associated with China and altering their statements to be comparable, I come up with a price floor of $80 and ceiling of $125 for Sina. I believe there is potential upside to this social media giant, if you are willing to accept the risks associated with the stock.
Conclusions
Sina certainly isn't the right investment for everyone. They are not trading at a significant discount to what I think their fair value is, and there are risks surrounding the stock. However, they have just created a brand that grew 25 times over in 2010 alone and now has more than 100 million subscribers. If they can tap even a third of the internet users in China by the end of 2011, that number could double. Having access to a captive audience like that offers opportunities in terms of advertising and data mining that other competitors in the social media sphere lack. Sina Weibo could be the next household word in a country of over a billion people. That is something worth investing in.
Disclosure: The author holds no positions in stocks mentioned and does not plan to initiate positions within 120 hours of the posting of this article.
Disclaimer: This article is to be used for educational, research and informational purposes only and does not constitute investment advice. There are no guarantees, expressed or implied, of future positive returns in regards to the subject matter contained herein. Understand the risks inherent in investing before making the decision to invest or consult an investment professional for more information. Reasonable due diligence has been performed in regards to the information in this article. However, the author expressly disclaims any liability for accidental omissions of information or errors in fact.