Color us concerned about prospects for stock markets in the short-term. The risks that surround us are fairly clear, but whether, when and to what degree they will impinge upon the markets, and how they may interact with the positives is very difficult to gauge. At this time we are fully invested, protected from catastrophe with wide stops, and watching price behavior closely.
We prefer to stay fully invested, but the potential gravity of the various risks that are mounting is far from settling.
Some of those risks include:
oil price increases driven by the Middle East,
the possibility of revolt in Saudi Arabia, with mega oil consequences,
general inflation in the emerging economies, and we will import it here,
the likely adverse impact of QEII ending (or the possible adverse world reaction to a QEIII),
the prospect of the ECB raising rates at the same time that the PIGS are struggling with fiscal and credit rating crises,
the unknown potential for the "Wisconsin-flu" to become epidemic,
the high profit margins of major companies, which probably can't go higher,
the above average valuation multiples for stocks,
the current wave of analysts downgrading GDP and earnings estimates,
and other manner of mostly geopolitical, macro-economic, and government policy driven risk factors.
Those sorts of "external" risks make prediction nearly futile.
All that is certain, and fully visible, and also real-time, is the price action itself. So, while we try to stay abreast of all that is going on, and that might happen, and that pundits predict will happen; we watch the price action in this situation to give us our strongest guidance.
We are comforted somewhat by important organizations, such as JP Morgan, projecting substantial US stock market gains yet in 2011, but realize that there could be also be a substantial valley between now and the end of the year. Given the character of clients we serve, we cannot in most cases afford to enter a deep valley and assume that recovery will be full and soon.
The emerging markets (EEM, VWO) in general are not looking all that attractive from a chart perspective, although Russia (NYSEARCA:RSX) is doing well, presumably due to its important oil position in the global economy.
India (NYSEARCA:INP) and China (NYSEARCA:GXC) markets are not doing well. Although China is doing better than India. India has a substantially higher valuation multiple than China at the moment. Brazil (NYSEARCA:EWZ) is moving sideways.
Former stars, Turkey (NYSEARCA:TUR) , Chile (BATS:ECH) and Thailand (NYSEARCA:THD) are in down phases.
Canada (NYSEARCA:EWC) and Germany (NYSEARCA:EWG) look pretty good. Australia (NYSEARCA:EWA), Sweden (NYSEARCA:EWD), Switzerland (NYSEARCA:EWL) and The Netherlands (NYSEARCA:EWN) are fairly strong too.
Gold (NYSEARCA:GLD) continues to rise, but not in a way that shows any more concern than it has been showing for a couple of years now.
Our closest eye is on the US, because (1) is it still the biggest market, (2) it has more data of more types readily available than some other markets, and (3) it is where we have the largest asset exposure.
Looking for signs of trend reversal from up to down, the following S&P 500 charts (proxies SPY, IVV and VFINX), among others, help to keep us informed:
This 1-month daily candle stick chart () shows whipsaw price movement day-to-day, but not much net change. Temporary anxiety or portending a major move?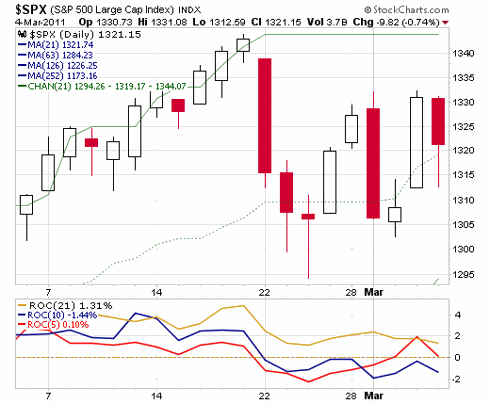 This 4-year weekly chart () suggests an uptrend that is on track, with the price above the 3-month average, which in turn is above the 6-month average, which is then above the 1-year average.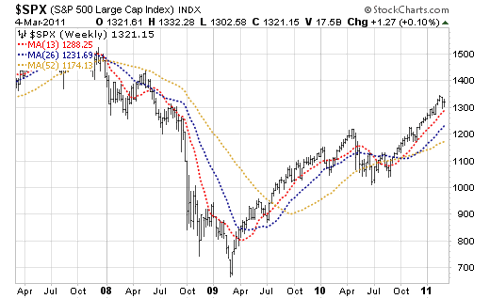 This 1-year box chart (Renko chart, ) says things are OK, with just a bit of price "vibration" going on. Renko charts only plot new boxes when the price moves by a certain amount, which in this case is the Average True Range of the daily high and low for a trailing 21-day period.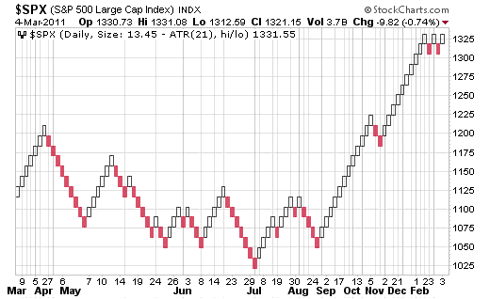 This 4-year weekly chart () of the percent of the S&P 500 constituents that have bullish point & figure charts is elevated and suggests the risk of a correction is above average.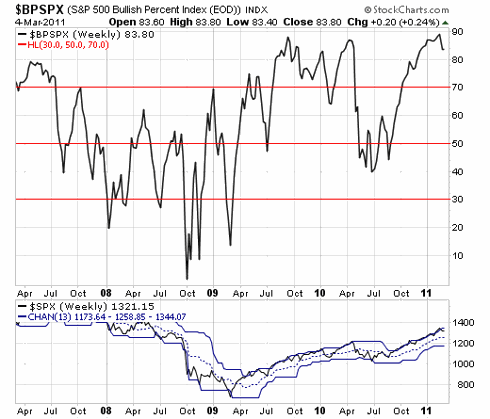 This 4-year weekly chart () of the CBOE equity Put/Call ratio (generally viewed as characteristic of individual investors -- less sophisticated than institutional investors) shows an increasingly bullish sentiment (because fewer Puts relative to Calls are being purchased). Too bullish?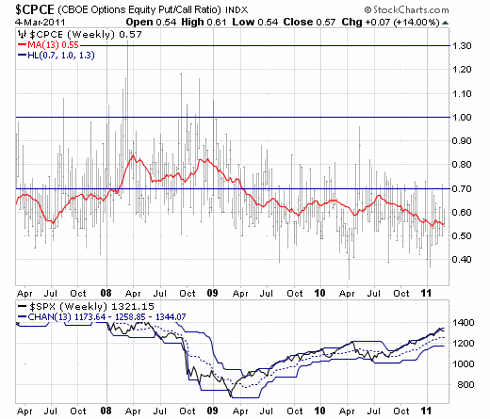 This 4-year weekly chart () of the CBOE index Put/Call ratio (generally viewed as characteristic of institutional investors) suggests a "steady as she goes" sentiment among the professionals.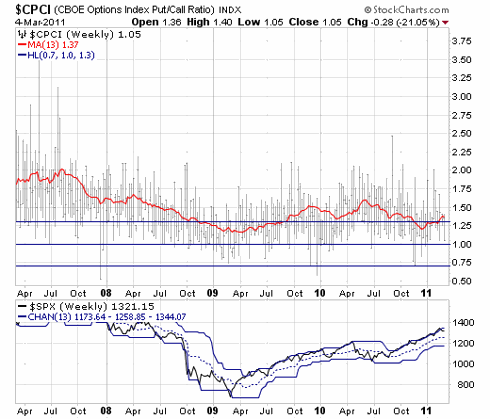 This 4-year weekly chart () showing the 13-week rate of change of the price of the S&P 500 index, indicates the pace to be perhaps a bit on the high side, suggesting a cooling down, but not necessarily a correction in the price. The rate of change can moderate by a price correction by the passage of time with a less steep upward sloping price pattern.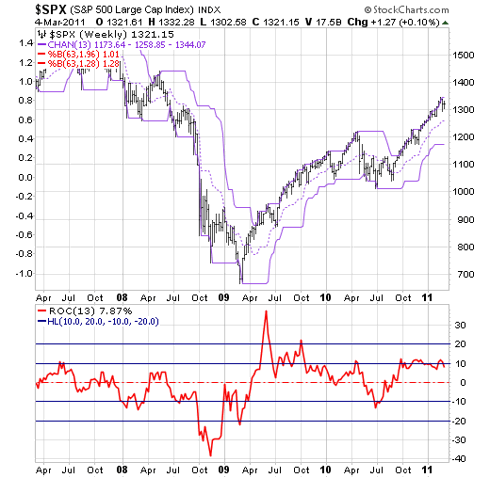 This 4-year weekly chart () shows the Wilder directional movement index. The positive directional component (in green) is above the key 20 to 25 level, while the negative directional movement component (in red) is below the key 20-to 25 level. The average directional index (in black) is above the 20-25 level, which indicates a clear trend, and so far that is up.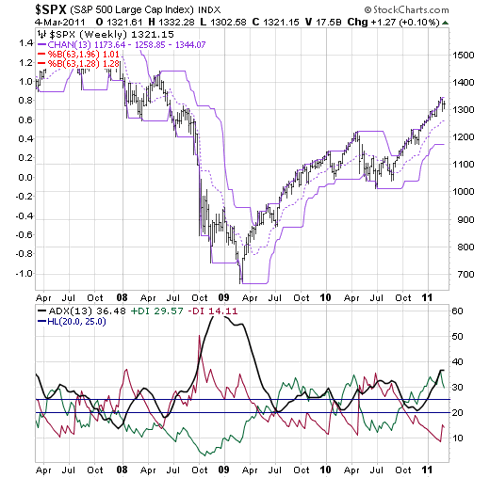 This 4-year weekly chart ) shows the Percentage Price Oscillator, which is essentially the same as the popular Moving Average Convergence / Divergence indicator (just expressed as percentage differences instead of dollar differences). It suggests that the S&P 500 is still in an uptrend.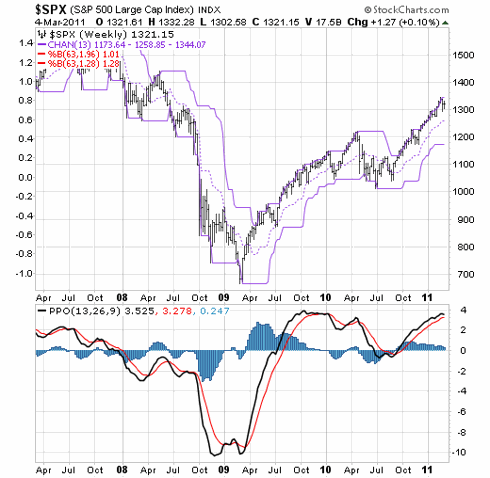 This 4-year weekly chart ) shows the price within its 13-week price channel, which is clearly favorable. Below it shows the percentage of the S&P 500 constituents that are above their 50-day and 200-day simple moving averages. Both ratios are high, suggesting moderation of the advance or a correction is more likely than not. But do note that those indicators can and have remained elevated for prolonged periods.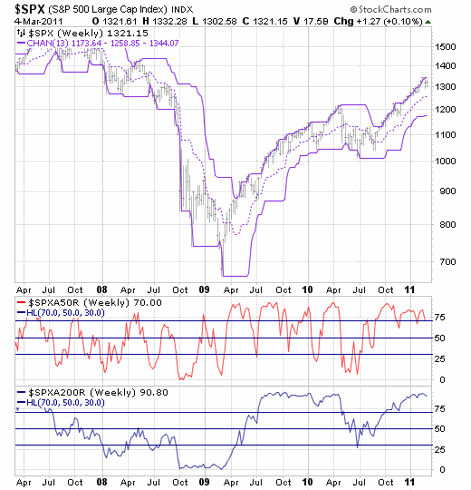 Finally, this 4-year weekly chart ) shows the Chaikin Money Flow based on 3-month and 6-month trailing flows. Both are still positive. The indicator gives a positive weight to volume when the price ends in the upper half of the day's range, and a negative weight when the price ends in the lower half a day's range. By focusing on the position of the close in the range of the day, instead of whether the day was a positive or negative day, it can become negative during a price uptrend, and can become positive during a price downtrend.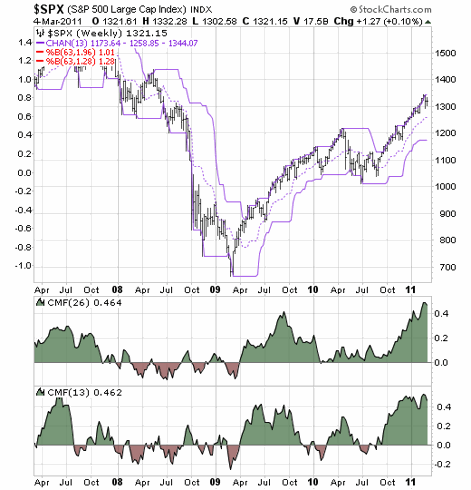 In the net, we are cautious, perhaps even a bit nervous, and things could change rapidly. However, these and other charts (along with our stop-loss orders) give us some comfort that we will not be caught flat footed in the event of a trend reversal, short of a May 6th kind of one-day market implosion.
This US up trend will eventually end, but it ain't over 'til it's over; and it ain't over yet.
Securities Mentioned In This Article: EEM, VWO, RSX, INP, GXC, EWZ, TUR, THD, ECH, EWCM EWG, EWA, EWD, EWL, EWN, GLD, SPY, IVV, VFINX
Disclosure: We hold SPY, VFINX, GLD and RSX in some but not all managed accounts as of the publication date of this article.
Disclaimer: This article provides opinions and information, but does not contain recommendations or personal investment advise to any specific person for any particular purpose. Do your own research or obtain suitable personal advice. You are responsible for your own investment decisions. This article is presented subject to our full disclaimer found on our site available here.