We are always on the prowl for a value proposition even in a melt-up market like this one. As value gets scarce, we look harder for quality assets that, if not trading at a discount to net-asset-value, are at least less expensive than the overall market.
Value is a relative term and when you've been around the block a few times, you also learn that equities aren't the only game in town. Indeed, performance in the S&P 500 since the March 2009 lows has been superb. How about the shares of Apple (NASDAQ:AAPL)? All we can say is WOW... and... 300%!
Yet, bonds and income producing securities haven't done too shabbily either. Fixed income and yield holdings have always been a valuable component to our portfolio structure. Just as "orchestrated" low rates buoyed equity values, near-zero-percent Fed fund rates saw yield-hungry investors chomping at the bit for anything besides a CD.
Treasuries provided a snug and warm place for the risk-averse folks wanting peace of mind (even if yields turned negative a few times). For others it was a "junk" food fest with paper of various credit qualities being snapped up for cents on the dollar. Juicy yields were the pacifier. Fixed income did a lot of the heavy lifting when stocks couldn't.
With that thought, we would like to share a few ideas from our playbook for any investor thinking about parking some fresh capital-gains without having to languish in puny-cash rates. We call it the "Seven-Percent-Solution" (not to be confused with the Sherlock Holmes adventure).
Objective: How to potentially generate a 7% annual taxable yield with a $50,000 investment.
Note: 7% is a "gross" estimate and does not consider tax consequences. An investor considering a similar strategy would be advised to consult with their tax professional
Composition: One common stock, one traditional preferred, several closed-end funds and one individual corporate bond.
Credit quality: All non-equity components will range from A+ to CCC (investment grade to "junk" bonds).
ConAgra (NYSE:CAG) – equity; current yield 4%. The packaged food business is a tough spot to be in these days, with rising input costs and discounting (to protect market share) being the biggest challenges.
Yet, ConAgra's management has focused on their businesses. In recent years, ConAgra has shed non-core operations and concentrated on its leading brands. The company's new line of "Steamers" entrees are quite palatable and a great quick-meal option.
What we like most about CAG though is how well management navigated difficult economic environments while maintaining a flexible but sturdy balance sheet. Packaged foods aren't a sexy business and it's a very capital intensive industry. CAG has done a terrific job of recycling capital and maintaining consistent operating cash flows.
More impressive, the company has done this without excessive accruals and messy adjustments. ConAgra has also been very candid about missteps; as a long-time holder of CAG shares, I value this as much as profitability.
CAG is not a flashy stock and it looks to be about 6% above our fair-value estimate. It's the yield we like most, currently at a respectable 4%. We believe the payout is sustainable.
(Click on charts below to enlarge)
Aberdeen Asia-Pacific Income Fund (NYSEMKT:FAX) - closed-end bonds: This fund is leveraged at 24% of assets, with a 1.89% expense ratio.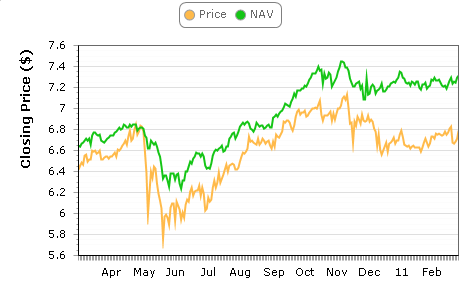 This CEF gives you exposure to Australian and Pacific Basin Government and State bonds, with a 46% weighting in corporate; 33.9% in Government and Agency debt.

Credit quality averages A or better and current yield is 6.26%. Distributions are paid monthly and shares are presently trading at an -8% discount to net-asset-value.
Nuveen Multi-Currency Short-term (JGT) – closed-end global bond fund: Shares have taken a beating since last April, but appear to be stabilizing and currently trading at -11.49% below net-asset-value.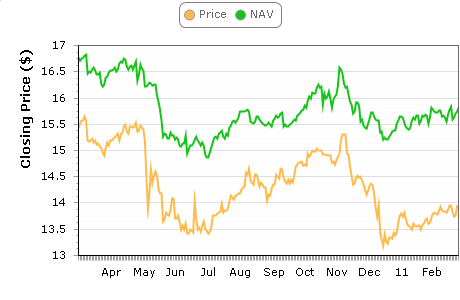 Here, you get exposure to Brazil, Canada, Israel, Chile, Columbia and some U.S. agency debt with an attractive yield of 9.96%.

The fund employs no leverage and the expense ratio is just over 1%.
Western Asset/Claymore US Treaury. Inflation Protected (NYSE:WIA) - closed end.

Trading at a -2.07 discount to NAV, it has an expense ratio of 0.76%, yield 2.97%. Predominantly U.S. TIPS, with 95% of holdings at AAA. Pays monthly.

RenaissanceRe Holdings Ltd., 6.08% Series C (RNR-C) – Traditional preferred stock: Rated BBB. Preferred shares of a leading property/catastrophe reinsurance provider pay 6.48% and shares are trading under their $25 par value.
Individual Corporate Bonds: For our corporate bond selection, we have provided three issues to consider. Each carry significantly higher credit risk, all are below investment grade ("junk") and they all trade for pennies on the dollar.
However, despite their unkempt visage, each has weathered the downturn and none have missed an interest payment, yet. Most important, in a credit market that came within millimeters of imploding, each of these bonds put money in our wallets twice a year.
Harrah's Operating INC. 6.50% due 6/01/16, CCC, current yield 11.48%: Leading casino and gaming operator has struggled under debt burden since being taken private five years ago. It couldn't have happened at a worse time in the credit cycle.
Worse, the acquirers (TPG and Apollo) piled on additional debt when they were forced to buy their own paper in a failed attempt to interest buyers. They also sacked a planned IPO in late November of 2010, citing unfavorable market conditions.
Harrah's has had one foot on a banana peel ever since it was taken private. Yet, management appears to be aggressively attacking the balance sheet and there are signs of life in the industry. Last price: $76.90
Service Master Co. LTD Partnership 7.40% due 8/15/27, CCC+, yield 8.97%: Lawn care and pest control company also taken private in a leveraged buyout some years ago.
Although highly leveraged, the company benefits from its position in fragmented and niche-end consumer markets (Terminex, American Home Shield, merry maids, TruGreen, etc.). The diversity of its operations has historically translated into good cash-flow generation.
House cleaning and lawn care are more economic and weather sensitive businesses, but demand for pest control workers is expected to grow by 15% in the next seven years. This is faster than the average for all occupations (from BLS Occupational Outlook Handbook, 2010-11 Edition). Last price: $86.32
Wendy's INTL 7.00% due 12/15/25 B, yield 8.69%: Fast food operator controlled by Nelson Peltz's Trian Fund Management. The company hired UBS Investment Bank in January to help shed the Arby's brand. No deal has been announced yet.
These bonds are debentures (unsecured) and rank below other secured debt. If Peltz and co. had intended to sell the company as a whole, we would not likely include this note as an option for our "7% Solution" portfolio.
The reason being, a total buyout would likely include additional debt to finance the purchase, hence pressuring existing debt load which is high. A sale of the weaker performing Arby's unit could potentially attract a cash buyer, the preferable option to additional leverage. Last price: $89.51
Proposed allocation: (Click to enlarge)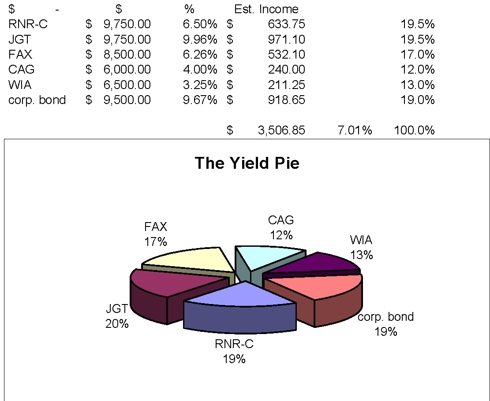 The above mentioned securities are intended to provide a theoretical and hypothetical example of possible yield combinations which assume current market prices for the purpose of this article. Broker commissions and transaction costs were not considered.

Disclosure: I am long CAG, FAX, JGT, WIA, RNR.

Additional disclosure: I also hold each of the individual corporate bonds mentioned in this article (Harrah's, ServiceMaster and Wendy's Intl.)