Apple (NASDAQ:AAPL) has been on a tear, climbing 5000% since 2003. Is it done?
Not if R&D is any indication. Apple has benefited mightily from its R&D, perhaps more than any other company. After all, the division has played a huge role in developing the iPod, iPhone, iPad, improved platforms, and computer innovation on relatively small budgets compared to other tech companies.
For instance, in 2006, Apple spent $712 million while Nokia (NYSE:NOK), Hewlett Packard (NYSE:HPQ), and Intel (NASDAQ:INTC) used (or arguably squandered) $3.8 billion, $3.6 billion, and $5.9 billion. Apple's earnings increased 700% to 800% since 2006. In that same period, Intel's earnings rose only 200% while HP's were up 40%, and Nokia's were down 50%. Apple has increased R&D 150% over the last four years; last quarter, the company allotted $575 million to R&D, not far from its total 2006 budget. In 2011, R&D will likely reach $2.4 billion. Apple is opening up the dollar spigots. One has to believe that its innovative path is far from over. Apple's creative force is nowhere near done.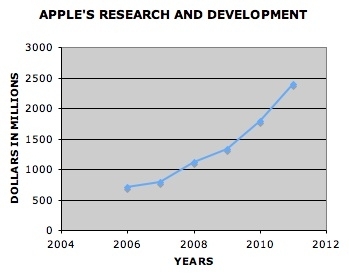 (Note: FY 2011 is estimated as a run rate of Q1 2011)
Bears argue that no one can fill Steve Jobs' shoes and continue Apple's magical run. Jobs has been a fantastic leader, creating the largest tech company on earth. Perhaps more than any other CEO, Jobs has been linked to his company's success. Now, with serious questions raised about his longevity, can Apple thrive without Steve Jobs?
There was a period when Jobs did disappear from view. He stepped down from January through June of 2009 to undergo a liver transplant. Tim Cook successfully ran the company during this time. What happened from January through June of 2009, the six scariest months in Apple's history? The economy was on the brink of collapse and entire industries were unprofitable. Yet, Apple outperformed its peers in this difficult period. During the first half of 2009, Apple's revenues increased over 20%. Earnings before taxes rose 55% over those of 2008. Net margins increased 300 basis points. Nokia, HP, Microsoft (NASDAQ:MSFT), and Dell (NASDAQ:DELL) faltered with sharply decreasing earnings and revenues.


Apple creamed the competition back then, surpassing all earnings and revenue expectations in a trying time, sending its shares up over 60% during Jobs' six month absence. Apple is faced with the same challenge now. The 2009 experience indicates that Apple will continue to be incredible even if Jobs does not return.
One might argue that Apple is too big to keep growing at its current rate. If that's so, we should be seeing some evidence of a slow down, even if ever so slight. How do you capture AAPL's strength in a mathematical model, keeping it simple and easily understandable?
I use two measures: the number of devices sold (N) and operating income per device (OPD).
N groups together all Apple's products, iPhones, iPods, iPads, and Macs, in one figure plotted over time. Gathering these different devices in such a manner allows one to see Apple's enormous growth. By combining product lines, you avoid getting lost in the maze of different devices.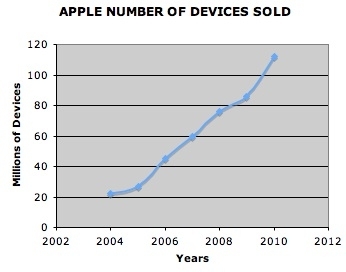 Apple ramped up its sales year after year. FY 2011 started with a bang. In Q1 2011, Apple sold 47.1 million devices, a 42% increase from the previous year. Look at figures for the Q1 of the last 8 years. The graph shows strong growth, especially the current Q1.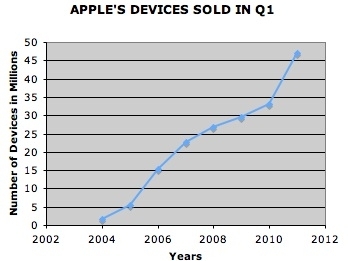 Many companies increase the number of devices they sell. I can open a factory making screws and expand my operation. Yet, it's very unlikely I'll be able to sell those screws at higher prices. In fact, most companies over time are forced to cut their prices as other competitors come in. Their products become commoditized. Apple has been able to avoid that. How does one capture Apple's ability to keep ASP high, make a ton of money off their products, execute well, innovate, and build their ecosystem? What one metric can capture all that? I would argue the OPD.
Operating Income Per Device (OPD) reflects Apple's ability to make money on each of its products. You take total operating income divided by the number of devices sold to arrive at the figure. OPD has been climbing dramatically year after year. No company but Apple has been able to dramatically increase its earnings per product year after year. For example, Garmin (NASDAQ:GRMN) and RIM's (RIMM) OPDs have decreased over time. Apple's OPD rise is unique. It's the numerical equivalent of Apple's great branding, execution, marketing, innovation, and customer service, all rolled into one.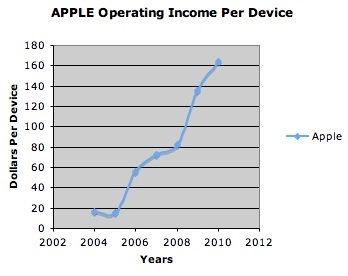 Again, the start of FY 2011 saw the same startling OPD climb.


Apple's future looks extraordinary. R&D is expanding, promising that the company's innovative focus will continue. Apple can do well despite the potential permanent change in leadership. It has exciting momentum: It is increasing both the volume and operating income of each device it sells.

Disclosure: I am long AAPL.