Warren Buffett came out last week saying that he's out in the bush hunting big game and has an "itchy finger" for the next acquisition. This isn't much of a surprise in our opinion given that US economy is making a somewhat awkward yet potent economic recovery. He has also indicated that in his opinion the investment community lacks a consensus on how to value the market currently. Paralysis by over analysis sounds spectacular to us because that means there is an opportunity in the market. We think that if Buffett goes after any large acquisition he will "play it safe" by trying to take down a big player in the US economy that operates in a currently nondescript industry.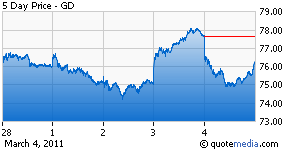 Using this mindset the defense industry pops into our head. The industry is a cash cow, recession resistant, and besides the occasional short-term hiccup has long-term growth potential. General Dynamics (NYSE:GD) in our opinion fits Buffett's acquisition criteria listed in his latest annual letter.
We think that the Oracle of Omaha is likely bullish on General Dynamics for three reasons. Currently the firm has strong financials, holds long-term growth potential, and operates under a wide economic moat. Add that to the fact that the US military (Uncle Sam) is a consistent client and things just keep looking better for the firm. This is why we feel General Dynamics is a potential acquisition target for Buffett but even if it isn't we still rank the firm a BUY for the reasons above.
Reason 1: The Inelastic Demand of War Readiness
Be it peacetime or wartime the US is the last remaining superpower and must be ready to face any type of armed conflict at a moments notice. What this means to General Dynamics is that its largest client, the US military, will continue to demand new and various military platforms over the long term even when the domestic economy is weak in the immediate period. With a business environment like this it's tough to say General Dynamics could ask for more.
The fact that the firm entered 2010 with a backlog of $65B in orders illustrates that business continues to be good. Remember, this firm ultimately isn't just selling military widgets, it's selling strategic national security. We would be hard pressed to believe that demand for such a vital commodity would diminish or change over time. History shows that Buffett tends to acquire or take a stake in firms whose products have very low levels of demand elasticity and that also hold a macro economic theme. General Dynamics definitely fits the mold here.
Reason 2: A Four Sided Economic Moat
General Dynamics operates under four business divisions that include Aerospace, Combat Systems, Marine Systems, and Information Systems/Technology. Currently the firm offers ships, tanks, submarines, ammunition, land vehicles, armaments, and more. Product highlights include the M1 Abrams, the main battle tank for the US Army, Gulfstream corporate jets, and the Virginia-class nuclear submarine for the US Navy. By operating under such a diversified business platform we feel that the firm has built a deep economic moat by becoming a pillar of strength to multiple military branches over the long term.
The firm continues to reinforce and expand its economic moat by selectively pursuing different projects that simultaneously capitalize on internal strengths. For example the firm owns three of the six naval shipbuilding yards and also builds the Virginia-class nuclear submarine. We see the proof in the pudding here given that the firm has achieved an average return on equity of 20.13% over the last 10 years.
The firm as well holds a strong record of acquiring smaller firms during economic downturns to continually expand its product portfolio in a cost effective manner. Buffett is known for having a strong preference for firms that hold substantial economic moats. There is little question that General Dynamics holds one in the defense industry.
Reason 3: Financials with the Strength of Tank Armor
The financials for General Dynamics in our opinion are strong overall. Below we listed some highlights that we found on the income statement, balance sheet, and cash flow statement:
Income Statement Highlights (10-Year Average Growth)
1. Revenue: 12.1%
2. Operating Income: 11.49%
3. EPS: 11.76%
Balance Sheet Highlights (Latest Quarter)
1. Current Ratio: 1.27
2. Debt/Equity Ratio: .18
3. Financial Leverage: 2.44
Cash Flow Statements
1. Free Cash Flow % (2010 Yr. Over Yr.): 6.56%
2. Free Cash Flow/ Sales: 8.06%
Buffett has come out recently saying that he puts more weight on financial analysis than management. It's tough to argue otherwise because when the Oracle of Omaha goes after a firm the numbers behind it are generally spectacular (not including the original Berkshire Hathaway textile firm). In our view this firm runs an iron clad business model and holds enough growth potential to make it on to Buffett's "potential acquisition list."
Conclusion:
Berkshire Hathaway (NYSE:BRK.A) holds almost $40B in cash/cash equivalents as of 2010 and General Dynamics not only holds the right business characteristics on paper but the right price range as well. From our view there is no reason why the Oracle of Omaha wouldn't be evaluating this firm but it's also fair to say this firm isn't the only name on his list. We ultimately rank General Dynamics a BUY regardless of any potential Buffett action for the reasons above.


Disclosure: I have no positions in any stocks mentioned, but may initiate a long position in GD over the next 72 hours.