In the past few weeks we have seen a lot of changes in investor sentiment. It all started at the end of September 2014. We had a lot of bad economic news coming. A falling labor participation rate, lower PMI readings, falling consumer sentiment, lower factory orders, declining oil demand, falling home prices, lower GDP growth revisions, declining bond yields, a drop in Dow transportation index, lower Baltic Dry Indices, lower Chinese power consumption growth and more recently falling retail sales.
As a result, the Dow Jones has posted losses for 2014. What's most interesting is that volatility has now started spiking, which is never a good sign for stocks (see chart below from Google Finance). Volatility has seen similar spikes in 2008, 2010 and 2011 which all resulted in a correction in stocks.

On the other hand, gold has been very strong this year based on a higher fear index and higher volatility. Since October 2014 we have seen an additional anomaly where oil goes down and gold goes up. I see this as a buying opportunity in the gold and silver mining sector.
Oil has been declining due to a lower global oil demand (see chart below from Yardeni Research) and due to a higher supply from the shale gas boom in the U.S. and increasing supplies from Saudi Arabia. Though, I expect that at these prices of $80/barrel WTI crude oil, we will see a huge decline in shale gas production going forward. Shale gas producers can't break even at these crude oil prices at $80/barrel.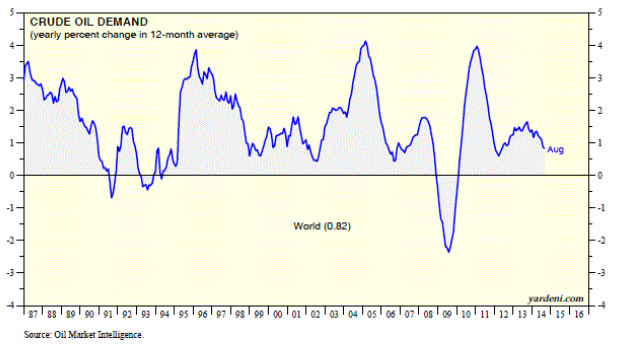 Especially those shale gas companies with a high debt load will be the hardest hit. For example Continental Resources (NYSE:CLR), which is a bet on the Bakken shale play, has had a major decline in stock price since the oil price made its dive in October 2014 (see chart below of Continental Resources CLR).

There are many reasons why markets are correcting now. The most apparent reason is the end of QE3. At this point the Federal Reserve only buys up $15 billion/month in bonds and $5 billion/month in mortgages. This means that stocks won't benefit anymore from easy money. We know that stocks only went up due to the support of the Federal Reserve and this is supported by the following correlation between the equity markets and the Federal Reserve Balance sheet (see chart below from FRED). Cut that support and the market will crash.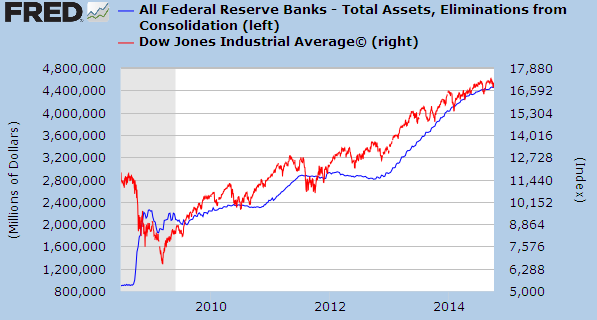 Another reason is that share buybacks have finally seen a decline. Since 2009, buybacks had been increasing. What happens is that the company uses its cash to buy shares and destroy them. This way the earnings/share of the company goes up and as a result the share price will go up. This is a way to reward investors other than to pay a dividend. But there are two reasons why this can't keep going. First, the cash is not being used for investments, which is not good for the company. Second, liquidity will be drying up and this can be very disturbing when equity prices finally start to come down. Companies will have to raise money while share prices go down, which is not the right direction to issue shares. Normally you buy back at bottom price levels and issue shares at high price levels. What happens now is the opposite. On the chart below we see that the tide is turning.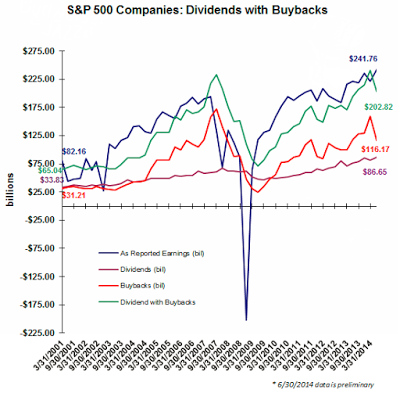 And finally, political events all over the world are impacting the markets. We have different wars going on in Ukraine and the Islamic State in the Middle East. We have protests in Hong Kong which affect the Hang Seng Index. We have the Russian sanctions that are impacting German exports. We will have 2 quarters of negative growth in Germany, which means we have a recession. And even the ebola disease has its effect on the airline industry. We saw a near 20% decline in the ARCA Airline Index in just a few weeks time.
The conclusion is that we may well see the start of a larger correction in equities (NYSEARCA:DIA) at a moment where there are no alternatives. You can't be in real estate as it will decline with equities. You can't be in bonds as the yields are extremely low and everyone is buying into them. Imagine how far we have stretched when the 5 year German bond yields are now the same as the 5 year Japanese bond yields. Cash is desirable at this moment, but it will be even better to buy precious metals (NYSEARCA:GLD) as their price is currently below production cost. The smart money has already left the equity market, why shouldn't you?
Disclosure: The author has no positions in any stocks mentioned, and no plans to initiate any positions within the next 72 hours.
The author wrote this article themselves, and it expresses their own opinions. The author is not receiving compensation for it (other than from Seeking Alpha). The author has no business relationship with any company whose stock is mentioned in this article.