Normally, grocery shopping for the citizens of US takes up a lot of their time as well as money. On average, a shopper visits the grocery store approximately 88 times per annum and spends more than $6,000. The Kroger Co. (NYSE:KR) has been ranked as one of the favorite grocery store chains of Americans. Being on the priority list is a positive signal for the company and hints at the customer satisfaction level derived from shopping from Kroger.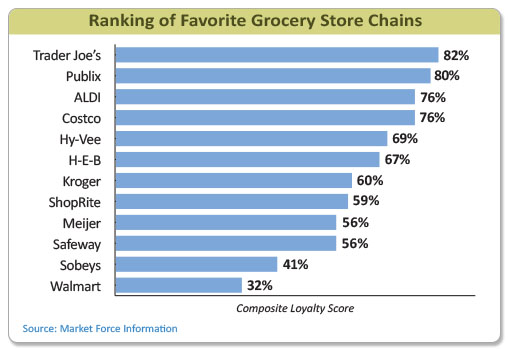 Source: Retail Wire
The company has recently announced its second quarter results for the fiscal year 2014. Let's take a look at how Kroger has been performing and its future growth prospects.
Recent Performance At A Glance
Top Line Story

Source: Kroger s SEC Filings 10-Q
The company registered top line gains of 11.60% during the second quarter of fiscal year 2014 compared to the same period a year ago due to the combination with Harris Teeter. The growth of 12.40% in total supermarket sales without fuel was mainly achieved on the back of higher number of households shopping at Kroger, increase in transaction count and higher product pricing. Moreover, fuel sales were up by 8.1% due to higher volume of fuel gallons sold of 7.1% and higher average retail fuel price of 0.9% as the company passed on cost inflation to the end consumer.
Gross Margin Expansion

Source: Kroger s SEC Filings 10-Q
Eliminating the non-recurring item of LIFO charge, the company was able to witness an improvement of 8 basis points in its gross margin during the second quarter in 2014 which clocked in at 20.54%, up from 20.46% during the corresponding period last year. This positive impact was achieved due to the combination with Harris Teeter as it had higher gross margins than Kroger on a standalone basis.
Operating Profit Status
Operating profit margin had plunged to 2.54% as a proportion of sales in the second quarter of 2014 from 2.62% during the same period last year. The decline in operating margin by 8 basis points resulted from persistent investments in lower prices, higher LIFO expense, increases in workers compensation and higher than proportionate increase in credit card and incentive plan costs. However, most of these are non-recurring items and thus, the operating margin is expected to bounce back.
Financial Strength Of Kroger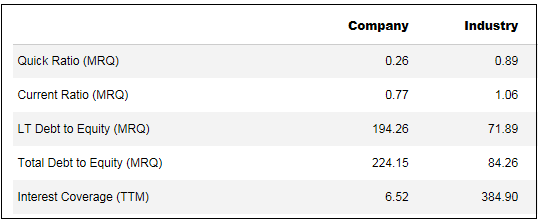 Source: Thomson Reuters
While the income statement may paint a rather rosy picture of the company, the short term financial strength of Kroger is quite alarming and requires investor attention. Quick ratio and current ratio, indicators of a company's short-term liquidity, are reported to be very low at 0.26 and 0.77 when compared to the industry's standard level of 0.89 and 1.06, respectively. This can create a problem for the company which may be unable to pay off its due obligations when the time arises.
Raising long term debt may not seem to be a persistently feasible option either as the company is already overleveraged as shown by its long term debt to equity ratio of 194.26 in an industry where 71.89 is the prevailing ratio.
But….
However, if the company's repayment capacity is strong this exuberantly high debt level may not be that much of a problem. This can be analyzed by looking at its cash flow position.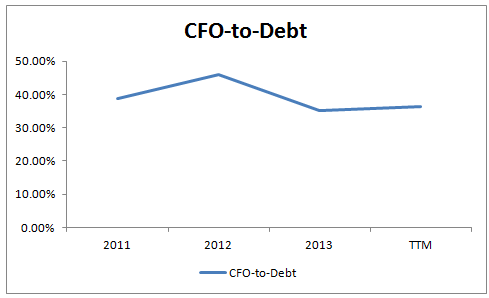 Sources: Yahoo Finance, Morningstar
On average, the company is annually generating cash flow from its operations "CFO" that covers up to 40-45% of Kroger's long term debt. Looking at this ratio, I think the company will be able to operate successfully over the long haul as it is able to deploy the funds raised in an efficient manner.
Final Thoughts
The fruitful acquisition of Harris Teeter coupled with sales growth expected from new square footage and higher productivity is likely to drive the company's financial returns higher. Also, from the valuation standpoint, the company's investment status can be reaffirmed. Based on the industry's P/E "ttm" of 23.46 and consensus analyst EPS estimate for year ending January, 2015 of $3.29, the stock's intrinsic value is derived to be $77.18 whereas it is currently trading in the market for a price of $52.91. This represents a capital return potential of approximately 46%.
Disclosure: The author has no positions in any stocks mentioned, and no plans to initiate any positions within the next 72 hours.
The author wrote this article themselves, and it expresses their own opinions. The author is not receiving compensation for it (other than from Seeking Alpha). The author has no business relationship with any company whose stock is mentioned in this article.