Quepasa (QPSA.OB) shares have fallen 30 percent since the beginning of last week, but the company remains badly overvalued. In my last article, I highlighted the fact that Quepasa is not a top-tier social network in Latin America. In fact, it's not among the top five most important social networks in Latin America. Quepasa's troubles don't stop there though. Traffic growth at Quepasa has stopped, and in addition, the valuation for competitors not named Facebook in the social networking space continue to plummet.

The most significant news out of the company last week was Quepasa's membership report which included this:
Quepasa.com, the popular online social network and game platform for the Latino community operated by Quepasa Corporation (AMEX:QPSA - News), added 2.1 million new registered users in February 2011 to reach a record total of 31.7 million. This marks a year-over-year increase of 62%, compared to growth of 1.3 million new users in February 2010.

Quepasa.com also reported significant improvement in user engagement in February; page views per return site visit were 19.4, representing a 21% increase over February 2010. This improvement was realized despite a slight decline in overall page views on a sequential monthly basis, due to the fewer days in February and seasonality related to the summer holiday period in the Southern Hemisphere.
The market initially interpreted this positively, popping the stock up more than 5% on the news. However, the market figured out the problem and the stock sold off again by the end of the day. That problem, of course, is that overall page views were down again. Quepasa added 2 million new registered users and page views per user were up, and yet traffic is down again. That math doesn't add up.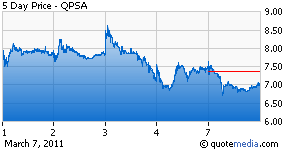 Quepasa tried to shift the blame for the pageview shortfall to the length of February (this excuse won't work so well in March) and seasonality. The seasonality argument is also hard to swallow given the locations of Quepasa's largest markets. Mexico, Spain, and the United States, which are all top-tier Latino markets, reside in the Northern Hemisphere. Long story short, Quepasa's excuses don't carry much water. Next month's page views should be telling.

The real explanation for the page view defiency is that the company is generating low-quality users and then losing them quickly. I have to give a tip of the hat to SA member Shortcited who noted in the comments section of my previous Quepasa article that Quepasa is spamming people to get new members. In addition to driving new memberships through spam, the Quepasa website is set up to force you to register before you can see anything, and I do mean anything, about the workings of the site. There is no way to see if you like Quepasa before joining. Thus, you have to join to see if you like it. However, it seems most people join, take a quick look around, and never come back. That's the more likely explanation for why Quepasa's new registrations aren't leading to more page views.

The always interesting Alexa web-traffic monitoring service confirms that Quepasa's activity is slackening. In just the past week, Quepasa has fallen 12 ranks in Mexico to #86 (and you can't blame that on seasonality of the Southern Hemisphere) and it has fallen out of the global top 1500-ranked sites. Other metrics are also concerning. Below is an Alexa graph showing that Quepasa's bounce rate (the number of users that visit only one page at a website before leaving) is steadily climbing: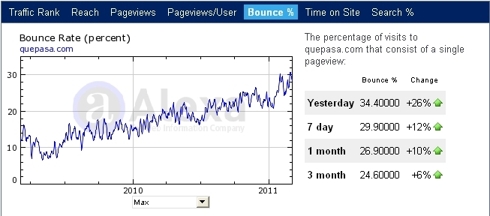 In addition, while daily page views per user may have been up a bit last month, in general, the trendline on that metric is still horizontal and fixed at roughly 10 in the long-run: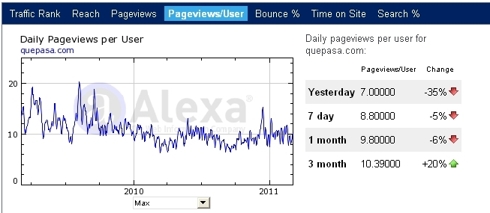 Worst of all, though, is that Quepasa's traffic rank is no longer rising. Traffic growth at Quepasa is finished. Acabado. Kaput. As this Alexa chart shows, Quepasa's rank has topped out in the around 1200 and is now heading south: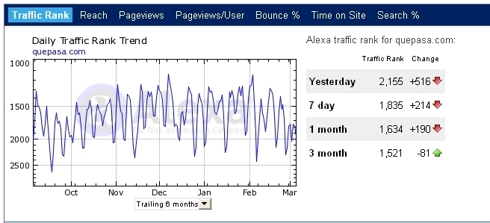 The entire story behind Quepasa is that it could keep growing at the frenetic rate it was achieveing last year. This thesis has been clearly proven wrong. You can only get so far by registering tons of users who then disappear and spamming others to get new sign-ups. Quepasa's site isn't sticky enough, and the site has failed to achieve the critical mass necessary to make it a significant player in the social networking space. It is not one of the five top social networks even in Latin America.

If growth does not resume, Quepasa will end up being worth far less than its current market value. AOL sold social network Bebo.com last summer. Bebo was a top-1000 ranked site globally at the time of the sale, yet it sold for less than $10 million. News Corp's (NASDAQ:NWS) Myspace is on the market and is likely to fetch less than $100 million. Remember, Myspace is still the world's 64th most popular web site (Quepasa is 1521st), and Myspace has more traffic than Quepasa in Brazil, Mexico, the US, Spain, Argentina, and Colombia.

Myspace is far more important than Quepasa, even in Latin America, yet Quepasa has a $107 million market cap. Why should Quepasa be worth more than Myspace when Myspace has far more brand recognition, Myspace matters in many parts of the world beyond Latin America, and both sites are experiencing declines in traffic?

Remember, there's virtually nothing on the Quepasa balance sheet -- that $107 million market cap entirely reflects investors optimism for the future rather than cash or assets. With traffic down, user stickiness still low, and the company relying on spam to try to goose up user stats, skepticism is advised. Quepasa's value is much closer to the $10 million figure AOL (NYSE:AOL) got when it sold Bebo than the $75 million or so Myspace will get on the market.

If you valued Quepasa at Bebo's valuation (a fair comparsion), you'd get a valuation of less than a dollar a share. If you value it at half of Myspace's value, you get roughly $2.50 per QPSA share. If you value Quepasa as equal to Myspace (which would be a little crazy given Myspace's overwhelming traffic advantage) you still get only $5 a share. However you cut it, Quepasa remains way overvalued.

Quepasa investors keep thinking they will prosper because they are the only publicly-traded pure-play social network. What they're missing is that the social networking space trade is over. Facebook has won, it is the monopoly, and valuations are collapsing at all social-networking competitors. Look at Bebo. Look at Myspace. Quepasa is no different.

Disclosure: I have no positions in any stocks mentioned, and no plans to initiate any positions within the next 72 hours.