The recent spike in oil prices has many investors believing that inflation is coming and the bond bubble has finally popped. However, investors should have a predetermined asset allocation strategy and re-balance their portfolio on a periodic basis, regardless of what's hot or not. ETFs give you an easy way to build a diversified portfolio. Below are 5 rules to select income ETFs without taking on too much risk or volatility:
1. Twelve-Month-Yield Greater Than 4.5%: With 10-year U.S. treasure at 3.5%, you want extra yield to compensate risk.
2. ETF's Net Assets Greater than $400 Million: This is not a scientific number. I just like to select ETFs from the largest 200 ETFs. In general, ETFs with large net assets have high liquidity, low ask-bid spread and low fee.
Below are 12 such ETFs based on the above 2 criteria. They are in 6 categories: Real Estate, High Yield, Preferred, Emerging Markets, Municipal and Corp Bonds:
| | | | |
| --- | --- | --- | --- |
| Fund Name (Ticker) | Yield% | SD | Category |
| SPDR Dow Jones Intl Real Estate (NYSEARCA:RWX) | | | |
| SPDR Barclays Capital High Yield Bond (NYSEARCA:JNK) | | | |
| iShares iBoxx $ High Yield Corporate Bd (NYSEARCA:HYG) | | | |
| iShares S&P U.S. Preferred Stock Index (NYSEARCA:PFF) | | | |
| PowerShares Financial Preferred (NYSEARCA:PGF) | | | |
| PowerShares Preferred (NYSEARCA:PGX) | | | |
| PowerShares Emerging Mkts Sov Debt (NYSEARCA:PCY) | | | |
| iShares JPMorgan USD Emerg Mkt Bond (NYSEARCA:EMB) | | | |
| PowerShares Insured National Muni Bond (NYSEARCA:PZA) | | | |
| iShares iBoxx $ Invest Grade Corp Bond (NYSEARCA:LQD) | | | |
| iShares Barclays Credit Bond (CFT) | | | |
3.
Low Volatility:
The lower volatility, the better. However, low volatility comes with low yield too.
I use Yield/Standard Deviation (SD) Ratio to compare those ETFs: the higher, the better. Following chart shows that Insured National Muni Bond (PZA) has the highest ratio of 0.45 (4.9% / 10.9%), which means it has high yield compares to its volatility.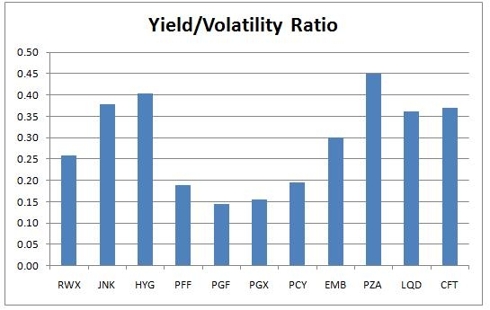 4.
Consistent High Yield History:
Although current yield for SPDR Dow Jones Intl Real Estate (RWX) is 8.54%, over the past few years its yield was in the range of 3-4%.
5.
Low Correlation with Other Assets in Your Portfolio:
The following chart shows that correlation between iShares iBoxx $ High Yield Corporate Bd (
HYG
) and iShares Barclays 7-10 Year Treasury (NYSEARCA:
IEF
) is negative. If the majority of your portfolio is in U.S. treasures, it makes sense to add HYG to your portfolio. Besides, corporate bonds are typically callable by the issuer when interest rates going down. Most treasuries are not.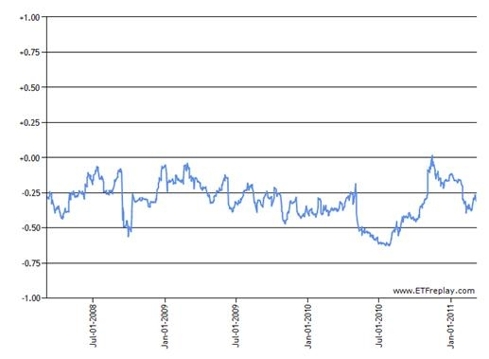 Conclusion
Among the many candidates for the "greatest anomaly in finance" award, a particularly compelling one is the long-term success of low-volatility portfolios. Over 1968–2008, low-volatility portfolios offered an enviable combination of high average returns and small drawdowns. This outcome runs counter to the fundamental principle that risk is compensated with higher than expected return, according to an article titled "Benchmarks as Limits to Arbitrage: Understanding the Low-Volatility Anomaly", published in Financial Analysts Journal January/February 2011 issue.
The combination of low interest rates and potential rate hike has led many investors to trim bond allocation. However, some bond ETFs have fallen so much that their potential returns may give you enough reward to justify risk. You will have a well-balanced income portfolio if you include some high-yield-low-risk ETFs.
Disclosure: I am long PZA and PFF. Data is from Yahoo Finance and ETFreplay.com and is valid as of March 7, 2011.