Q4 2010 Financial Results
Chembio (NASDAQ:CEMI) reported results for the fourth quarter and full year ending December 31, 2010, on March 3, 2011. Fourth quarter revenue of $5.67 million was about 6% better than our $5.33 million estimate and was up 59.6% y-o-y. For the full year revenue came in at $16.7 million, representing growth of almost 21% compared with fiscal 2009. Revenue in Q4 and for the full year marked all-time highs for both periods.
Growth in sales of Chembio's lateral flow products, both in the U.S. and overseas continues to be very strong and was a big contributor to the record revenues. We expect lateral flow sales to remain robust through at least all of 2011 as increased funding from international testing programs helps drive demand in areas such as Africa and South America and further implementation of (and compliance with) CDC HIV testing recommendations benefits domestic sales.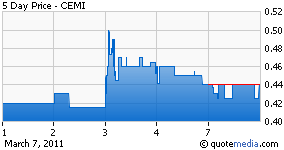 Q4 EPS of $0.03 on net income of $1.88MM was better than our $0.00 and $246k estimates and was up from $0.00 and $217k in Q4 2009. For the full year 2010 EPS was $0.04 on net income of $2.51MM versus $0.00 and $309k in fiscal 2009. Q4 (and full year) 2010 results significantly benefitted from the $1.47MM Qualifying Therapeutic Discovery Projects (QTDP) program grant that Chembio was awarded and received in October 2010. This $1.47MM was accounted for as a reduction to R&D expense in the most recent quarter. Chembio expensed approximately $130k in Q4 related to exploring potential buy-out offers (at least one of which was unsolicited). This is in addition to $143k that was expensed for the same purpose in Q3.
Pro forma (our calculation) for the QTDP grant (and related taxes) and expenses related to potential M&A, Q4 and full year 2010 net income and EPS were approximately: $579k, $0.01 and $1,355k and $0.02 - the pro forma net income figures still representing all-time record highs on both a quarterly and annual basis.
Full Year Revenue highlights
Product sales up 9% y-o-y to $13.52 million in 2010 - an all-time high
HIV lateral flow sales to Alere were flat y-o-y but likely under-representative of true demand due to inventory stocking
International HIV lateral flow sales grew 23% y-o-y, including 63% during the second half
Product sales; $6.3MM (2006), $8.8MM (2007), $10.4MM (2008), $12.4MM (2009), $13.5MM (2010), $18.9MM (2011 E)
License & Royalty income $433k in 2010, versus $122k in 2009
2010 included $340k milestone related to Bio-Rad multiplex product
R&D Contracts, Grants, Milestones revenue was $2.76MM versus $1.34MM in 2009
NIH Leptospirosis and Battelle/CDC Flu milestones were significant contributors to R&D revenue in 2010
Cash
$2.14MM at year end 2010 versus $1.07MM at year end 2009
A/R ended the year at $3.95MM, up from $1.78MM at year end 2009. A significant portion of this elevated A/R balance will be collected in early 2011 (including $846k that had yet to be collected from the QTDP grant). This will result in substantial additional cash
Operating cash flow was $1.02MM in 2010 compared to $252k in 2009. Stripping out the $620kMM received during the year related to the QTDP grant and changes in working capital (net of the $846k addition to A/R related to the portion of the QTDP grant yet to be collected), operating cash flow was approximately $1.52MM in 2010 - which is more representative of Chembio's fundamental cash flow in the year
The only debt consists of $242k drawn on a bank facility
Chembio made final payment ($875k) to Bio-Rad in January 2011 relative to their HIV 2 licensing agreement
We think Chembio can be operating cash flow positive from here on out and believe any risk of shareholder dilution is now minimal
Q4 2010 Business Update
M&A - at end of Q3 management revealed two potential suitors were investigating making an offer for Chembio. Q4 press release and conference call Chembio management noted these potential deals will not happen.
Chembio was granted a 3-year $2.7MM grant for phase II funding of a DPP tuberculosis test
Product Update
DPP HIV, U.S.
Clinical trials are about ½ way done. CEMI is shooting for completion in summer 2011. CEMI submitted request to FDA in early March 2011seeking a modular PMA regulatory filing. If granted, it will provide for filing in 3 subsequent tranches and allow CEMI to file preclinical and manufacturing data as clinical data continues to be collected. CEMI's current expectations are for filings during Q1, Q2 and Q3 2011.
Impact to our model: The U.S. DPP HIV trials have been drawn out longer than initially anticipated. Prior to this latest update we had modeled the DPP HIV test to launch in the U.S. in Q2 2012. We now think this is unlikely and now model the launch in Q4 2012.
DPP Syphilis
Clinical trials in support of 510(k) expected to start during Q2 2011. CEMI expects to submit for self-certification for CE Mark at that time so launch in Europe could come in Q2 2011. Chembio also noted that it has been invited by the WHO Collaborating Center in China to evaluate their DPP syphilis test in a multi-site program.
Impact to our model: We had previously modeled U.S. launch to happen in Q4 2011. We now look for U.S. launch in Q2 2012. Europe launch timeline remains in-line with our prior forecast.
DPP Flu A/B
CEMI expects to complete development in March 2011 and validation by end of Q2 2011. Hope to submit pre-IDE to 510(k) in July 2011 and start clinical trials in Q4 2012.
Impact to our model: We were previously shooting for launch in Q4 2011 - now pushing this back to Q4 2012 (allowing for possible delays).
DPP HCV Antibody
CEMI determined market for just an HCV antibody test (without antigen) is too limited - will pursue product combining both antibody and antigen detection into one test.
Impact to our model: Not overly significant. Had previously modeled launch in Q3 2011 but with relatively little revenue. Now pushing this back to Q1 2013.
DPP Canine Leishmaniasis (FIOCRUZ)
In January 2011 FIOCRUZ was requested to provide more information to MAPA (Ministry of Agriculture). CEMI did not provide visibility on timelines.
Impact to our model: We had modeled approval and launch in Q1 2011 although this delay affects our model immaterially as we had not expected a significant overall contribution from this test.
DPP Leptospirosis (FIOCRUZ)
Expect FIOCRUZ will file for regulatory very soon - expect approval in Q2 2011.
Impact to our model: Remains roughly in-line with our expectations.
DPP Syphilis Treponemal
CEMI recently sent three production lots to FIOCRUZ and FIOCRUZ is preparing a filing. Expect to receive approval in Q2 2011.
Impact to our model: Remains roughly in-line with our expectations.
OUR 2011 OUTLOOK
Revenue
We look for 2011 revenue of $20.7 million, implying growth of 23.8% from 2010. We expect much of this growth to be driven by acceleration in sales of DPP HIV test sales to FIOCRUZ. We also expect continued strong demand for Chembio's lateral flow products which we model to post 13.8% sales growth in 2011. Meanwhile, contributions from both licensing income and R&D revenue will likely fall in 2011 compared to 2010 (we model $1.75MM in 2011 from $3.19MM in 2010) as the bulk of the majority of the high dollar contracts have already been received.
Net Income / EPS
We model Chembio to post net income of $1,310k and EPS of $0.02 in 2011, compared with $1,355k and $0.02 in 2010 (pro forma for the QTDP grant and M&A expenses). Despite our expectation that revenue will grow by almost 24% in 2011, due to higher R&D expenses (largely associated with U.S. DPP HIV clinical trials) much of this revenue will not flow through to the bottom line.
Cash
Most importantly, this expected level of revenue, combined with Chembio's already sizeable cash balance ($2.14MM at 12/31/2010 but which should be even higher at 3/31/2011), should be more than sufficient to fund all operations (including clinical trials, regulatory filings, SG&A, etc.). We fully expect, based on our current model, that Chembio will be operating cash flow positive for the full year 2011 (although certain quarters may not be, i.e. - Q1 and Q2) and beyond and will not need to tap additional financing for the foreseeable future.
RECOMMENDATION / VALUATION
Valuation
We are maintaining our Outperform rating of Chembio Diagnostics with an Outperform rating. Based on the potential for the DPP product portfolio to significantly ramp long-term revenue, cash flow and earnings we continue to feel the company is grossly undervalued.
We value Chembio based on comparable price/sales ratio of 3.7x 2011 sales. We look for Chembio to post sales of $20.7MM in 2011 which values the company $76.6MM or $1.10 per share.
Disclosure: I have no positions in any stocks mentioned, and no plans to initiate any positions within the next 72 hours.
Disclosure: I/we have no positions in any stocks mentioned, and no plans to initiate any positions within the next 72 hours.
Business relationship disclosure: I work as a Consultant Analyst for Zacks Investment Research. The article is written by me and is 100% my opinion. I receive compensation from Zacks for writing equity research reports and providing valuation analysis on this company's stock and expect to do so in the future. Zacks receives compensation from the company. Please see the Zacks Disclaimer for further information: http://scr.zacks.com/Disclaimer/default.aspx