Libya Conflict and Oil Shock
JPY recently has mostly been driven by political events in Middle East and North Africa. Investors' risk aversion had pushed currencies of usual safe heaven countries including Japanese Yen stronger. Money flowing into Japan asset markets has significantly increased since the beginning of 2011. The average amount of weekly Japanese assets purchased by non-residents was 174.6 billion Yen for 2010. But since Middle East conflicts intensified in January, the average amount of weekly money inflow in Japanese assets is up to 804.6 billion Yen. USD/JPY has also dropped from the peak level of 83.7 in 2011 to about 82 today. The oil shock resulted from the conflict in Libya is set to end Japan's deflation for now, as gasoline prices and food prices are all likely to rise.
Chart 1: Japan Four-Week Moving Average Net Money Inflow (01/2010-02/2011)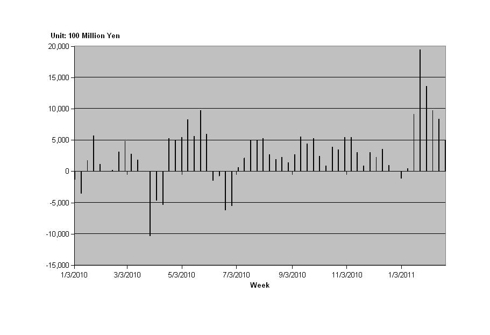 (Click to enlarge)
Japan Equity in 2011
Besides the dominant risk aversion factor, there are a few other stories affecting the pair of
USD/JPY. Japan equity market is reported to be the best performing market in 2011 (to name a few articles on major newspapers: "Japanese stocks: peculiarly attractive, LEX Report," 2/22/2011, Financial Times; "Stop looking in the rear-view mirror at Japan," 2/23/2011, Financial Times; "A compelling case for investing in Japan," 2/27/2011, Financial Times; and " Japanese Stock Market Is Getting New Respect

," 2/21/2011, New York Times). Reading between the lines of those reports, one could notice that fast money had already positioned themselves in Japan's equity markets well before the publishing of these articles. According to the Ministry of Finance, the four-week moving average of foreign portfolio investments in Japan's equities had been positive and growing for 21 weeks in a row from October 2010 to February 2011.
Chart 2: Japan Four-Week Moving Average Net Money Inflow-Equity (01/2010-02/2011)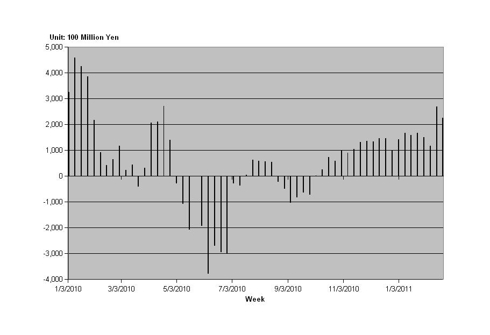 (Click to enlarge)
Japan Domestic Politics
Another story is the uncertainty related to Japan's domestic political turmoil. The unpopular current Kan government just lost its foreign minister due to donation scandals. The governing party faced the danger of split as one of its heavyweights Ozawa was indicted. Opposition in the upper house is determined to block the full implementation of the budget plan for the new fiscal year, which means that the government could not go out to issue bonds to cover its budget.
How These Stories Might Unfold
Weeks after the outbreak of Libya conflicts, investors have grasped the prospect of a prolonged civil war in Libya. Military intervention from the US and EU seemed to be closer since almost all voices so far have urged Western countries to do something, be it supplying military equipments to rebels in Libya or establishing no-fly zones. The real difference in opinions actually focused on how military intervention should be carried out, but not on whether Libya should be intervened. The last large military adventure conducted by the US and EU was Iraq invasion. When the invasion began in March 2003, the falling market immediately turned around and climbed all the way back. This time, maybe an invasion into Libya is not on the table, but the impact of a military intervention of any form on markets will be similar to that for Iraq invasion.
Regarding oil prices and inflation, Bank of Japan Deputy Governor Hirohide Yamaguchi confirmed on Monday that core consumer price growth rate has finally returned to the positive territory for now, due to economic growth and oil shock. However, he signaled that BOJ would maintain its loose monetary policy in the foreseeable future. This view is consistent with what BOJ Governor Masaaki Shirakawa said on Wall Street Journal a few days ago.
The domestic political uncertainty in Japan does not help JPY. The longer the fight continues between DPJ and its opposition, the weaker the JPY becomes. The best scenario is that Kan makes serious compromises with oppositions and further split in his party becomes more likely. If Kan has to resign or even call the new election, investors would run away from Japan assets.
So far, Japan equity market has been the bright spot despite the political mess. In 2010, correlation between
USD/JPY and Nikkei 225 has been highly positive, around 0.8 for most of the year. At the beginning of 2011, this correlation had temporally dropped to zero or even became negative. However, in recent weeks, the 30-day rolling correlation between

USD/JPY and Nikkei 225 trended upward to around 0.6.
Now, consider possibilities of reviving risk appetites due to a Western military intervention to Libya, a weaker Kan government facing increasingly assertive oppositions, a determined BOJ keeping the ultra low interest rate, and a positive correlation between equities and USD/JPY. JPY is more likely to become weaker against USD in the next few weeks in my opinion.

Disclosure: I have no positions in any stocks mentioned, and no plans to initiate any positions within the next 72 hours.