As if the uprisings in Egypt, Libya, and the surrounding MENA (Middle East & North Africa) region are not enough to set off oil prices, Charles Maxwell, a veteran energy analyst (since 1957), is now predicting oil prices will climb to $300 a barrel in 2020, or around $225 in today's dollars due to supply constraints….regardless of what happens in Egypt and MENA.
Many of us probably can still recall the gasp when we first learned about the prospect of $100 oil form Goldman Sachs back in 2007. Goldman subsequently made a $200 prediction in March of 2008, right before crude oil eventually peaked at $147 in July of 2008. Of course, we know that $200 mark is yet to materialize.
$300 Oil by 2020?
In a recent interview with Barron's, Maxwell puts the world's production capacity at about 92-93 million barrels a day (bpd), peaking at 95 million bpd around 2015 and pretty much plateauing from there (Peak Oil):
"… By 2020, I'm looking for about $300 a barrel, which is closer to $225 a barrel in today's dollars."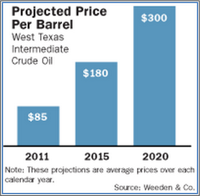 Double Digit Oil Burden
In early February, the International Energy Agency (IEA) already warned about the rising oil burden. Oil burden is defined as nominal oil expenditures (demand multiplied by the crude price) divided by nominal gross domestic product (GDP).
According to the IEA, the world's oil burden rose by roughly 25% in 2010 to 4.1%, and could rise to 4.7% in 2011, under current assumptions. The highest world oil burden rate was 8% reached in 1980. (Click charts to expand).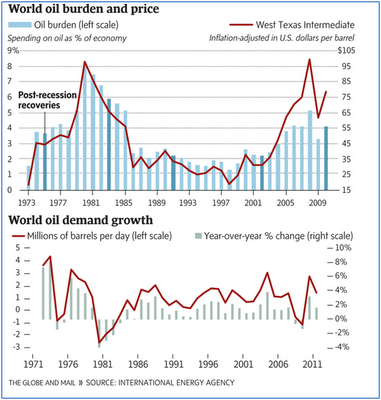 Using the U.S. EIA projection in a high oil price scenario of $210/bbl, the global GDP is expected to reach $97.43 trillion by year 2020, while oil demand is projected to reach 96 million barrels per day. That translates into an oil burden of about 7.5%.
So, the $300 oil in Maxwell's scenario could mean a double-digit global oil burden. The consensus among experts is that the economy typically has an increasingly hard time handling oil burden above 4%.
However, I don't believe this $300 price point will come to pass by 2020 (nine years from now) as Maxwell predicted, and here is why.
Interest Rate Normalization
One thing most people seem to have forgotten is that after 2+ years of loose monetary policy, eventually there will be a 5-to-6-year cycle of interest rate normalization… ongoing speculations of QE3 notwithstanding.
We are talking about interest rate rising from the current near zero levels to around 5% and maybe as high as 8% if inflation ends up running rampant. That would most certainly kill the prices of oil and other commodities, while dragging down equities, as well as precious metals.
High Prices Cure High Prices
Historically, oil price and inflation tend to have a high correlation (See Chart), and oil and petroleum product prices are highly sensitive to macroeconomic conditions.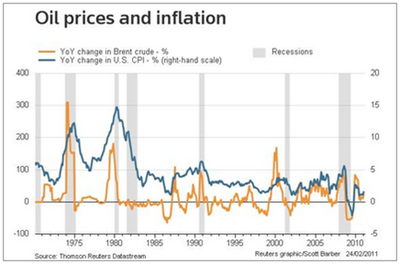 Prolonged high petroleum product prices and inflation could bring about a marked response from the demand side where behavior from all consuming sectors would change drastically before crude would even hit $150.
We have already seen (in 2008) how oil prices could drop from almost $150 to $40 in six months due to the Great Recession. The same boom and bust cycle could take place again so the market may achieve equilibrium.
Drill, Baby, Drill!
Then, there's also the response from the supply side.
Crude oil staying expensive and long enough, as described in Maxwell's scenario, would incentivize new technologies and productions, similar to how new shale plays burst onto the energy scene in the last five years or so.
Furthermore, gas pump price shock would drive global government policy changes so that more off-limit resources and incentives would become available and oil production would increase.
Alternative Tech to Mushroom
High oil prices would also greatly improve the competitiveness of alternative and emerging energy sources, and would only accelerate the consumer adoption of alternative transportations such as electric, compressed natural gas and fuel cell vehicles.
When the ultra-luxury British brand Rolls-Royce has gone green with its 102EX, or Phantom Experimental Electric (EE), it just sent a clear message as to the future trend of passenger cars. Facing high fuel prices, jet and vehicle engines would get totally redesigned very swiftly to be even more efficient and perhaps use multi-fuel sources.
Likewise, solar panels would become mainstream sitting on every roof top imaginable, while others such as wind turbines and algal biomass would mushroom offshore as well as onshore.
Energy Efficiency to Accelerate
Furthermore, the evolution of technology and human civilization would improve the overall energy efficiency and lessen the energy intensity as a contributing factor to bring down the overall consumption trend.
In the United States, the EIA in its Annual Energy Outlook 2010 (pdf) noted in the Reference Case that as energy use becomes more efficient, its share declines from the 9.8% share of GDP reached in 2008 to 6.5% of GDP by 2035. Steroid-charged oil prices would only push up the timeline that much faster.
Shock to the System
However, while the response from both supply and demand would most likely put a stop to $300 oil, the process nevertheless could be quite an unpleasant shock to consumers and the global economy.

On the other hand, this may be just what the world needs to jump start conservation and more aggressive R&Ds to mitigate the gloomy yet very costly prospect.
Producers, Capital Goods & OSX
The Wall Street Journal noted BofA Merrill sees the U.S. markets unlikely be derailed by higher oil prices, and that the higher oil prices could be a boon for U.S. capital goods exporters and the energy companies.
Maxwell also believes the world economy would stay on track despite his $300 oil projection mainly because the rise is on a more gradual scale. As for investment, he suggests the Canadian Athabasca oil sands producers--Suncor Energy (NYSE:SU) and Cenovus Energy (NYSE:CVE) - due to their superior production growth projection, 8% to 8½% per year and 9½% to 10% per year respectively, in the next 10 years.
I believe another sector worthy of a spot in any investor's portfolio would be oilfield services as this is a sector that's indispensable in oil major's global hunt for energy. Here, you can't go wrong with investing in the Big 4--Schlumberger (NYSE:SLB), Halliburton (NYSE:HAL), Baker Hughes (BHI) and Weatherford (NYSE:WFT)--on any pullbacks.

Disclosure: I have no positions in any stocks mentioned, and no plans to initiate any positions within the next 72 hours.