Buyers have once again surfaced and have been buyers of stocks the past two days. It seems to be a bit of buying on the dip, which has led many to wonder whether a bottom has been put in. It is tough to call bottoms when they are happening, but there have been plenty of money managers on the various business TV channels discussing how they could care less about a bottom and were instead looking at the value that the correction had created in some blue chip names.
We like that line of thinking and believe that focusing one's purchases right now is the way to go. There is no need to be a hero and buy everything and anything, but being selective at these levels should prove to be a successful move for one's portfolio.
Chart of the Day:
The Nasdaq found support in the 4,120 area this week, an area of the chart where it needed to either get a bounce or to fall further. The one concern we have with the Nasdaq is that the large biotechs did not get hit as hard as other sectors and in some cases were even trading higher when others were down sharply. That could indicate that there is another move lower ahead, or that we are destined to move sideways as that portion of the Nasdaq corrects.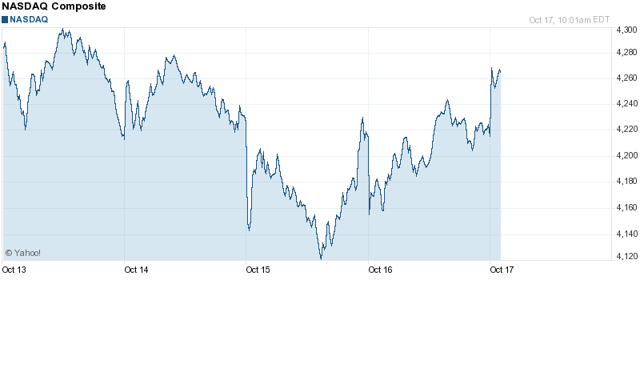 Source: Yahoo Finance
We have economic news today, and it is as follows:
Housing Starts (8:30 a.m. EST): Est.: 1013k Act: 1017k
Building Permits (8:30 a.m. EST): Est.: 1030k Act: 1018k
Michigan Sentiment (9:55 a.m. EST): Est.: 84.0 Act: 86.4
The Asian markets are mostly lower today:
All Ordinaries - up 0.32%
Shanghai Composite - down 0.64%
Nikkei 225 - down 1.40%
NZSE 50 - up 0.29%
Seoul Composite - down 0.95%
In Europe, the markets are higher this morning:
CAC 40 - up 2.14%
DAX - up 2.01%
FTSE 100 - up 1.23%
OSE - up 2.04%
Tech Giant Misses Estimates
Shares in Google (NASDAQ:GOOG) (NASDAQ:GOOGL) were initially lower during after hours trading yesterday following the company's release of their quarterly results. The company missed analysts' EPS estimates as 3,000 new employees were added during the quarter. With Google focusing on developing products and services for the future, expenses have grown at a faster rate than even revenues, which grew at a 20% clip. To put this all in perspective, last year the company hired 1,600 new employees during the third quarter; meaning that new hiring for the quarter nearly doubled year-over-year.
While the company missed the EPS estimates, revenues were in line with expectations. The stock is still trading lower this morning but it has reversed from the initial sharp move lower in after hours trading yesterday after investors have digested the results.
Apple Pay Arrives Monday
Apple (NASDAQ:AAPL) announced yesterday that Apple Pay would debut Monday, a move that has to have eBay's (NASDAQ:EBAY) PayPal unit worried. The Wall Street Journal has reported that hundreds of banks have signed up to support Apple Pay and numerous retailers are set to roll out the feature to their customers in what could be one of the largest and most complex product/service roll outs in history.
While there will be tens of thousands of locations open to accepting payments through Apple's system, the consumer utilization of this service will be small in comparison to the overall number of iPhones out there. This is due to the need for consumers to have the newest iPhones and iPads which possess the required technology that makes this all work. This should be good news moving forward for two reasons: first, it keeps retailers from being overwhelmed early on and also allows for a built-in stream of growth as consumers upgrade their mobile phones.
Amazon Continues Grocery Roll Out
After debuting the AmazonFresh grocery deliver option in Washington state and California, Amazon (NASDAQ:AMZN) is rolling out the service in New York City. The service will not be open to the entire city, but instead focused on the Park Slope neighborhood in Brooklyn. As the service is still in testing, customers interested in AmazonFresh only need an Amazon Prime membership to receive their goods with either same day or next day delivery.
Investors need not worry about the added costs for grocery delivery on the Prime membership model because Amazon has already stated that starting next year customers will need to have a "Prime Fresh" subscription which will cost $299/year.
Disclosure: The author has no positions in any stocks mentioned, and no plans to initiate any positions within the next 72 hours.
The author wrote this article themselves, and it expresses their own opinions. The author is not receiving compensation for it (other than from Seeking Alpha). The author has no business relationship with any company whose stock is mentioned in this article.