Make no bones about it, the proposed DoD budget is budget reduction friendly and good for defense stocks. Reduced war costs will trim roughly 10% from the topline budget. Meanwhile cost savings from restructuring, efficiency activities, and personnel changes is being applied to new procurement opportunities.
The base budget of $553 billion proposed by the Obama White House is slightly below what they forecast in 2011 but right on target with estimates previously released by the Department of Defense in January. Along with $117.6 billion for Overseas Contingency Operations (a 26% decline from the previous year), the total FY 2012 defense budget request is $670.6 billion. As indicated on page 5, less than 13% of the OCO monies is dedicated to procurement; highlighting what most companies have been saying -- that a pullout of Iraq will not substantially impact revenues and earnings.
The new budget also reveals that procurement rises from $113 billion in FY-2012 to $117.6B in FY-2013, $125.9B in FY-2014, $129.5B in FY-2015, and $137.2B in FY-2016. Although lower than last year's forecast, the addition of $83 billion represents real growth of 2.6% annually.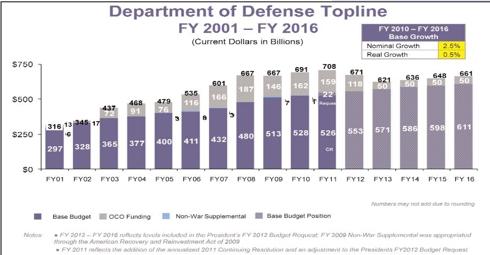 Earlier in the month, the Pentagon revealed specifics on their plans to terminate programs, reduce waste, and restructure activities in order to shift resources into more needed areas. Going forward, it is anticipated that savings will come from three areas: personnel reform, troop cuts, and program restructuring.
What this means is that the largest obstacle to growth in the aerospace and defense sector has been held in check for another year and defense stocks which have been undervalued could see a return to historical valuations. Investors and analysts will face increasing challenges as the sector shifts into an environment where there will be winners and losers. I don't believe that investors will be able to pick a single stock as a proxy for the entire sector as many have over the past decade. Companies involved with cybersecurity such as CACI, NCIT and KEYW should benefit. So should those with exposure to unmanned vehicles, electronics, intelligence, and surveillance. Companies that rely on new hardware development could face increased pressure as new multi-billion initiatives become less in favor. For those looking for funds that track this area, their choices are limited. A review of the underlying securities held in the various ETFs, only the Powershares Defense ETF (NYSE: PPA) contains the three stocks listed above and provides exposure to the aforementioned emerging defense funded areas.
Disclosure: I have no positions in any stocks mentioned, and no plans to initiate any positions within the next 72 hours.
Additional disclosure: The author manages the SPADE Defense Index [NYSE: DXS], an investment benchmark for companies operating in the defense, homeland security, aerospace, and government space sector. The index has been licensed to Powershares and serves as the underlying index to the firm's aerospace & defense ETF product, PPA.