This morning I was screening on Barchrart for stocks hitting the most frequent new highs and found
Emcore (NASDAQ:EMKR). Momentum investors should get on board this one. The company is highly speculative but is pursuing some highly promising solar power joint ventures in China not only with Chinese companies but the Huainan municipal government as well.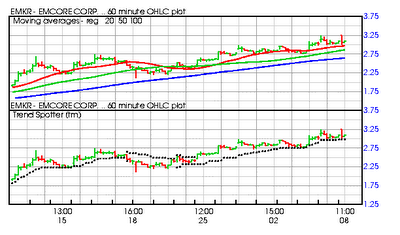 (Click to enlarge)
EMCORE offers a broad portfolio of compound semiconductor- based products for the broadband, fiber optic, satellite and terrestrial solar power markets. The Fiber Optic segment offers optical components, subsystems and systems for high-speed data and telecommunications networks, cable television and fiber-to-the-premises. The Photovoltaic segment provides products for both satellite and terrestrial applications. For satellite applications, they offer high efficiency Gallium Arsenide solar cells, Covered Interconnect Cells and panels. For terrestrial applications, they are adapting their high-efficiency GaAs solar cells for use in solar power concentrator systems.
Technical Factors
96% technical buy signal
Trend Spotter (tm) buy signal
10 new highs and up 67.66% in the last month
Relative Strength Index 77.38 and rising
Trading around 3.12 with a 50 day moving average of 1.83
Fundamental Factors
Wall Street brokerage analysts are not ready to recommend this company yet and using the present structure only look for the sales to increase by 7.20% this year and earnings to increase by 10.00% annually for the next 5 years
If the company is able to put into play the 3 joint ventures it is working on these projections will be meaningless and the earnings may soar.
Investor Sentiment
Although Wall Street is not following this stock the CAPS members on Motley Fool are betting 281 to 69 that the stock will beat the market.
The more experienced All Stars are not as positive with a vote of 54 to 33
Again, this stock will rise or fall on the success of the 3 joint ventures the company has in the pipeline. If you're not willing to get on board right now put this on you watch lists.
Disclosure: I have no positions in any stocks mentioned, and no plans to initiate any positions within the next 72 hours.