The United Nations predicts that the world's population will reach 9 billion people by 2050. That's an increase of 33% over the world population right now.
It also says that global food output will have to increase by 70 percent to meet rising demand. Bloomberg reports that farmers are already ramping up crop production to satisfy demand.
The forecasted supply-demand imbalance for crops led futures prices for corn to nearly double in the past year, adding to the surge in prices that many U.S. "breadbasket" states suffered through after a dry growing season.
During the same time, wheat prices rose 65 percent, in part due to fires and drought in Russia and Eastern Europe, as well as flooding in Australia. All of this is leading to inflation in food prices, as well as some soft commodities such as cotton.
Americans aren't excited about higher food prices, but we're far better off than most people in the undeveloped world. Already, in some countries food riots are breaking out. In other countries, where growth has actually helped raise living standards, many citizens of developing countries can afford to buy more meat and dairy products. The International Monetary Fund says because of this, farmers will be hard-pressed to meet demand for grains to feed humans and livestock for decades.
A basic building block of agriculture is fertilizer. To help increase crop yields, fertilizer producers are enjoying a boom in their relatively obscure industry. Investors take note: If you want to prepare for higher food prices, you should get back to basics and buy fertilizer stocks.
The three primary components of fertilizer are nitrogen, phosphorous and potassium.
Terra Nitrogen L.P. (NYSE:TNH) is one contender; the $2 billion market cap company (a limited partnership) is a leading U.S. producer of nitrogen fertilizer products. The stock also pays a nice quarterly distribution that yields north of 4.5 percent annualized. Additionally, earnings per share have increased significantly, from $5.40 in 2009 to $8.01 in 2010, an increase of 48 percent.
Terra Nitrogen's sole plant in Oklahoma can crank out 1.9 million tons of nitrogen fertilizer and 1.1 million tons of ammonia, a basic ingredient of fertilizer and other industrial products. It takes air, water and natural gas to produce nitrogen.
During the fourth quarter, Terra Nitrogen reported increases of 51 percent in ammonia and 34 percent in urea ammonium nitrate (UAN) selling prices. Ammonia sales volume increased 56 percent, while UAN sales volume decreased by 2 percent.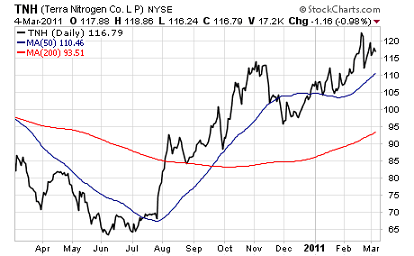 Investors have grown to appreciate Terra Nitrogen's cash distribution. In 2007, the partnership began to truly ramp up quarterly payments, which reached as high as $4.45 in early 2008. In early 2010, Terra missed a distribution, but these were resumed in May.
The latest distribution for fourth-quarter 2010 was $1.36, bringing the full-year payout to $5.44 and a substantial annual yield of 4.7 percent. By comparison, the S&P 500's dividend yield is around 1.7 percent.
Considering that net earnings in the final three months of 2010 nearly tripled over the 2009 period, it's quite possible that Terra Nitrogen will continue to increase earnings distributions. The partnership's profit margin and operating margin are both above 35 percent.
To prepare for higher food prices, a dividend-paying fertilizer like Terra Nitrogen should be on the top of your list.