Human Genome Sciences (HGSI) is slated to receive a response from the FDA by Thursday, March 10, on whether or not its drug Benlysta is approved. I am trading this catalyst event using a Call butterfly spread with an overlaid tight long Call spread. Here is the trade:
Butterfly side:
Buy 50 MAR 28.0 strike Call @ 0.781 = $3,905 Debit
Sell 100 MAR 30.0 strike Call @ 0.384 = ($3,840) Credit
Buy 50 MAR 32.0 strike Call @ 0.24 = $1,200 Debit
Call spread side:
Buy 100 MAR 29.0 strike Call @ 0.53 = $5,300 Debit
Sell 100 MAR 30.0 strike Call @ 0.34 = ($3,400) Credit
Initial Position P&L = $3,165(1)
My risk in this trade is $3,165 – this is the maximum I can lose and occurs if HGSI stock trades below ~$28.50 by MAR expiration. I make up to $17,000 if HGSI stock trades at $30 by MAR expiration and nearly $7,000 if the stock trades above $32 (please see risk diagram).
Click to enlarge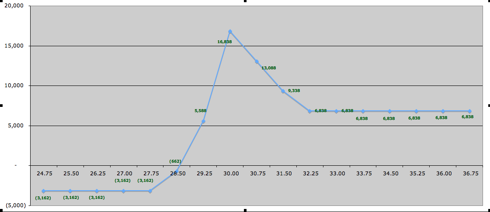 Analyst consensus currently sees approval of Benlysta with upside price targets ranging from $33 to over $40 a share. Option implied prices, however, are much more muted and currently(2) suggest only a $4.00 upside move which, on a positive scenario, places HGSI's share price around $30. I tend to believe the option implied prices over analyst estimates. I combined the butterfly spread with the tight Call spread in order (1) to maximize profit at the $30 level (2) to avoid potential losses on a move above $32 (that occurs using only the butterfly spread) and (3) to provide decent profit potential for amounts above $32 (with favorable risk/reward characteristics).
I lose my $3,165 debit if Benlysta is not approved and/or if the FDA's decision is delayed and the shares fail to trade above $28.50 by MAR expiration.
Notes:
(1) This trade was put on over several days – as such, MAR 30.0 strike Call prices are different.
(2) As of March 8, 2011.
Disclosure: I am long HGSI.
Additional disclosure: Long HGSI through option strategy described in article.