Getty Realty (NYSE:GTY) is a rather obscure REIT that focuses on a niche market: Gas Stations. The stock was crushed on March 2nd, when it disclosed a problem with its primary tenant (see below), and is sailing today on near-term favorable developments. While it's not at all clear exactly how the story plays out, it does appear that the likely outcome will prove favorable for investors willing to embrace this risky story.

I first mentioned GTY in November on a list of "9 Obscure REITs Yielding More than 5% with Low Leverage". I warned in that initial article that there was a need to understand better the relationship with Lukoil (LUKOY.PK). I followed up recently in my observations on Cheap REITs (10 High-Yield REITs Offering Safety and Growth) that the company had reduced its exposure to Lukoil. Well, not enough!

On March 2nd, the company reported that Lukoil had transferred ownership of the entity on the lease with GTY (to an unnamed party) and that the rent payment that was due 3/1 wouldn't be paid until 3/7. The stock plunged as the single analyst at JP Morgan downgraded the stock to Sell and reduced his target to 22.

I happened to read the report, and it is certainly a complex situation, but the analyst, who is forecasting a 9% decline in income as a consequence of renegotiations, is missing a major point: The stock already reflected this risk to a great degree. The analyst at JPM pointed out in his report that the stock was already a big discount to potential peers, and I believe it's because the market was well aware of potential risk with the Lukoil concentration.

Here is a chart YTD: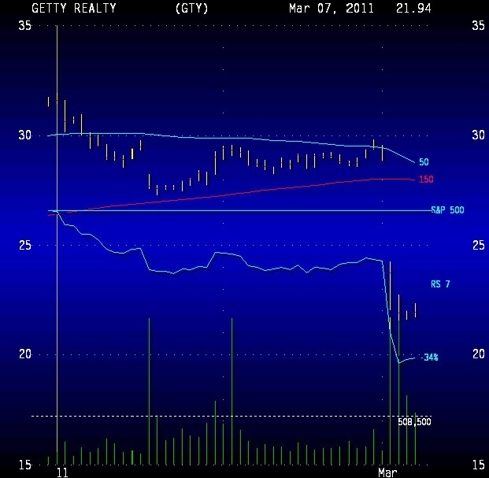 (Click to enlarge)
The stock stabilized over the past several days, as you can see in the chart, but has gapped up to 23.50 on news today that the .48 quarterly dividend will be maintained this quarter and that the payment was received. Here is a link to the press release.

The 10-K is a must-read, as it discloses some material information that might help put some boundaries around the resolution of the situation with Getty Marketing. Note that the company will be filing its 10-K for 2010 next week. Here is a key excerpt:
Nearly all of our properties are leased or sublet to distributors and retailers engaged in the sale of gasoline and other motor fuel products, convenience store products and automotive repair services. These tenants are responsible for managing the operations conducted at these properties and for the payment of taxes, maintenance, repair, insurance and other operating expenses related to our properties. Our tenant's financial results are largely dependent on the performance of the petroleum marketing industry, which is highly competitive and subject to volatility. As of December 31, 2009, we leased approximately 78% of our one thousand seventy-one owned and leased properties on a long-term triple-net basis to Getty Petroleum Marketing Inc. Marketing is wholly-owned by a subsidiary of OAO LUKoil, one of the largest integrated Russian oil companies. Marketing operates the petroleum distribution terminals but typically does not itself directly operate the retail motor fuel and convenience store properties it leases from us. Rather, Marketing generally subleases our retail properties to subtenants that either operate their gas stations, convenience stores, automotive repair services or other businesses at our properties or are petroleum distributors who may operate our properties directly and/or sublet our properties to the operators.
The 78% is slightly overstated due to an acquisition the company made earlier this year (59 Mobil stations). If you read through the risk factors, you learn that the key tenant has had deteriorating operational performance and has been trying to restructure its business since late 2009. There had been ongoing talks with Getty previously. Also, it's not just rent payments, as there are also environmental liabilities for which Marketing is responsible.

When looking at the downside, I would incorporate a couple of issues. First, while it's not altogether clear that the tangible book value properly reflects the value of the underlying assets (most likely higher), there isn't tremendous support on this metric (trading about 2X TBV). Second, I like to look at inside ownership. In this case, Chairman (and, until last year, long-time CEO) Leo Liebowitz, 82, owns 3mm shares. Altogether, insiders own 30% of the company (per 2010 proxy), including director Milton Cooper's (Kimco's CEO) 5%. The Board is riddled with real estate guys - my guess is that these guys will fight hard to save the company and continue to create value.

So, I would recommend being involved for aggressive income investors. I look at this using scenario analysis as follows:
Great Outcome: No change to terms (5% chance)
Good Outcome: Slight change to terms, minimal change to AFFO (20% chance)
OK Outcome: JPM hit the nail on the head (50% chance)
Bad Outcome: Instead of 9%, it's 20% hit to earnings (15% chance)
Terrible Outcome: Protracted period of litigation and suspension of dividend (10% chance)
First, don't take my probabilities too literally - they are just guesses. Please note that I am a generalist and not a REIT expert. Obviously, the "terrible outcome" is really the only reason to not own the stock. Even in the "bad outcome," the dividend might stay intact, certainly in the others. I would put a $10 price on the "terrible outcome." In the "bad outcome," I would put a 18 price. In the "ok outcome," the stock would rally to 28 in my view. In the "good outcome," it's back to 31. In the "great outcome," the stock goes to 40. 40? Yes, in that scenario, the dividend likely rises (let's call it $2). The yield would likely drop to 5% or so, leading to my most bullish forecast. These are all just guesses in terms of price targets in the scenarios and probabilities of those scenarios. If you do the math, my "expected" price after the situation is resolved (or not in the worst case) is 25.9, about 10% above the current quote. Traders should keep in mind that the company sold 3.45mm shares in January at 28.

For those who feel that the terrible outcome won't happen, this seems like a lay-up. For more risk-averse investors who like the story, I would suggest using a 21.50 stop-loss. In the meantime, I know from my previous articles that some of you out there know a lot more about this than me. I look forward to your comments.


Disclosure: I have no positions in any stocks mentioned, and no plans to initiate any positions within the next 72 hours.