By Brad Zigler
Real-Time Monetary Inflation (Last 12 Months): 1.7%.
Ever ponder the relationship between crude and soybean oil? Take a gander at the chart below. The recent trading history of the Market Vectors Agribusiness ETF (NYSEARCA:MOO), when plotted against that of the United States Oil Fund (NYSEARCA:USO), pretty much sums it up.
The ag ETF tracks a 46-stock index of farm equipment manufacturers, agricultural chemical outfits and agriproduct/livestock operators, while the oil fund holds near-month contracts of West Texas Intermediate crude oil.
When crude oil prices spiked in late February, agribusiness stocks broke lower. It's not hard to figure why. Higher oil prices increase the cost of transporting agriproducts and livestock between points in the supply chain as well as increasing processing costs.
Click to enlarge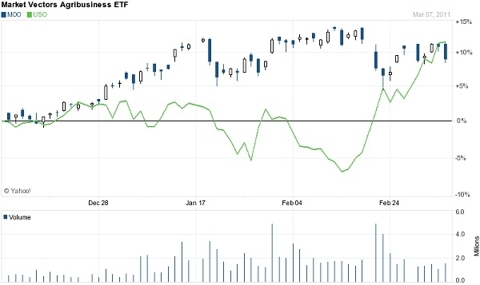 This didn't come as a surprise to ag stock traders. Some option-savvy traders had started hedging their long exposures with protective puts as far back as a month ago (see "Agribusiness Stocks Show Worrying Signs").
Fear in the sector spiked before the weekend, as put prices rocketed ahead of Monday's $1 (1.8%) drop in MOO's value. At the same time, prices for the commodities in which the agribusiness companies deal inched 0.1% lower.
Click to enlarge
Agribusiness Put Index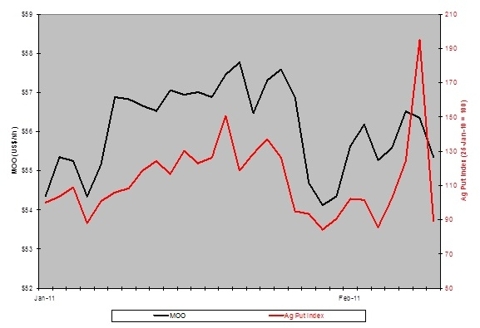 So the question facing ag stock investors now is this: Will the wall of worry crumble if oil prices ease?
Today may be a good day to test this as a hypothesis. Oil prices pulled back significantly this morning. So far, the reaction in the ag market has been counterintuitive. USO slumped and so did MOO.
If this pattern holds, ag's problems won't seem limited to higher oil costs.