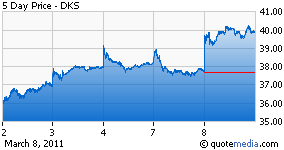 Another quarter and another solid report from Dick's Sporting Goods (NYSE:DKS). DKS has to be one of the best run retailers in the world. The company continually takes market share in a fragmented sporting goods market that has mainly weak competitors. This trend should continue for years.
For Q4, DKS reported earnings of $0.76 after forecasting roughly $0.70 on the Q3 report. The company achieves this growth mostly by seeing 9% comp sales growth gained mostly from an 8.6% increase at Dick's Sporting Goods stores and a whopping 36% increase in e-commerce. As it continues to gain market share, it's possible that the e-commerce site becomes the go to destination with a preference for in store returns to a superior retailer.
DKS forecast $1.90 for 2011 and 3% comp sales. Based on the continual UPOD (under promise and over deliver) of this company, Stone Fox would expect DKS to make at least $2. At nearly $40 they have a PE of roughly 20 making them fairly valued. No reason to be aggressive buying at these levels, but a core holding could easily garner above market returns.
Highlights via Dick's PR:
Consolidated non-GAAP earnings per diluted share increased by 36% to $0.76 in the fourth quarter of 2010 from consolidated earnings per diluted share of $0.56 in the fourth quarter of 2009
Consolidated same store sales increased 9.4% in the fourth quarter of 2010
Full year consolidated non-GAAP earnings per diluted share increased 36% to $1.63 from 2009 consolidated non-GAAP earnings per diluted share of $1.20
"Dick's Sporting is well positioned with strong leadership, strong and unique top line drivers, good sector positioning, is investing for the future, and has an ability to generate consistent returns," analysts at Credit Suisse said in a note.
"Given the impressive top-line momentum, which showed little impact from January's storms, and our belief that February saw a nice rebound ... we believe the market should reward today's results," analyst Christopher Horvers wrote in a note.
For the November-January quarter, the largest publicly traded sporting goods retailer in the United States saw margins rise 240 basis points over last year, beating estimates of a 180 basis points rise by JP Morgan analysts.
Disclosure: I am long DKS.