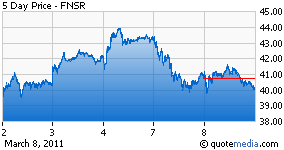 Finisar (NASDAQ:FNSR) plummeted 37% in Tuesday's after-hours trade after issuing Q4 guidance well below Wall Street expectations. The stock's history is one of adding to its earnings-driven after-hours trade in next-day action, but it's a history studded with gains.

This was a rare earnings-driven downside move in FNSR shares in the near-term as the stock has consistently reacted to the upside on earnings, posting five positive price reactions to the last seven earnings events in our MT Pro database (and adding to those gains in all five events in the following day's regular session).

Of the two events where FNSR recorded a negative reaction to an after-hours earnings release it added to its downside trade once.

The negative trade isn't much of a historical trend for shorts to follow, but the broader pattern of widening (including the after-hours gains) does say that traders tend to overreact on the shares the following day.

Shorts may want to watch the 28 to 26 range early on Wednesday, an area that could form as a near-term ceiling level. More risk tolerant shorts may want to sit closer to the 26 to 25 range in anticipation of the issue starting the day closer to here and perhaps testing a fresh bottom in the lower 20s.

In Tuesday's after-hours trade, FNSR was released from an after-hours trading halt and plunged straight to its first-half session low of 25.31. It firmed back to about 28 before steadying between 26.87 and 25.61 through the mid-session and second-half of night trade. It saw some late pressure that dropped it from 26 to a low of 24.53.

A pre-market open Wednesday may have legs surrounding the 26 to 25 range.
Disclosure: I have no positions in any stocks mentioned, and no plans to initiate any positions within the next 72 hours.