Lately, optical networking and optical component stocks led by JDS Uniphase (JDSU) have been on fire. Not only have Wall Street analysts been fanning the flames, but TV commentators and internet gurus have also been pouring gasoline on the fire.
It is amazing how many smart people have taken leave of all sense of logic when it comes to optical stocks. For example, look at the action in optical component and optical networking stocks just three days ago on an otherwise ugly market day. The chart compares the action in optical stocks with the SPDR S&P 500 (SPY).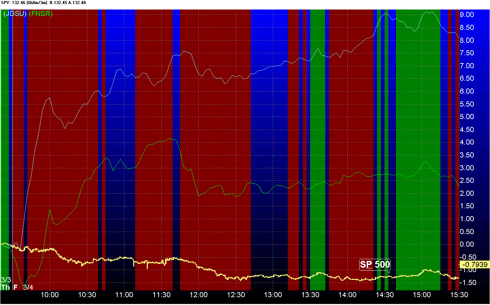 The impetus of the move is twofold:
· Juniper Networks (JNPR) introduced a new switch that used optical components.
· Agilent (A) had a very bullish investors day.
Neither piece of news had anything material that would have warranted the eye popping move in optical component and networking stocks.
There was nothing extraordinary, exceptional, or materially new in the use of optical components in a switch. I am an electrical engineer. I used optical components in one of my switch designs years ago.
Agilent does have a very small optical testing business, but the vast majority of its business is not a suitable indicator of the health of the optical business. Investors' love of optical components has been so strong that Agilent's comments were blown out of proportion.
The chart below compares the performance of optical stocks with the SPDR S&P 500. The picture tells the story; there is no need to use words to describe how high these stocks have been flying.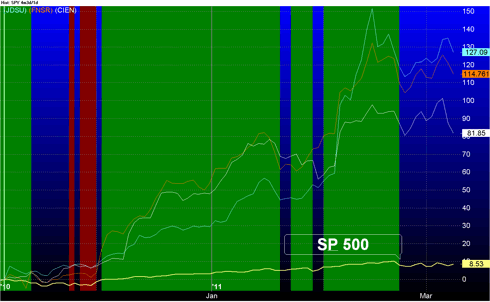 As I described in more detail in my recent articles on Nvidia (NVDA), Apple (AAPL), and Qualcomm (QCOM) titled Apple iPad 2: A Blessing in Disguise for Nvidia and Nvidia Investors Discounting Qualcomm's Graphics Capabilities, when the sentiment gets this exuberant, it is time to take the other side of the trade. Research at The Arora Report shows that such reversal signals work out 86% of the time when adjusted for overall market movement. The Nvidia short sell signal, briefly described in the foregoing articles and more in depth on my blog, has been very profitable for my readers.
Now we have the following two fundamental pieces of data that show the optical business is nowhere near as good as the bulls would like to believe:
· Ciena (CIEN) reported earnings Monday. An analysis of the earnings report clearly shows the optical business is nowhere near the bullish projections.
· Tuesday, Finisar (FNSR) provided weak projections. For the fourth quarter, Finisar expects a profit of about 31-35 cents a share and revenue of $235-$250 million. Analysts were looking for a profit of 48 cents a share and revenue of $268.6 million, according to Thomson Reuters I/B/E/S. Whisper numbers from the bulls have been much higher.
I will consider short selling the following stocks when all six screens of the ZYX Change Method are satisfied for the medium time frame. I plan to buy these stocks for a very short-term trade when all six screens of the ZYX Change Method are satisfied for the very short time frame. More details on the trading plan are available here.
· JDS Uniphase
· Finisar
· EXFO Electro-Optical (EXFO)
· Oplink (OPLK)
· Oclaro, Inc. (OCLR)
· NeoPhotonics Corporation (NPTN)
I expect indirectly related highflying stocks such as Juniper (NYSE:JNPR), Acme Packet, Inc. (APKT), Riverbed Technology Inc. (RVBD) F5 Networks Inc. (FFIV), Corning Inc. (GLW), and Ciena, to be under pressure.
Disclosure: I am short NVDA.
Additional disclosure: I was long CIEN from $13.75 and exited it with profits at $24.30. I intend to initiate both long and short positions within the next 72 hours in these stocks.