Immersion (NASDAQ:IMMR) will be reporting Q4 earnings on tomorrow, March 10.
In the latest conference call, the company guided for revenues to be in the range of $5.8 million to $6.3 million for the fourth quarter. Consensus is for revenues of $ 6.24 million, at the high end of Immersion's forecast. It should be noted that there are only a few analysts following the company, but their estimates seem to be very similar. All analysts expect the company to deliver a small loss, between a negative ($0.05) and ($0.06) per share.
The company expects to achieve positive adjusted EBITDA for full year 2010.
We expect the company to slightly exceed revenues of $6.3 million in the quarter, as royalties from some segments like mobility, semiconductor, and medical simulators should keep growing; we expect gaming to be flat as well as automotive, whose potential will probably impact Immersion's results only starting from 2012. We'll break down our forecast soon, but first we'd like to comment on some recent company news.
On Tuesday, Immersion announced the release of the MOTIV™ SDK 1.0 for Android Developers, which was due for launch in March. The MOTIV effect preview app available on the Android Market provides a quick way for developers to experience and test effects on any Android (NASDAQ:GOOG) handset.
Engadget commented that this tool "helps smartphones move what their makers gave them":
Interested parties can hit up the source link for the SDK download and start indulging in the haptic dark arts immediately.
Android is probably, today, the most interesting platform for the company, as two of its major partners in mobility, Samsung (OTC:SSNLF) and LG (OTC:LGERF), are strengthening their smart phone offerings, and now represent a large share of the most advanced and demanding markets.
Here is quick look at the U.S. situation, as reported by Larry Kramer on Seeking Alpha:
Samsung phones still lead the pack of phone manufacturers by a wide distance, with everyone else losing share accept the iPhone which should so significant gains in coming months because it will now, for the first time, be available on multiple networks.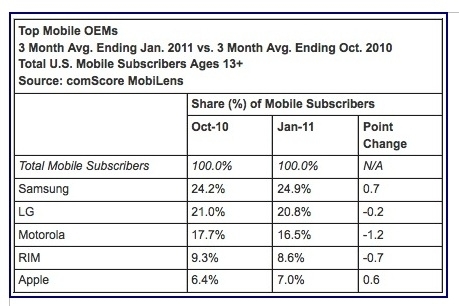 From comScore
In particular, Samsung's strategy of selling several Android-based phones on basically all carriers in the U.S. is giving haptics (and Immersion) a unique possibility to reach almost every potential new smart phone user, building the critical mass that could allow for the next step in the business model (additional revenue streams from mobile phone gaming, etc.).
Immersion's technology is supposed to have been implemented into about 200 million phones by 2010, and we believe that the company will take the opportunity to make a few comments about this achievement at the conference call.
Back to our crystal ball. Here is our Q4 revenues forecast, including past performances:
[Click all to enlarge]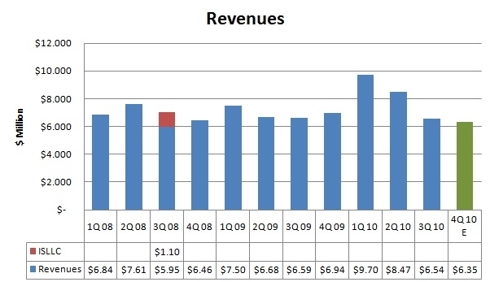 It is always appropriate to remind that the first quarters of 2010 (and previous years) also included revenues from discontinued product sales, so that a more appropriate way to check Immersion's performance is to highlight the different revenue sources: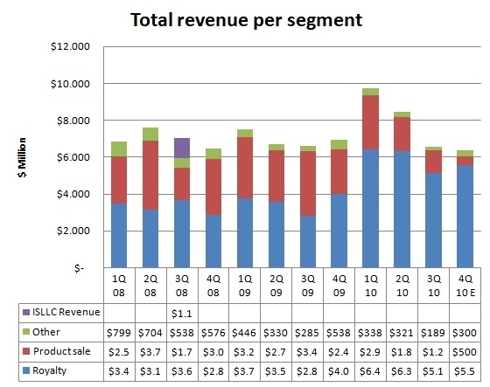 Here is the royalty-based revenue stream only: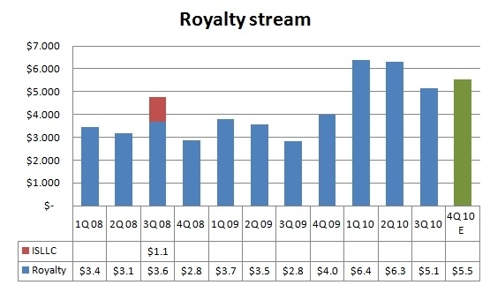 Q1 is traditionally the company's strongest quarter because of seasonality (as partners' Christmas sales are reported in the following quarter), while Q2 2010 was positively impacted by the reconciliation of certain customers reports in the gaming sector. We expect Q4 to show a modest increase from Q3 2010.
Disclosure: I am long IMMR.