By Mike Yamamoto
Saks (NYSE:SKS) saw a large wave of late-day put buying in yesterday's session as shares remained just below their highest levels in nearly three years.

More than 10,000 SKS April 12 puts traded in a strong buying pattern in the last 45 minutes of yesterday's session, according to our Depth Charge system. The daily average volume at that strike is a mere 15 contracts.

The bulk of those puts changed hands in two prints, one of 4,408 that went for $0.55 and, 17 minutes later, another 4,000-put block that was bought for $0.60. The open interest at the strike was just 250 contracts, so these were clearly new positions.

SKS closed yesterday up 3.88 percent to $12.31. The luxury retailer hit a high of $12.97 on Feb. 17, a price level last seen in June 2008, but has been range-bound between about $11.70 and $12.70 in recent weeks.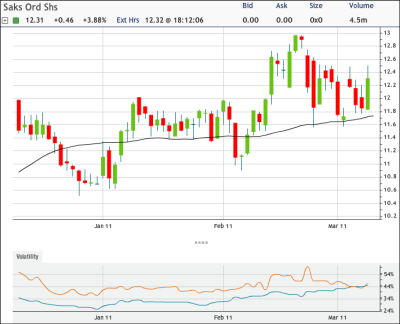 The stock has been hovering just above its 50-day moving average for the last week (black line on chart at right). Bearish traders snapped up March 11 puts the last time it fell below the 50-day line in early February.

Yesterday's put buying did not appear to be tied directly to any stock trading, though it could be a protective hedge on shares purchased previously. It could also be a straight bearish bet that SKS will drop sharply. In either case, the stock would need to gain roughly 7 percent for those puts to turn a profit before expiring in mid-April.

The company is scheduled to release its next earnings results on May 17. Last week Saks reported a 15.3 percent rise in February same-store sales over the same period a year earlier.

(Chart courtesy of tradeMONSTER)