By David Russell
Arrow Electronics (NYSE:ARW) has been riding the wave of technology spending and saw more upside action yesterday. The latest catalyst for the tech company was an upgrade from Stifel Nicolaus, where analyst Matthew Sheerin said demand is stronger than previously expected. ARW distributes a wide array of products such as chips, resistors, and switches to thousands of industrial customers.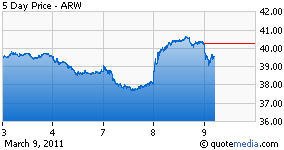 Our Heat Seeker tracking system detected the purchase of more than 2,000 April 42.50 calls as the stock powered higher yesterday. Most of the trades priced for $0.50 to $1, and total option volume in the name was 21 times greater than average.
ARW rallied 6.09 percent to $40.31 yesterday and is up 62 percent in the last six months. It's been enjoying a boom of capital spending as businesses buy new machinery and increase the use of chips and electronic components in devices ranging from cellphones to washing machines and automobiles.
In its last earnings report on Feb. 2, the company beat forecasts and issued guidance that was mostly bullish. Yesterday's pop occurred after ARW tested support at its 50-day moving average, which some chart watchers may consider evidence that its uptrend remains in effect.
ARW also has relatively low valuations, with a forward price/earnings ratio of about eight times and a price/earnings growth ratio of 0.56. Rival Avnet, which has similar numbers, was also upgraded by Stifel. The two stocks tend to move in tandem.
Overall option volume in ARW was 21 times greater than average yesterday, with calls outnumbering puts by 29 to 1.