By Bryan McCormick
The Semiconductor HOLDRS exchange-traded fund (NYSEARCA:SMH) is a proxy for what has been considered the backbone of technology stocks for decades now: Chip companies. Although the number of stocks in the SMH is small, it has nonetheless been a good indicator of sentiment, both bullish and bearish.
More than two years ago, I wrote a piece on how the SMH had bottomed and turned up early, a key development that was likely to lead to a broader rally. That in fact turned out to be the case, though through most of last year that rally was in doubt as gains were consolidated.
We have had a second leg up since then that was nearly equal in scale to the first. The shape of that rise--initially flattening out with a small decline and then another leg up--resembles the completion of a bullish "flag" pattern on a very large scale on the chart below.
Now we may be seeing the first signs of that bullish move ending. It's still early, but the recent breach of the 50-day moving average after the ETF hit major resistance is not a bullish development.
[Click to enlarge]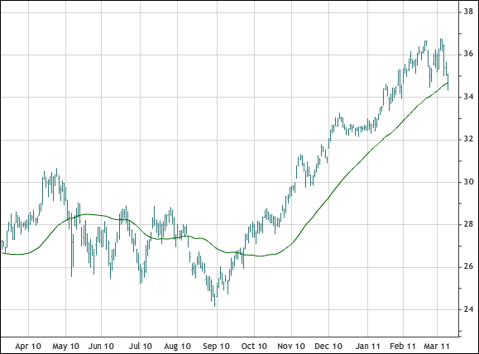 As the anniversary date of the broader market's March 2009 low is celebrated, it is interesting that the canary in the coal mine from that period may now be indicating that there is downside to come.
Even more interesting is that sell-side research firms, which were late to recognize the rise in semiconductors, just recently turned bullish on the sector. Sentiment appears to have peaked just as technical conditions suggest that the rally may be nearing an end.
(Chart courtesy of tradeMONSTER)